Older Archived Reviews
This is an older archived review. The Search Feature on this page may not work. To search this site, please return to our Home Page and try your search from there.
---
<!REVIEW GOES HERE!>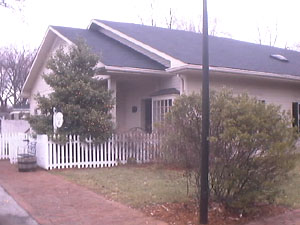 89

211 Clover Lane
211 Clover Lane (Colony Center)
(502) 896-9570

Web:
www.211cloverlane.com
(211 Clover Lane reopened in May 2001 after being closed for several months in the aftermath of a serious kitchen fire. This review is based on my last visit before the fire.)
Blessed with an atmospheric setting and a loyal crowd of East End "regulars," 211 Clover Lane has the potential to rank among the city's top restaurants; and many of those regular patrons would argue that it meets that lofty goal.
Indeed, during one recent visit - a special Provence-wine tasting dinner co-sponsored by Louisville's excellent Party Source wine shop - special dishes and impeccable service provided a nearly flawless evening. But other visits, including one recent dinner for four, sounded just enough sour notes to make for a less-than-perfect culinary symphony. Inconsistent work from the kitchen, a poor table assignment and service so slow as to give new meaning to the word "leisurely" added needless irritations to a dining experience that, in its higher points, would have been hard to beat.
211 Clover Lane, another of those trendy spots named for its address, is located at the edge of the St. Matthews business district in the Colony Center, a one-time lumberyard that was converted years ago into a small, upscale suburban shopping mall-ette. Despite the mini-mall exterior, the restaurant resembles a cozy old house, with several small rooms, each a fairly intimate setting with just a few tables. I recommend asking not to be seated in the room dominated by a large, old wooden serving bar that doubles as a server station, where the constant flow of traffic makes for a noisy scene inappropriate for fine dining.
The atmosphere is simple but comfortable, with shiny hardwood floors good-size tables draped in white, set with stainless flatware and simple earthenware plates and furnished with comfortable Windsor-style chairs.
Chef Dan Borders's menu changes seasonally; our visit not long after Derby season caught the spring presentation, a brief but dazzling romp through high-cuisine with a mid-Atlantic feeling, poised between Europe and the Americas and drawing inspiration from both.
Appetizers range from $4.50 (for soup or a bowl of olives and almonds) to $7.50 (for Coquilles St.-Jacques, a traditional French scallops dish or vegetarian spring rolls). Salads (a speciality for which 211 Clover Lane is justly famous) are $4.50 for Kentucky organic greens to $8 for a composed arugula salad with Camembert cheese. Eight seasonal entrees (bolstered with a few blackboard specials) ranged from $15 for garlic-roasted chicken to $24 for a Black Angus tenderloin.
As a wine enthusiast, I like the wine list here better than most: It appears thoughtfully chosen rather than merely representing whatever the local distributors are pushing this month, and offers a good variety of about 60 choices (mostly American) with relatively few high-ticket items and a sane if not generous markup of about twice retail. A separate "cellar list" for fancier wines lists boutique items from $35 for Edmunds St. John Les Cotes Sauvages (an excellent California Rhone-style red) to $220 for Harlan Estate 1995 Cabernet Sauvignon, a legitimate Napa "cult" item that is very hard to get and that actually commands twice that price on the auction market; I would note, however, that it's way too young for current enjoyment, making it a poor choice with dinner. (Too bad 211 Clover Lane doesn't have a package-liquor license, though; I would be on that one like a shot.) About a dozen wines are available by the glass, starting at $5.50.
I chose one of the few French wines, an affordable Burgundy: Jean-Luc Dubois 1998 Savigny-les-Beaune ($30), which arrived promptly; we also ordered two salads and two appetizers and asked that they be served at the same time, with extra plates to pass around and share.
Somewhere around this point, our friendly server seemed to disappear. We sipped the wine, refilled our own glasses, and suddenly realized that 45 minutes hade elapsed with nothing on the table but liquids.
When the starters came, though, they were worth waiting for. Vegetarian spring rolls ($4.50) looked like the traditional Chinese-restaurant item but gained stature from a sweet, earthy filling of shredded red cabbage and tasty sweet-sour and soy-based dipping sauces. A chilled-shrimp starter ($6.50) featured a quartet of oversize beauties, perfectly cooked atop crisp finocchio and celeriac tossed in a garlicky light mayonnaise billed as saffron aioli. Mangetout salad ($7) had a little of everything - snow-pea pods, avocado slices and pine nuts tossed in a light vinaigrette. The other salad ($8) featured intense, bitter arugula greens with walnuts and a delicious walnut vinaigrette topped with wedges of a Camembert that the menu noted was "award-winning Old Chattam Sheephearders Camembert," an apparent reference to the Old Chatham Sheepherding Co., an artisanal cheesemaker in New York's Hudson Valley. Garnished with edible purple and gold pansies, it was a salad-lover's delight.
It took another 45 minutes for our dinners to arrive, another gap that passed fairly quickly with conversation and nibbling but still tested the distinction between leisurely dining and an irritating delay.
A duck breast entree ($20) although explicitly ordered rare, came well-done and rather tough; a smallish single breast was sliced into a half-dozen thin strips and arranged with a garnish of cool asparagus spears atop a pair of rissoto cakes (rounds of cooled risotto formed into cakes and cooked on the griddle). As a starch course, it was a good concept, less than perfectly executed; a bit dry and flavorless, they were strangely evocative of dietary rice cakes.
Two crab cakes (a special of the day, $23) were just right, crispy on the exterior and sweet and creamy within; a generous portion was surrounded
with an artful display of aspagus spears, baby carrots and halved, tender green brussels sprouts.
Garlic-roasted chicken ($15) was also fine, two good-size pieces served on a mound of potatoes mashed with chopped green onions.
Grilled shrimp and scallops, also prepared well in a hearty portion, came with garlicky grits and a mound of crisp-fried onion bits. No complaints here!
The pace picked up a little as we shared three desserts among the four of us. Homemade ginger ice cream ($4) was a triumph, lemony and not too sweet, full of the hot-tart flavor of freshly grated ginger; a dessert for grown-ups. Strawberry rhubarb crisp ($5.50) was less successful, warm and sweet, a fruit compote of tart and bitter rhubarb and mushy strawberries with no sign of crisp topping. Rich chocolate cake ($6) was dense and dark, much like a very moist and heavy brownie: A strong dose of chocolate for chocolate-lovers.
We finished with espresso ($2.50). Note to self: Never order an espresso in a Louisville restaurant when you're just home from Paris. Thin and bitter, it was par for the local course but a long stretch from the real thing.
Dinner for four came to $169.60, rounded up to an even $200 for service that, when present, was careful and polite. The share for two would have been $85 plus tip. $$$$ <!REVIEW ENDS HERE!>