!REVIEW GOES HERE!>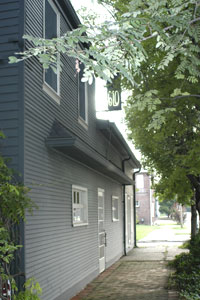 99

610 Magnolia
610 Magnolia St.
(502) 636-0783

Web: http://www.610magnolia.com/

To understand why local lovers of fine food and dining are so excited about 610 Magnolia reopening this month under new ownership, it may help to review a little local restaurant history.

For close to a quarter-of-a-century under the domain of its innovative, idiosyncratic owner-chef Ed Garber, this stylish spot in Old Louisville has rated among the finest restaurants in the United States - not just Louisville - known not just for the creative genius of its cuisine but its take-no-prisoners approach to getting everything exactly right, from expensive china and luxurious crystal glassware to fish flown in from England and flowers from France.

Since the beginning, an evening at 610 has always been memorable. But for the past decade or so, it has also been almost unattainable. Tiring of the hassles of everyday restaurant service, Garber had pulled back to high-end catering as his primary work, opening the restaurant only on Saturday nights, when it would serve only a single party of 10 or more at a single seating that lasted all evening, featuring a single prix fixe menu at $50 a person, exclusive of cocktails, wine, tax and tip. These requirements limited traffic to the happy, hungry and well-heeled few who could easily get together 10 of their best friends for a dinner that would set them all back a couple of hundred bucks per couple ... for one of the finest meals they ever ate.

This past July, amid wails of grief from his loyal followers, Garber announced that he was selling the restaurant and retiring.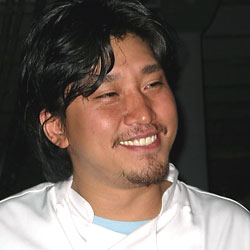 Photo by Merrily Orsini


EDWARD LEE

And now the good news: 610 is not closing. In a move as smooth as the passing of the baton in an Olympics relay race, Garber has passed along the restaurant, and, it seems, the dream, to Edward Lee, a youngish (31) and perhaps similarly creative restaurateur, a Brooklynite of Korean heritage who boasts restaurant experience ranging from his parents' New York City diner to Clay, a hip nouvelle-Korean eatery in Manhattan's trendy NoLiTa neighborhood that he owned through much of the '90s.

Lee, who had been working with Garber for more than a year and concluded the deal some months before the July closing, plans to reopen around Sept. 20, with a few "soft opening" dinners for invited guests to burnish rough edges and try last-minute tweaks. Once it goes public again, 610 will be bit more accessible, with dinner (still a single evening seating) served Thursdays, Fridays and Saturdays, with reservations available to parties of any size. The pricing will remain high (and worth it), with the evening's single fixed-price menu to be $65 for the standard bill of fare, $55 for a vegetarian alternative.

Lee cites among his restaurant inspirations, other than Garber, Chef Thomas Keller's French Laundry in Napa, the Ryland Inn in Whitehouse, N.J., and Chef Roberto Donna's Galileo restaurant in Washington, D.C.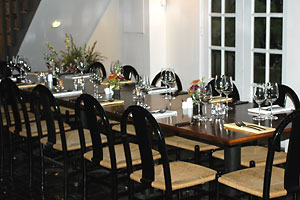 Simple elegance is the hallmark of 610's table settings and decor.

I had occasion to slip in with a group of 12 for a test dinner the other evening, and found few changes in 610's simple, elegant decor and no startling shifts in its eclectic, international-influenced cuisine. There were few slips and no serious flaws in a memorable five-course dinner with wines, and service under front-of-the-house manager Kim Werst was everything you'd expect of four-star dining. If Lee continues at this pace, he'll easily retain 610's lofty rating, and its stature at the top of Louisville's dining galaxy.

I'll return for a formal review after things settle a bit. Meanwhile, to offer a sense of Lee's style and direction, here's a summary of the dishes and wines served.

Before dinner, several wines were offered by the glass, including a White Burgundy (2001 Reuilly) and a Cru Beaujolais (Chateau Depeubles 2001 Moulin-au-Vent). Servers passed plates of warm gougères, tiny airy bites of savory cream puff laced with Gruyère cheese, a traditional Burgundian wine-tasting bite. (Note that the wines served at this "test" dinner were under consideration but may not all end up on 610's wine list. Ditto for the dishes, which were simply representative of Lee's cookery and showed off his style.)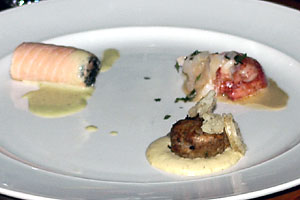 The next course was billed as an amuse bouche, a tiny treat offered by the chef before a meal, but it was substantial enough to pass as an appetizer. In a presentation reminiscent of French Laundry or Chicago's Charlie Trotters, it featured three distinctly different bites presented on a single oversize white plate. As shown in the photo at right, they included a sushi-style roll of Arctic char wrapped around a tiny ration of spoonfish caviar and plated on a dab of pungent wasabi cream (shown at 10 o'clock on the plate); tender, sweet Maine lobster with an aromatic tarragon Champagne cream (at 2 o'clock), and juicy smoked sausage perched on an artichoke coulis and garnished with crisp fried-shallot rings.
Marking Lee's commitment to seek quality ingredients from regional artisans, the spoonfish caviar came from Shuckman's Fish Co. & Smokery in Louisville, the sausage (and the chicken in another course) were from local farms, and the tarragon was grown in 610's herb garden. Crusty bread came from Blue Dog bakery, although Lee said he may decide to bake his own breads for the restaurant's use.
White wines accompanying this meal offered a fun opportunity to mix-and-match Sauvignon Blancs from New Zealand and France, a fat and ripe Sherwood 2002 Marlborough Sauvignon Blanc, full of over-the-top green-chile-pepper aromas; and a more delicately balanced Chateau de Fontaine-Audon 2001 Sancerre from the Loire.
A salad course featured tender shredded Dungeness crab tossed with field lettuces in nutty Austrian pumpkinseed oil, with a garnish of earthy diced roasted beets. The accompanying wine, a Champalou 2001 Vouvray, was served a bit too cold, but warmed up to reveal tasty honeydew melon aromas with a pleasant nuance of bitter almond.
The main course may have been the hit of the evening. A tender and juicy organic poussin chicken was presented two ways, a whole leg quarter and boneless bite-size white-meat pieces, presented in a dense, smokey Provencal-style sauce fashioned from local heirloom tomatoes and plated with a rich and creamy potato puree.
Three red wines accompanied: A first-rate Domaine les Pallières Gigondas from the Southern Rhone, full-bodied and peppery; a more reserved Moulin de la Dame 1999 Coteaux d'Aix-en-Provence, and the surprise of the evening, a delicious made-in-Kentucky table wine, a Norton made from an unusual native grape, also known as Cynthiana, by winemaker Chuck Smith of Smith-Berry Winery near New Castle. Made from 2001 vintage grapes brought in from Arkansas, this memorable wine was among the best Eastern U.S. reds I've tried; fruity and balanced with good, almost Zinfandel-like mixed-berry flavors, it was fully competitive with the French wines on the table for quality and style.
The first of two dessert courses, a roasted-peach puff-pastry napoleon served on a deep green pistachio puree drizzled with pistachio oil, was intriguing, although a tough and slightly soggy pastry marked the only significant flaw in preparation. Lee said he underestimated Louisville's summer humidity in fashioning the puff pastry too early in the day, a mistake that he pledged not to make again.
A second dessert, that Lee said was inspired by the Vietnamese coffee served at South Louisville's Vietnam Kitchen, was a tongue-in-cheek item, a tiny shot glass layered with small dollops of sweetened condensed milk, a silken coffee mousse, and a shiny pool of jellied coffee on top.
"I've got big shoes to fill," Lee said recently. "That's hanging over me: I'm not just buying a restaurant, but Ed Garber's legacy. But I hope we can do another 25 years." $$$$
(September 2003)
Here's a report on a wine and appetizer tasting in 610 Magnolia's newly renovated balcony in January 2004.
ACCESSIBILITY: Accessible to wheelchair users.
<!REVIEW ENDS HERE!>
---