Older Archived Reviews
This is an older archived review. The Search Feature on this page may not work. To search this site, please return to our Home Page and try your search from there.
---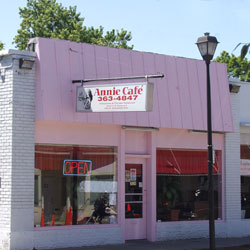 90

Annie Cafe
308 W. Woodlawn Avenue
(502) 363-4847

Website:
http://www.anniecafe.com/
Quietly and without much notice outside its neighborhood and the city's Southeast Asian community, one of the South End's top Vietnamese restaurants has undergone a name and management change ... and in the process, in my opinion, gone from very good to even better.
On the basis of several repeat visits to confirm its consistency, Annie Cafe (formerly Pho 777) now ranks not just as one of my favorite Vietnamese restaurants in Louisville, but among the city's best restaurants of any variety, particularly when value and price are taken into account.
It offers a rare combination of authentic food made with obvious care and welcoming if properly discreet service that makes you feel very much as if you're dining as a welcome guest in a Vietnamese family's home.
The restaurant is a fairly large storefront room, with shiny vinyl flooring that's kept scrubbed sparkling clean and simple decor with just a few Asian touches added to an environment that - like the neighborhood commercial block of Woodlawn that it's in - doesn't seem to have changed much since the '50s. Like many immigrant-food restaurants, the scene is basic, even spartan, but clean and bright and welcoming.
The menu features some three dozen authentic Vietnamese items (plus an inexpensive Chinese-American lunch menu, although I can't imagine why anyone would choose that with the delicious Vietnamese goodies at hand). Appetizers and soups are $1.99 (for Vietnamese spring rolls) to $3.50 (for Bahn Xeo, a Vietnamese egg crepe stuffed with pork and shrimp, or Bo Nuong, marinated grilled beef. Main dishes - in generous portions - range from $5.50 to an incredible $6.95 for the priciest dishes in the house.
We've been back so many times that I think I've tried just about all of the main dishes, and the more I taste, the harder it is to decide which I like best. Just to mention a few favorites:
Bo Xo Cay (beef on sticks), an appetizer ($2.25) is akin to Thai satay but multi-dimensional, skewers of warm, tender beef with a good tangy, lemony marinated flavor, served on fresh green lettuce leaves and topped with crispy browned onion bits and fine-chopped scallions. It's accompanied with a sweet and fruity plum sauce for dipping.
Bo Nuong ($3.50), is similar but maybe even more appealing, beef with similar marinated flavors, sliced thin and fried crisp, with the scallion and fried onion topping.
Another Vietnamese appetizer favorite, Goi Cuon ($2.25) is also very well handled here. Also known as "salad roll," this is a pair of plump rolls filled with bean threads, lettuce and cilantro and peeled shrimp, wrapped in translucent, edible rice paper and served with a sweet-spicy peanut sauce.
Main-dish favorites just go on and on. Banh uot Cha Lua, Banh Tom ($5.50) starts with "rice pieces," a crunchy treat that's made by mixing cooked rice with tiny-cut green beans and onions, then forming the result into an oval patty that's deep-fried, then cut into bite-size pieces. This is searved with fresh bean sprouts over dumpling-like broad rice noodles, garnished with crispy fried onion bits and julienne cucumbers and artfully decorated on the plate with half-moon thin slices of a processed pork patty that looks an awful lot like bologna but tastes much better.
Bun Thit Bo, lemongrass beef ($5.50) is thin-sliced and tender, served over rice in a light sauce with a hint of curry, garnished with green onions. Spectacular on one visit, it was just very good on a second, when the beef showed less lemongrass flavor.
Pho bo, the traditional Vietnamese beef soup ($5.50), is served in a meal-in-itself-size bowl, steaming and aromatic anise-scented broth loaded with thin-sliced beef, onions, wheat noodles and served with a plate of bean sprouts, basil, mint and hot-pepper slices to garnish to your taste.
Com Ga Xi Dau, soy sauce chicken on rice ($5.50) looks simple but tastes divine, tender boneless chicken bits subtly marinated with soy and touched with exotic, non-fiery spices, stir-fried with onions and served over delicate jasmine-scented rice.
There's more - much more - pick at random or ask the friendly servers for advice, and you can hardly go wrong. And if you're even slightly adventurous, save room for a cup of cafe sun ($2.50), the French-Vietnamese coffee, dark-roast and strong coffee dripped through a one-cup dispenser into a waiting glass half-filled with a dollop of sweet, rich condensed milk.
And speaking of saving room, if you are even slightly adventurous, try to do the same for the Vietnamese dessert of the day. These are usually unfamiliar to Western taste buds, showing only a distant kinship to what we think of as dessert. One day's offering featured a pudding-like banana concoction in thick, gumdrop-like chunks but delicately flavored and sweet, in a rich coconut cream.
Another dessert was even more difficult to describe, and the language barrier doesn't help. "Some kind of dried fruit," the friendly server explained, almost like very tart red grapes with an unsweet quality vaguely akin to navy beans, served in a thick coconut cream with tapioca - I think - and long-sliced strands of other sweet but unidentifiable fruits, one dark brown and reminiscent of sweet wild mushroom, the other pale green and vaguely like thin-sliced cucumber. It may sound weird, even offputting, but I found my enjoyment growing with each bite. After that, another day's dessert special seemed almost down-home, consisting of nothing more exotic than a ration of long-cooked black-eyed peas (!) stirred into a thick pudding of sweet, short-grain rice and coconut cream.
As I mentioned, it is difficult to overspend at Annie Cafe no matter how much you eat. Looking through my receipts, I see meals for two totaling $17.47, $21.71 and $22.19, plus 20 percent tips earned the old-fashioned way with cordial and competent service. $
(November 2002)