Older Archived Reviews
This is an older archived review. The Search Feature on this page may not work. To search this site, please return to our Home Page and try your search from there.
---
<!REVIEW GOES HERE!>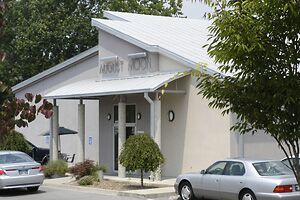 91

August Moon
2269 Lexington Road
(502) 456-6569

For many years, August Moon has been one of those happy little local spots that enjoys a following mostly among "regulars" who've discovered that there's more going on in small, unobtrusive quarters than meets the eye. In this case, the secret ingredient is the culinary oversight of Chef Peng Looi, better known as the force behind
Asiatique
.
But now August Moon has a bright new face in an imposing setting: Earlier this month it moved from its old, small '50s-style quarters to a larger new venue next door.
August Moon's new building is stunning - a soaring, open space that raises a sense of excitement out of simplicity with a Zen master's style - and the new setting seems to have inspired an increased level of commitment in the kitchen and staff: Even with the old menu brought over pretty much intact, there's a new sense of confidence about the place that expresses itself in four-star food and service.
It's a striking dining space, subtle and austere, with walls in subtle shades of gray beneath a high industrial-style ceiling that angles to a high peak. Undraped tables and chairs and knee-high room-divider-planters are all matte black, with the room opening up to the outdoors through large square windows that reveal a parklike swath of trees that line Beargrass Creek behind the building. It's charming in its simplicity, and black-clad servers glide through the room like the stagehands in a kabuki drama. You enter through a large bar, which shares space with a smoking section that's sturdily walled off from the main restaurant space at the back.
The menu, as noted, is pretty much unchanged from the old location, although lunch prices and some appetizers have increased in price by small-change amounts, and our server said some menu changes are coming. A half-dozen "First Flavor" appetizers are $1.50 (for a spring roll) to $4.50 (for goat cheese and crab won tons or pan-fried dumplings), plus soups from $1.50 (for the usual Chinese-restaurant suspects) to $5.50 (for chicken with crabmeat soup for two).
More than four dozen entrees are broken into categories: "Signature" dishes (from $11.25 for chicken and carrot with spicy sake sauce to $12.75 for sauteed seafood medley with Asian vegetables); seafood dishes (all $10.50), beef ($9.75), chicken and pork ($8.75) and vegetarian ($7.75), plus Malaysian-style curries (Peng Looi is Malaysian), spicy ginger-garlic and sweet-sour dishes and rice and noodles.
The two-page wine list includes a good selection of about 45 wines, and with the exception of a couple of high-end items, they're mostly affordably priced in the $20 range by the bottle or $4.75 to $7.50 for a glass. There's a short beer list including mostly mass-market beers and popular imports; Sierra Nevada Pale Ale on draft is a fine choice.
And check this out: A quartet of gourmet-style hot teas - Dragon Well, yellow jade oolong, spring jasmine and ginger-ginseng - are presented with all the gravitas of a wine list. Dragon well, the menu notes, is "top-grade green tea ... famous for its jade green color, expansive earthy aroma, lingering mellow taste and long flat leaf. Its unique cooling effect refreshes the fortunate sipper even in warm weather." We couldn't resist. Teas come in attractive little black cast-iron japanese pots, and they are impressive, subtle and delicate in flavor, a fine beverage with Asian fare.
On our first visit, we started with a shared appetizer, goat cheese and crabmeat wontons with Asian salsa ($5.50). Six pocket-size mini-eggrolls were served on a bed of crispy fried-rice noodles, garnished with a strawberry, a few choice raspberries and a sprig of parsley. They were crisp and grease-free, stuffed with bites of mild goat cheese and a homeopathic taste of crab (or is it surimi "crab shapes"? can't tell.) They were good, though, and the "Asian salsa" was fresh and spicy with tomatoes, onion and warm spice, a decent rendition of pico de gallo even if there was nothing obviously Asian about it.
Soups were very well made. Sichuan-style hot and sour ($2.25) was cornstarch-thick and loaded with tofu and egg, julienne strips of bamboo shoot and shreds of banana blossom; it showed a fine balance of earthy-spicy Sichuan pepper and tangy vinegar with just a hint of sweetness and salt. There was a touch of sweetness in the egg drop soup ($1.50), too, but it was restrained. The soup was excellent, rich chicken broth and fresh egg, appropriately salty and laced with fresh scallions.
Entrees continued on the same high note, well prepared and sensibly spiced; we both chose spicy dishes, and they were hot enough to be warming without being fiery enough to cause pain.
Spicy ginger-garlic shrimp ($10.50) featured about eight perfect shrimp surrounded by julienned bamboo shoots and carrots with scallions, stir-fried with a spicy, tangy and barely sweet reddish-brown sauce that neatly balanced a tart, vinegary tang with just enough sweetness to round off the edges. Lemony ginger and earthy garlic added grace notes without dominating the flavor symphony.
Malaysian curry chicken ($8.75) offered perfect, tender bits of boneless chicken breast with big chunks of red and green bell pepper and thin-sliced carrot and water chestnut rounds in a peppery, faintly sweet brown sauce. It was stir-fried to perfection with a seductive, almost smoky wok-fried flavor; tender chicken and mild peppers cooked just to the point of tenderness; the carrots were neatly trimmed into five-petal flowers and sliced thin as paper.
It was so good, we came back again with friends another night so we could try it again. The soups and won tons were just as good, and this time we added shrimp tempura with Amerasian sauce ($4.50) as an additional starter: Six very large shrimp with a thick but crisp and creditably grease-free breading, served with a small dish of light, more tangy than sweet orange-flavored citrus sauce. Another appetizer served as an entree, Asian style chicken wings ($5) were oversize double-joints, dredged in spiced flour and deep-fried sizzling hot and crispy. They were addictive, although the chicken meat apepared just cooked through - 10 seconds less in the fryer and we might have worried about them.
Sichuan-style string beans with hot chilli oil ($7.75) offered perfect technique on the beans, which remained bright-green while fully cooked through, crisp-tender but not mushy, and the spicy brown sauce was OK. This traditional dish is often served with ground pork, though, and August Moon's meatless rendition seems to be missing a key ingredient without it.
Spicy calamari in Indonesian sambal sauce with julienne snow peas ($11.75) was an attractive mix of barely stir-fried julienne strips of carrot, snow pea and onion, tossed with tender straw mushrooms, bits of baby corn and chewy bites of fresh squid in a gently peppery sauce.
Sauteed tiger shrimp in two sauces with broccoli ($11.75) offered a row of bright, steamed broccoli florets dividing an oval plate into two halves, one side containing large shrimp tossed in a light, citric sauce, the other swimming in a fire-alarm red tomato-based sauce that looked more Italian than Chinese (Think "Marco Polo Visits The Mysterious East and Brings Potluck to the Emperor's Palace").
The final entree, spicy shrimp stir-fry with roasted peanuts ($10.50) appears to be August Moon's take on kung pao shrimp. It's a good ration of well-cooked shrimp out of their shells, stir-fried with carrots, water chestnuts and celery all cut into roughly peanut-size dice, tossed with roast peanuts in a thick, brown, mildly hot-sweet sauce.
A large proportion of the dishes here, it should be noted, are served hot-and-spicy with medium heat, but none were fiery enough to attract notice. Service on both evenings was exceptionally good, with a friendly wisecracking team on the first night and a quiet gentleman handling our table on the second.
Dinner for two on the first occasion, with hot tea but no wine, came to an affordable $35.78, plus an $8 tip for eager and friendly service. On our second visit, with a couple of beers, the share for two was $45.72 plus $10 tip. $$
(February 2002)
<!REVIEW ENDS HERE!>