Older Archived Reviews
This is an older archived review. The Search Feature on this page may not work. To search this site, please return to our Home Page and try your search from there.
---
<!REVIEW GOES HERE!>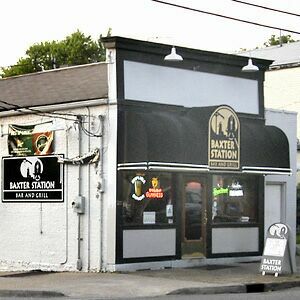 87

Baxter Station
1201 Payne St.
(502) 584-1635

Website:
http://www.baxterstation.com
It looks like a cozy neighborhood bar on an urban block of shotgun houses, and this is not, after all, such a bad thing. But Baxter Station is more than just another friendly neighborhood place. An eclectic menu and an exceptional set of libations kick this place up more than just one notch on the gourmet scale, creating the odd but pleasant effect of an upscale bistro comfortably melded into a friendly saloon ... with a funky railroad theme.
What's more, although the surrounding Irish Hill nabe may appear mostly residential, Baxter Station is only a block off the busy Baxter Avenue nightclub strip, so it benefits from proximity to the bustling Highlands corridor. At the same time, the restaurant is just a short shot east on Payne to Crescent Hill and Frankfort Avenue, so it manages to serve as local watering hole for two of the city's favorite urban neighborhoods.
It certainly works that way for me. I've been long delinquent in updating my review of this cozy favorite, not because I haven't been dining here regularly, but because I just don't think of a casual evening out at Baxter Station as "work."
Inside, a railroad theme prevails, complete with a large-scale model train hauled by a yellow Union Pacific diesel engine running around a track on a shelf about a foot-and-a-half below the ceiling. Small white lights dangle from above, and a back-room offers a warming environment on chilly nights. Dining tables surround the bar in the brick-walled front room, but I find the back room a more comfy place to dine. Walls are painted caboose red and decorated with old-time railroad photos, and railroad car seats with train-window wall decor turn a narrow passageway into a fair replica of an old-fashioned dining car.
Since the passage of Louisville's restaurant smoking ordinance, Baxter Station has been non-smoking throughout, owner Andrew Hutto says.
When weather permits, though, we always head out back to the patio garden that's protected by plexiglass walls, space heaters and a roaring fireplace during cold weather and rolls back the roof, literally, to open up to the outdoors in spring and summer. About a dozen large, green marble-look plastic tables are set in two rows with a passageway down the center. They're furnished with simple dark-green plastic patio chairs and set with simple, shiny stainless flatware and large but rather non-absorbent white cloth napkins.
The menu, by management's own description, "features a melting pot of international and regional American cuisine," and that's a fair way to describe a bill of fare that ranges from Europe (Greek-style chicken souvlaki, $8.50 as a salad, $6.95 as an appetizer) to Asia (Thai salmon in coconut milk, $15.95) to Mexico (mole chicken with bitter chocolate and chiles, $13.75) to the good old USA (one of the city's better burgers, $7.50), and of course much more.
The menu is updated periodically (and unfortunately, the Website does not seem to keep up). As you'd expect of a bar, the selection is heavy on soups, salads, sandwiches and appetizers; but this is far from mere pub grub, with some 30 items in the aforementioned categories, ranging in price from $3.50 (for a cup of the house special Moroccan mushroom soup) to $9.95 (for a crawfish and asparagus salad or blackened-chicken Cobb salad). Fried green tomatoes are $5.95, and Baxter's own hot-and-spicy Buffalo wings, a bar specialty made to order, are $6.95 for 10, $9.50 for a filling order of 20.
Five pasta courses and a dozen dinner entrees range in price from $8.25 (for red beans and rice, a good vegetarian selection that can be rendered carnivorous by adding a grilled andouille sausage for an additional $3) to $16.95 (for "black & bleu" top sirloin blackened with Cajun spices and blued with Gorgonzola cheese. An order of Payne Street Ribs, a full slab of Kentucky pork ribs with a secret spice dry rub, slow-smoked over cherrywood, is $15.95. It's worth noting that the menu has been declaring the $7.95 Jäger Burger with its Jägermeister salsa "soon to be famous" for years now, maybe since the eatery opened in 1989. You'd think it would finally have had its 15 minutes of fame by now.
As mentioned, Baxter Station boasts a fine set of libations, whether your choice of tipple is liquor, beer or wine. An excellent list of two dozen Bourbons, mostly, plus a couple of rye whiskeys and a Tennessee sipping whiskey from you-know-who, a Bourbon selection imposing enough to land Baxter Station a spot on the city's growing roster of Bourbon bars in its own right. Prices for a generous shot range from $4.75 to $6, which makes Baxter an exceptionally affordable place for a tutorial on the nectar of the Bluegrass.
A fine selection of beers, virtually all of them quality microbrewery or import brews, include more than 20 on draught in 16-ounce pints from $3.50 (for many American micros) to $4.75 (for Frankiskaner Weissbier or Spaten Dunkel Acker from Germany). Or you can have a Bud on tap for $2.50, if you're silly enough to want one. About two dozen bottled beers (and a single cider) are $2.50 to $3.25; the Dutch Grolsch Premium Lager in its oversize flip-top bottle is $4.50.
The wine list is not overlong with about 40 selections, but they're thoughtfully chosen. It's not only one of the city's most interesting bar wine lists but one of the most affordable, topping out at a mere $26.95 (for Kim Crawford Marlborough, New Zealand, Sauvignon Blanc, which comes stoppered not with a cork but a trendy, high-tech metal screwcap, and is also available at $6.50 for a glass); many bottles are priced in the teens, and well over half of the selections are available by the glass, from $4.25 (for the Bel Arbor "house" wines) to $6.50 (for the Kim Crawford and a couple of decent California items). Special praise to management for holding its markup well below the double-retail (three-times wholesale) that has sadly become de facto in most Louisville eateries.
A recent dinner began with a basket of warm, herb-studded dinner rolls with whipped butter sealed in individual-serving packets. We started our meal with a shared order of crab cakes ($7.95), a dish that I've consistently found idiosyncratic here. Thin as pancakes and soft as a pool of grits, they're flavorful but have a distinctly "fishy" flavor that almost makes me wonder if there's a little salmon mixed in with the crab and finely chopped onion. (There's no salmon, management tells me. Only the color of Cajun spice.) They're spicy, too, "blackened" with a chile-pepper heat that carries an odd, almost piney character. (This dish is marked on the menu with a chile-pepper icon to indicate spicy heat). Two cakes were plated with a creamy white remoulade laced with dill and a spicy, garlicky pink Cajun aioli, all garnished with snipped chives.
Pints of draught beer were served properly cool, not ice cold, and were fresh and fine: Anchor Steam from San Francisco with its characteristic fruity-crisp flavor and rather full body, and a more distinctly hoppy-bitter Dead Guy Ale from Rogue Brewing in Oregon, both $3.50. A pint of Pilsner Urquell from the Czech Republic served as a refill ($4.25) reminded me why this classic golden lager is a favorite, with its crisp, food-friendly flavor and bittersweet "bite" of European Saaz hops.
The meatless veggie burger ($7.95) is actually a felafel-burger garnished with sliced portobello mushrooms and roasted mild red peppers. Served on a heavy, oval aqua Fiestaware-style plate, the oversize falafel was served open-face, garnished with the mushrooms and peppers and a blanket of alfalfa sprouts on a decent light whole-wheat burger bun. Accompanying french fries and pickle spear were serviceable.
My choice, a Southwest-accented bouillabaisse ($15.95, the seafood catch o'day), was a triumph, a hearty and filling seafood dish so good that it had me bellowing out compliments to the cheff, was an extremely generous portion crammed into a deep white bowl: About a dozen mussels in the shell and big chunks of tender salmon, garnished with long strips of shredded leek, red chile powder, snipped chives and a round of lemon, sat atop a pool of light and gently spicy tomato broth filled with more salmon, two very fresh shucked oysters, a few tender white sea scallops and a handful of tiny shrimps, a ration of linguine, big chunks of canned tomato, sliced onions and celery, whole garlic cloves and strips of green pepper - maybe fresh poblano - and a few tangy-hot peperoncini peppers. A fusion dish, it was billed as "Southwestern" and boasted a distinct ancho/poblano spice, but it remained quite faithful to the Provencal original. It was a triumph, one of the best seafood dishes I've enjoyed lately, and I hope they put it on the menu as a regular treat.
Desserts sounded pretty good - Italian cream cake, chocolate raspberry torte, carrot cake, white chocolate cheesecake, Derby Pie and more, but we were too full for more solid fare, so ended up with a shared after-dinner glass of rye whiskey instead. Van Winkle Family Reserve 13 Year Rye was served in a small, short-stemmed tulip glass not unlike a short-statured wine glass. It was a striking orange-amber color, with a smooth spicy aroma that showed hints of orange peel and spice, warm on the palate with a light, rather acidic finish. It wasn't bad, although after having chosen rye as a change of pace, I kind of missed the warm caramel and brown sugar tones of a good old Bourbon.
Dinner for two came to a quite reasonable $50.44 plus a $12 tip for appropriate and properly attentive service.
We had enjoyed a similarly good experience on our last previous visit, which included the crab cakes (with similar observations about a hint of flavor and color that suggested salmon had joined the crab in the recipe); a warming and rich creamy chicken-andouille soup ($3.50) that won a two thumbs-up rating, a decent chicken-topped Caesar ($7.75) and an impressive goat cheese salad ($6.50) with a lightly breaded and fried round of Capriole's finest the size of a hockey puck atop a bed of mesclun, walnuts and sun-dried tomato. With pints of Pilsner Urquell and Irish Harp lager, that meal came to $35.14 plus a $7 tip. $$
(May 2005)
ACCESSIBILITY: Although it's too bad that a single step at the front door couldn't have been replaced by a simple ramped entrance, to Baxter Station's credit, a comfortable and convenient wheelchair ramp offers no-knock access through a side door. Restrooms are particularly well furnished for wheelchair users, with such often-overlooked necessities as towels and soap within easy reach.
<!REVIEW ENDS HERE!>