Older Archived Reviews
This is an older archived review. The Search Feature on this page may not work. To search this site, please return to our Home Page and try your search from there.
---
<!REVIEW GOES HERE!>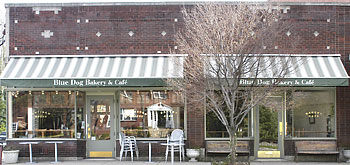 87

Blue Dog Café and Bakery
2868 Frankfort Ave.
(502) 899-9800

One of the best culinary happenings in Louisville in the last decade was the arrival of Blue Dog bread and its expert baker, Bob Hancock. This artisanal bakery with its $50,000 Spanish wood-fired oven, inspired by the noteworthy Acme Bakery in Berkeley, Calif., didn't merely raise the bar, it set an entirely new standard for quality bread in Louisville.

Blue Dog bread is as good as any bread you'll find in the U.S., and competitive with the best in Europe, and I'm delighted to be able to pick it up daily at the bakery and at the selected quality grocers where it's available.

And now, after a few fitful starts, stops and restarts, Blue Dog's cafe operation - back in business after a long break - seems to be catching up to the bakery in quality and style.

A little background here: Soon after Blue Dog came to town in 1998, it was my pleasure to spend a working day (which, by the way, begins at 3 a.m.) with baker Hancock, taking notes for a story that appeared in
Louisville Magazine
. I came away with the image of a gentle perfectionist, a man who loves bread and baking and who tries - with considerable success - to make the best bread that he possibly can.

He also made it no secret that he didn't really want to run a cafe and that he wouldn't do it at all if he didn't need the money that it brought in. Frankly, I think this attitude showed a bit in the restaurant's first incarnation. The bread, of course, was great, and the limited menu showed flashes of excellence. But lines were long and the service was sometimes strange. (Hancock, meanwhile, stuck to his bread, while staff handled the cafe kitchen and service.)

An unpredictable schedule of long, sudden "vacation" closings further reflected mixed management emotions, and finally, last June, the cafe closed "until further notice" while the bakery continued full steam ahead.

It reopened after Thanksgiving - to the joy of neighbors and loyal fans - and although limited to lunch hours, it seems to have found new life and spirit, with a longer menu that takes full advantage of Blue Dog breads and, it appears, a separate staff that brings the same commitment to quality in food service that Hancock brings to his bread.

The double storefront has been redecorated a bit, but you still enter through the retail bread shop and wait to be seated in the smallish adjacent dining room. The oversize "community table" that was a highlight of the previous cafe has been moved into a separate section at the back, behind a shoulder-high room divider, beyond which you can still see bakers at work in the back.

The decor is bistro-style, with textured walls in off-white ecru and a few discreet art works - pencil drawings in wide black frames. Undraped tables, wood side chairs and shiny oak floors make for an edgy, rather noisy environment, and the 40 table seats are expanded by a few tall barstools where overflow diners can munch their meals on a narrow shelf along the large plate-glass storefront windows, watching the Frankfort Avenue traffic go by.

Tables are set with heavy white cloth napkins and quality flatware; wine racks display a short but unusually interesting selection of quality wines (available by the glass or bottle starting at $5.50 a glass, $20 a bottle for Gini 2000 Soave; a red-wine treat is Domaine Gros Noir Bandol from Provence, $7 a glass and $27 a bottle). Anchor beers from San Francisco are also available for $3.75.

The menu features soups, salads and sandwiches, of course, designed to show off the Blue Dog breads with a short but interesting menu of real quality and interest. Three salads, all $7.75, include chicken Caesar, niçoise and Bob's Cobb. The soup
du jour
is $5 alone, $7.50 with a salad.

Seven sandwiches, made on Blue Dog
levain
bread (although you can request substitutions), range from $6.75 (for French blue cheese with roasted red bell peppers, honey mustard and seasonal greens) to $8.50 (for Scottish cold-smoked salmon). A tuna salad sandwich with lemon aioli (garlic mayo) and mizuna (a feathery, delicate Japanese salad green) is $6.95, and a hot pastrami Reuben with Gruyere cheese and sauerkraut is $7.50.

Or choose the
prix fixe
lunch for $15 and you can have it all: Soup or seasonal greens
and
a sandwich plus a glass of wine, beer, coffee or tea or bottled water.

Lunch begins with a generous complimentary serving of Blue Dog breads with whipped butter; if you eat it all, there's plenty more where it came from.

The pan-roasted artichoke, Boursin and seasonal greens sandwich ($7.25) was an oversize double handful, made on thick-sliced Blue Dog naturally leavened
levain
bread, pressed and grilled in a panini-like form, filled with a tasty mix of chopped cooked artichoke, mild, garlicky Boursin cheese, leaf lettuce and deliciously ripe, red tomato slices. It comes with a dish of wheatberry salad, a slight variation on a standard of the previous cafe's menu: Small, chewy wheat "berries" (actually cooked whole wheat kernels) are mixed with red beans and garbanzos and chopped parsley in a sweet-tart Sherry vinegar dressing.

My choice, the Bob's Cobb salad ($7.75), is a tasty a variation on an American salad classic that was allegedly first whipped up as a leftovers snack by Bob Cobb, proprietor of Hollywood's Brown Derby restaurant, on a hungry late evening in 1937. Blue Dog's version is a bit simplified (it loses the traditional avocado and watercress) and composed (it's served in an artful arrangement rather than a tossed melange), but it's still a fine light lunch. Romaine lettuce is neatly cut into small squares and decorated with ingredients neatly arranged across the top in a rugby-shirt row of multi-colored stripes: Cubes of tender chicken breast, fine-chopped hard-boiled egg, tiny cherry tomato quarters, halved pitted black olives, big chunks of blue cheese and a generous ration of lean, crisp bacon cut into bite-size squares, with a ramekin of creamy blue-cheese dressing on the side.

Iced raspberry tea ($1.50) is a raspberry infusion, an alarming bright red in color but quite refreshing, unsweet and tart.

A latte ($2.05) turned out more like a cappuccino, a small coffee cup with an espresso "shot" and hot milk, "capped" with a mound of foamed milk. In one organizational nit reminiscent of the old Blue Dog Cafe, drinks come from the front counter, while food comes from the kitchen. The operations don't seem to be synchronized, so the drinks came early and the meal came later, meaning that I polished off the smallish latte before lunch.

It's worth saving room for made-on-the-premises desserts. a lemon tart ($4.25) the size of a hockey puck boasted a rich, tart-sweet lemon-pie filling in a crumbly sugar-cookie crust, topped with a dab of rich whipped cream.

A hearty lunch for two came to $24.17 plus a $5 tip. It's good to see Blue Dog Cafe back, better than ever.
$$
(Updated March 2003)
<!REVIEW ENDS HERE!>