Older Archived Reviews
This is an older archived review. The Search Feature on this page may not work. To search this site, please return to our Home Page and try your search from there.
---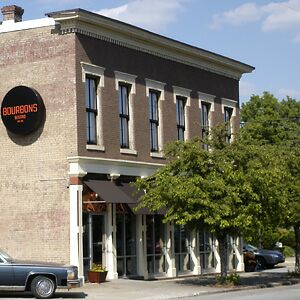 86

Bourbons Bistro
2255 Frankfort Ave.
(502) 894-8838

Web:
http://www.bourbonsbistro.com
<!REVIEW GOES HERE!> Bourbon has been Kentucky's traditional nectar for more than 200 years. It's a potion that many of us have long taken for granted.
But Bourbon is coming back into its own. Today, small-batch and even single-barrel brands command high prices and the sort of connoisseurish reverence formerly afforded only the single-malts of Islay and the Scottish Highlands, or perhaps the ancient brandies of Louis XIII. And Bourbon is uniquely associated with Louisville and the Bluegrass.
Now, just in time for Derby 2005, Frankfort Avenue is newly blessed with Bourbons Bistro, a new spot in the comfortable, if thoroughly renovated, confines of the old Rascal's Bar & Grill, a fine bar and comfortably upscale-casual restaurant featuring what must be the world's most comprehensive Bourbon list (well over 100 of them, plus another score of related libations) and a staff that's being thoroughly trained to dispense them with knowledge and skill.
In its focus on the thorough and intelligent service of every imaginable Bourbon, Bourbons Bistro goes well beyond the happy standard previously set by the excellent Seelbach Bar or the estimable Old Forester Club at Jarfi's; and it blows out of the water its most direct competitor, Maker's Mark Lounge in Fourth Street Live, a localized chain with Philadelphia connections and a Bourbon list that barely tops 50 items.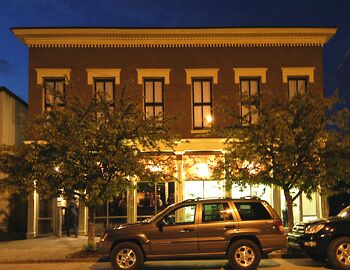 Best of all, the bill of fare at Bourbons Bistro is fully a match for the excellence of its libations, with Chris Howerton - formerly chef at the late, lamented Zephyr Cove, now at the helm of the Bistro's kitchen, a workplace where chefs toil under bright lights in full view of passersby on busy Frankfort Avenue. (The kitchen is behind the brightly lighted pair of windows nearly obscured by hulking SUVs in the photo at left).
Entry is unfortunately reminiscent of the old Jupiter Cafe on Baxter: Supplicants must traverse the crowded and very, very smoky bar, waving their way through a wall of blue haze to get to the fresher air of the long, fairly spacious dining room behind it. Once seated, you'll find yourself in a good-size, nicely set-up room with exposed brick painted mellow brown down one side, simple beige on the other, and a bronze-gold leather-look wall treatment at the back, all illuminated (somewhat - it's an intentionally dim room) by track lighting mounted on the black ceiling.
The walls are lined with dozens of large black-and-white matted and framed photos of old distillery scenes, from barrel rooms to neatly dressed distillery workers lined up in their best shirts and ties. Old-house windows are paned with frosted glass, concealing the view of a galvanized metal industrial building next door that wouldn't really enhance the decor.
BOURBON COUNTRY
As noted, Bourbons Bistro boasts the city's most imposing list of Kentucky dew, an oversize, front-and-back sheet that enumerates about 125 selections, most of them accompanied with notations of barrel age and proof for the benefit of aficionadoes.



Pedants will note that a few of the liquors listed aren't really Bourbons: Jack Daniel's is Tennessee whiskey, for instance, and you'll also spot a few rye whiskeys on the list. But that's nit-picking.



Bourbon "flights" - tastings with small portions of several brands for side-by-side comparison - are coming soon, our server said. For now, the liquors are available by the drink, in generous pours.



Prices start at $5 for quite a few labels, mostly mass-market brands like Ancient Age, Evan Williams and Jim Beam, and such affordable oddities as Rebel Yell Sour Mash Bourbon, Platte Valley Kentucky Corn Whiskey and a particularly notorious fluid called "Banker's Club."



At the ethereal end you'll pay a cool $45 for a taste from one of the surviving bottles of the late Booker Noe's Distillers Masterpiece Port Wood Finish 20-year-old Bourbon, a rare treat that you'll want to sip and savor very slowly indeed at that price. (It's $300 retail if you can find it.) A.H. Hirsch 20-year and Pappy Van Winkle's Family Reserve 20-year both go for $20 a glass.



In the more rational ranges, some of my favorites include Knob Creek ($8), which I give a slight edge over Woodford Reserve ($8); Basil Hayden is a good choice at $9, and you can put Noah's Mill, a personal favorite, in your glass for $12.



I went with a local boy's secret for my after-dinner treat: W.L. Weller 12-year is one of the best-value Bourbons around, selling for a low-end price mostly because it's an old, familiar label without modern pretension. It's $6 on the list, but billed at $7, apparently because a portion served "neat" gets a little extra splash to make a full 2-ounce serving in a good-size glass.



Brilliant amber in color, classic Bourbon aromas of caramel, brown sugar and spice lift from the glass like fine cognac, with back notes of smoke and a distant hint of dark chocolate, just about as pleasant to sit and sniff as it is to sip. It would be enough to make a man want a fine cigar to go with it, if a man weren't afraid that a fine cigar would make him throw up.
The overall mood reminds me somewhat of Fusion and a little of North End Cafe; it's another casually upscale, unpretentiously arty addition to a Crescent Hill neighborhood that's happily developing a critical-mass cluster of similar-only-different spots.
About two dozen matte black four-top tables are set with good-quality white cloth napkins and heavy flatware, votive candles in simple frosted shot-glass holders, and very fine, good-size wine glasses that win a wine-geek's applause. Side chairs are shiny dark wood, not overly large but reasonably comfortable.
The bill of fare begins with seven appetizers, ranging in price from $5.95 (for fried green tomatoes with garlic and chive aioli) to $10.95 (for diver scallops with pickled green-bean salad and mustard sauce). Four salads are $5.95 (for a Caesar or a lettuce wedge with blue cheese, red onion and tomato) to $7.95 (for an eat-dessert-first Kentucky Bibb salad with ginger-mint dressing with fresh strawberries and pecans).
The dinner menu is "upscale down-home" - somewhat reminiscent of the fare at Limestone - based on Kentucky traditions with eclectic international riffs, many of them using Bourbon as a flavor accent or in a sauce.
A dozen entrees are $9.95 (for a "hand-pattied" burger with Kentucky Cheddar, house-made pickles and sweet potato fries) to $26.95 (for an "iron-seared" filet of beef with Yukon gold mashed potatoes and Bourbon demiglace). There's a good mix of red meat, poultry and fish, including such appetizing options as jumbo prawns and angel-hair pasta tossed with dried-cherry Manhattan broth ($24.95); roasted duck breast with Bourbon citrus glaze and green beans ($23.95); seared bass with succotash and sweet'n'sour glaze ($19.95); pan-roasted salmon with shrimp butter and asparagus ($16.95), maple corn-crusted trout with stewed tomatoes and cabbage ($15.95), and our dinner choices, chile-rubbed pork loin medallions with apple-mango chutney and roasted potatoes ($15.95) and half of a roasted chicken with country ham and redeye gravy ($15.95).
Vegetarians will be pleased to know that there's always a meatless special of the day ... this night's feature was a vegetable stir-fry with vegetable sushi rolls.
The wine list isn't overly long, but more than credible for a spot that specializes in Bourbon, featuring about 50 selections in print so tiny that it's hard for my middle-aged peepers to make out in the dim. Only a few wines at the lower end are available by the glass, from $5 ($20 for a bottle) for Hogue Riesling or Bogle Petite Sirah (a reasonable price, by the way, for a bottle that sells at local retail for $10) to $8 ($32 a bottle) for Clos du Bois Cabernet Sauvignon.
Just about all the wines are under $50, the list topping out at $68 for Girard Napa among the reds, $56 for Sonoma-Cutrer Les Pierres Chardonnay in the whites. St.-Supery Meritage Red looks like a good buy at $42.
If you don't want a full bottle, a good option to wine by the glass is a half-bottle (375 ml), which provides about three good servings. Six are available, from $19 for Coppola Merlot to $25 for Swanson Merlot or Kenwood Jack London Cabernet Sauvignon.
I chose a half-bottle of King Estate 2001 Pinot Noir ($24), which gave us plenty to drink with dinner and leave a little room for an after-dinner taste of Bourbon (see sidebar). The wine was simple but pleasant, with plenty of the earthy herbal black-cherry flavors of Oregon Pinot.
We started our meal with a shared appetizer order of fried oysters ($8.95), and it was an appetizing appetizer indeed. Four indusputably fresh oysters were gigantic - one was literally bigger than a baseball, the rest the size of golf-balls, crusted with a creditably light cornmeal breading that was deep-fried grease-free, crisp, hot and delicious, served around an excellent mound of coarsely cut, creamy slaw plated on a dark, sweet barbecue sauce laced with Worcestershire and perhaps a dash of Kentucky's finest.
A basket of Blue Dog levain bread with whipped butter arrived after the appetizer.
The roast chicken and country ham ($15.95) was not your basic truck-stop dish but an imposing gourmet-style construction, half of a chicken with the breast and part of the thigh boned out and rolled around a filling of diced country ham, celery and carrot and gentle spice, roasted whole, then sliced into pretty rounds reassembled in a half-circle around the plate. It was accompanied by creamy and rich potatoes, roughly smashed, not smoothly mashed. A small portion of thin baby green beans were cooked just crisp-tender and accented with a sprinkle of thyme.
A very generous portion, the chile-rubbed pork loin medallions ($15.95) consisted of three tender boneless slices, criss-crossed with mahogany-dark grill marks, dusted with a subtle heat of smoky chile peppers - chipotles, perhaps. A hint of mint flavor made an odd flavor contrast with the gentle chile "burn" that took a little getting used to. On balance, though, it was a memorable dish, and one of the chops, taken home in a doggie box, was just as good for a sandwich the next day.
The chops were plated atop a few creamy fingerling potatoes sliced lengthwise, over a pool of thick, sweet and tangy apple-mango "chutney" that could have passed for homemade applesauce, coarsely pureed and mixed with tiny currants, with an appetizing hint of smoky heat that may have migrated to the chutney from the chops but worked very well there. Three fat spring asparagus spears were perfectly cooked, fresh and green, still barely crisp to the tooth yet tender all the way through.
A choice of five desserts range in price from $4.95 (for baked-apple ravioli) to $7.95 (for cheesecake). We shared a dish of chocolate Bourbon bread pudding ($6.95), and it proved to be a good one, if a bit idiosyncratic: In contrast with the long-soaked, pudding-like consistency of traditional bread pudding, it seemed more like good French bread with Bourbon-laced dark chocolate sauce poured over and briefly baked. Rather than turning into a puddinglike texture, the bread retained its toasty identity, but there was nothing the matter with that, especially once it was topped with a drizzle of caramel and a dollop of whipped cream.
Service was good; friendly and competent if almost overly attentive at times, occasionally erring on the side of too frequent "How are we doin'" interruptions, perhaps to be expected in a new spot.
Dinner for two was $83.53 plus a $17.47 tip for an indulgent dinner; we held down the toll a bit by sharing the appetizer, dessert and after-dinner Bourbon and choosing a half-bottle of wine. $$$
(May 2005)
ACCESSIBILITY: This may be one of the city's best examples of thorough, careful and stylish accessiblity in an older building, from the grade-level front entrance to the thoughtfully equipped restrooms with stylish lever sink handles and towels easily available to all on a low table.
<!REVIEW ENDS HERE!>