Older Archived Reviews
This is an older archived review. The Search Feature on this page may not work. To search this site, please return to our Home Page and try your search from there.
---
<!REVIEW GOES HERE!>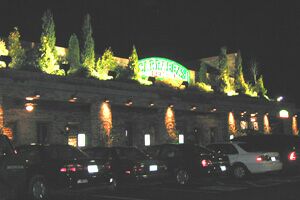 I'm notoriously hard on franchise-run operations, based on ample evidence that corporate chains almost invariably show the effects of head-office bean-counters cutting corners to save a buck. So when I discovered that the Houston-based Carrabba's has 100 outlets around the nation (and actually
brags
that its "Italian" cheeses are made in a factory in Wisconsin), I didn't set my hopes too high.
But Carrabba's isn't your ordinary suburban shopping-center eatery. This becomes obvious as soon as you drive in and discover that the entire front of the building is topped by a row of full-size pine trees that appear to be growing out of the roof.
Let the record reflect, then, that this place dramatically exceeds expectations. From warmed bread dishes to quality oil in pretty cruets, fresh herbs, pepper grinders and sea-salt mills on the tables and large, elegant wine glasses - not to mention quality Italian-American fare at reasonable prices - Carrabba's offers lots of nice little touches that go the extra mile.
Everyone seems happy here - it's loud but not noisy, and people at every table are sporting smiles, a sure sign that this is a place where diners are treated right. Indeed, word-of-mouth advertising has made this new Hurstbourne spot a popular destination. When we showed up rather early on a Tuesday evening - one of the deadest nights of the week in the restaurant business - we found an overflow crowd and a gridlocked parking lot and were told to expect an hour's wait.
Cold glasses of Sierra Nevada Pale Ale and a cozy corner kept us busy while we waited, and exactly 59 minutes later, our flasher went off to let us know a table was ready. Good timing!
The decor is what I call "New Jersey Italian," but pleasant enough, a large, low-ceiling room with black-and-white photos that look like Italian immigrant family pictures framed in wood. Wooden latticework extends over rows of booths with plastic grapevines twining through them, and there's an open kitchen at the back, where some seats actually line up along a bar so diners can watch the chefs cooking pizzas in wood-burning ovens.
The restaurant's overall ambience is romantically dim, but lights are strategically spotted so every table is bathed in a pool of light so you can easily see what's on your plate - no mystery meat here. The tables have odd but attractive tops that look like color photos of abstract stone mosaics in earth tones and sky-blues, covered with shiny polyurethane.
The menu offers a good selection of Italian-American dishes, including eight antipasti (appetizers) from $5.99 (for fried mozarella sticks) to $8.99 (for shrimp scampi, sauteed with garlic with a white-wine and lemon-butter sauce). A traditional antipasto plate is $8.99; so is a house specialty, cozze in bianco, a delicious platter of fresh mussels steamed in wine with garlic, olive oil and anise-flavored Pernod.
A half-dozen soups and salads range from $2.79 (for a cup of minestrone or soup of the day) to $11.99 (for insalata Johnny Rocco, a meal-size salad topped with grilled shrimp and scallops). Four wood-fired pizzas (which you can make into a meal by adding $2.59 for a salad or cup of soup) are $8.49 (for the traditional tomato-and-cheese Margherita) to $9.99 (for Ti Piace with your choice of any or all of a list of 10 traditional pizza toppings).
About 20 entrees are subdivided into three categories - grill specialties, pastas and "Italian Classics" - and range in price from $9.99 (for mezzaluna ravioli stuffed with chicken, ricotta and spinach and sauced with tomato cream) to $18.99 (for filet Fiorentina, a 9-ounce tenderloin).
There's full bar service, and the wine list includes about three dozen bottles - about half Italian and half American - marked up about double retail but with many choices under $30 and a few under $20; most are available by the glass from $4.75 to $8 for a generous pour.
The wine glasses are amazing, large and stylish and actually better in quality than those offered at many of the city's most fancy white-tablecloth spots. Wine service, on the other hand, is casual, with the cork pulled at the bar rather than at tableside. I picked a favorite from the list, Gabbiano 1999 Chianti Classico ($23), a pleasant and appealing red with warm and fruity black-cherry flavors and spicy oak, with that snappy acidity that makes Chianti a natural at the dinner table.
Our friendly and competent server got us started with the Italian-American alternative to chips and salsa: A dish loaded with aromatic dried herbs is flooded with green olive oil to make an instant herb-infused oil for bread dipping, and they leave the cruet on the table in case you want more. A generous portion of warm white bread isn't heavily crusty like a fine artisanal loaf, but it's tasty enough and makes a great way to start the meal.
Unable to resist pizza wherever I find it, I ordered a small one as an appetizer with the idea of boxing half to take home, but had a hard time keeping myself from eating it all on the spot. Pizza Margherita ($8.49), the original Neapolitan pie, is a culinary celebration of the red, white and green stripes of the Italian flag. Thick slices of surprisingly ripe out-of-season tomatoes, rounds of molten mozzarella and torn fragments of fresh basil were drizzled with fruity olive oil and baked to sizzling atop a hot, crunchy dough that's very much like a crusty, chewy flat loaf of Italian bread with nicely browned (but not charred) spots from the oven.
Most dinners come with your choice of house, Italian or Caesar salad or soup. The salads come in generous portions in attractive, deep white bowls, and in an appetizing touch, they are served ice-cold, crisp and refreshing.
The house salad includes romaine lettuce, tomatoes and croutons and a few red onion rings, olives, thin-sliced celery, a hot pepperoncini pepper and a light vinaigrette. The Caesar offered light, crisp garlicky croutons over squares of crisp romaine, topped with shreds of mozzarella and a rather mild, creamy Caesar dressing. It was a middle-of-the-road Caesar, but fresh and well-made.
Entrees kept up the pace, well-made from quality ingredients and served hot. From the "classics" menu, spaghetti with meatballs ($10.49) was a mound of perfect spaghetti served in an oversize white pasta bowl with an excellent tomato sauce that wasn't a gloppy overcooked "gravy" but a light and fresh tomato sauce. Three oversize meatballs were savory yet light, an ample ration.
My choice, Pollo Rosa Maria ($13.99) from the "grill specialty" side, was delicious. It featured a pair of small boneless chicken-breast pieces, cooked tender with crunchy edges and infused with a light smoky taste from the grill, each stuffed with a tasty bit of domestic prosciutto and mild cheese and topped with sauteed mushrooms and a buttery basil-flavored light sauce. I reluctantly passed on garlick mashed potatoes as my starch choice in favor of a side dish of fettuccine pomodoro, a delicate fresh-tomato sauce over tender and light pasta that was so tender and delicate that it seemed more like fresh pasta than dried.
Carrabba's dessert list is short but appetizing, but we were so full and happy that we passed, leaving our bill for an excellent dinner for two at a rational $59.33, including the wine. Excellent service earned a $12.67 tip. $$$
(December 2001)
<!REVIEW ENDS HERE!>