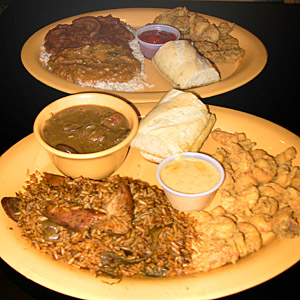 Nothing says "I love you": like a plate of gumbo, jambalaya and fried crawfish tails from Joe's OK Bayou. Dig in! Photo by Robin Garr.
LEO's Eat 'n' Blog with Louisville HotBytes
(Joe's OK Bayou, Ramsi's Cafe on the World)
It's a long way from the Louisiana bayou country to the shopping centers that are rapidly replacing forests and fields on New Albany's far north side, but once you step into Joe's OK Bayou, the distance seems to disappear. Or some of it, anyway.
Like its Kentucky-side counterpart in Plainview, this relatively new edition of Joe's (it opened the autumn before last) turns bland shopping-center space into a modest replica of a Cajun-country saloon. The walls are painted to resemble a fishing shack surrounded by cypress trees and subtropical birds. Zydeco music in the background and glowing Abita beer signs complete the Acadian ambience, and the food does a reasonably good job of evoking the bayou country, too. Continue reading Fat Tuesday Valentine at Joe's OK Bayou →