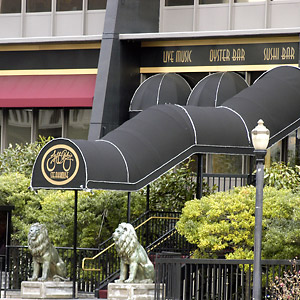 Jeff Ruby's: Jeff Ruby's Steakhouse at Fourth and Main is one of several upscale restaurants that opened here this year. Photo by Robin Garr.
LEO's Eat 'n' Blog with Louisville HotBytes
(2006 wrapup and Jeff Ruby's review)
History may record 2006 as the year that the Louisville restaurant industry finally shucked the post-9/11 attitude that eschewed upscale, pricey dining.
Two of the year's biggest downtown restaurant success stories are the arty, glitzy Proof on Main, and the very pricey Jeff Ruby's Steakhouse. It's easy for a diner to blow past the $100 mark for an evening meal at either of these fine spots. Said diner will go home stuffed and happy.
Nor did these two stand alone in the year's march back toward more conspicuous consumption: From the upscale RAW sushi bar downtown and the classy Danielle's in Clifton, Nio's on Baxter and Stratto's in Clarksville to the lovable Bistro New Albany, the upscale (if not necessarily expensive) restaurant hits just kept on coming. And we're glad.
Continue reading Nothing succeeds like excess →