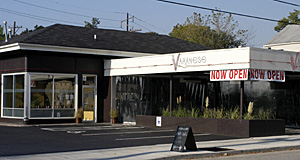 Varanese – named for chef John Varanese, who's been chef at the Cardinal Club and the late, great Azalea – opened last month in the old Red Lounge on Frankfort Avenue. The space has been completely renovated, and the food recalls Azalea. Photo by Robin Garr.
LEO's Eat 'n' Blog with Louisville HotBytes
I was really excited when I heard about this new restaurant. Its name sounded like "Veronese." Verona! The legendary home of Romeo and Juliet is one of my favorite cities anywhere, and Veronese food and wine rank among my favorite cuisines. If this new place was going to feature the delicious dishes of Northeastern Italy's Veneto region, I would be a happy boy.
Duh. I wasn't listening close enough. That's VarAnese, not VerOnese. Never mind!
In fact, this new dining room – it opened Aug. 20 in the former Red Lounge – is named for its owner and chef, John Varanese; and that's not a bad thing, not bad at all.
Continue reading By any name, Varanese is a winner →