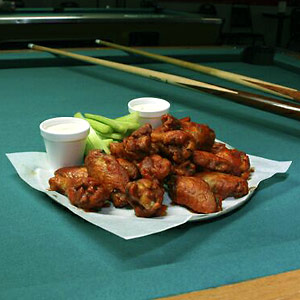 Back Door wings are legendary. Have them mild, medium, hot or "Burner." LEO Photo by Nicole Pullen.
LEO's Eat 'n' Blog with Louisville HotBytes
(Nine fine spots for wings)
The calendar says it's September, and just about everybody in town is fired up for the Cards vs. Cats weekend. So where are the colorful leaves, that hint of wood smoke in the air and the crisp, hazy autumn afternoons that define "football weather"?
OK, so it's a little early for that, with temperatures still hitting the 90s and few signs of autumn around. But one constant of the season remains: Whether you're tailgating at the stadium or planning a hearty repast for an afternoon of football on TV, it's hard to imagine a better football snack than a mess of spicy, crispy Buffalo-style chicken wings.
Continue reading On wings of fire →