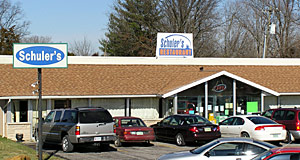 The crowded parking lot at Schuler's in Henryville, Ind., signals a popular neighborhood establishment. Photo by Fred Schloemer.
LEO's Eat 'n' Blog with Louisville HotBytes
Imagine a world without fast-food restaurants, with no golden arches beckoning hungry travelers. It's almost unthinkable in this day and age, but if you can do it, you're probably at least 50. For anyone younger, fast food has always been a fact of life.
So says local free-lance writer (and psychotherapist) FRED SCHLOEMER, who favors us this week with this reminiscence of Schuler's Family Restaurant in Henryville, Ind., a veritable gustatory time machine that can whisk us back to the days when the Beatles were young and Elvis was still alive.
Tell us about it, Fred!
Continue reading Travel back in time at Schuler's →