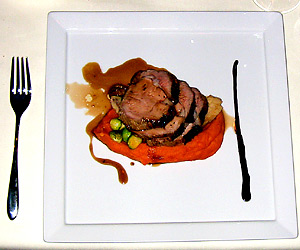 Plated on a seductive, creamy puree of house-smoked sweet potatoes, the butter-tender Sonoma veal cutlets at Corbett's "An American Place" are a work of culinary art. Photo by Robin Garr.
LEO's Eats with Louisville HotBytes
(Seviche – A Latin Bistro; Corbett's "An American Place")
Here's a vignette that captures the year 2007 on the local dining scene for me: I'm enjoying lunch in the new Seviche – A Latin Bistro on Goose Creek Road. The room is packed, but I'm the only male in sight, and I'm the youngest person in the place except for the servers. I'm enjoying a wonderful Chinese-Latino "fusion" seviche … and all the ladies lunching around me are having guacamole and quesadillas and talking about what a marvelous new Mexican place this is.
In fact, the year 2007 has seen a lot of action on the Louisville restaurant scene, including some disappointing closings (Bistro New Albany, Azalea, Diamante, Harper's) and some exciting openings (Mojito, Basa, Varanese, Wild Eggs, Original Impellizzeri's), not to mention a closing-but-reopening (Nio's at 917) and even a closing-opening-closing-opening-again-then-really-and-truly-closing (the ill-fated Oscar Brown's/La Rouge/Bobby J's).
Perhaps the most intriguing developing local restaurant trend, though, is the first shaking of a seismic shift: The arrival of Seviche and other top-echelon, locally owned and independent white-tablecloth restaurants in the chain-rich East End.
Continue reading Rising trend for '07: fine dining comes to suburbia →