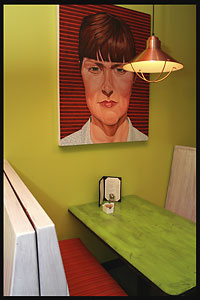 One of the reasons Café Lou Lou's new locale works is the retention of the original look, including striking art pieces. LEO photo by Nicole Pullen.
LEO's Eat 'n' Blog with Louisville HotBytes
The 19th century French satirist and polymath Alphonse Karr was not, as far as we know, a food critic. But when he penned the lines, "Plus ça change, plus c'est la même chose" ("The more things change, the more they stay the same"), he might as well have been talking about Louisville's Café Lou Lou.
A lot of us obligate urbanites were horrified to learn earlier this year that Chef Clay Wallace and co-owner Helen Ellis planned to move the popular eatery's quarters from Frankfort Avenue in Clifton to St. Matthews, literally across the street from where Sears used to be.
Leaving the artsy, hippy-dippy diversity of Clifton for almost-suburban St. Matthews? How can this be, we wailed! Café Lou Lou can't possibly stay the same! How can it survive in the whitebread land of SUVs?
As it turns out, the answer to these questions turns out to be, "Very nicely indeed." Or, if you prefer, "Plus ça change."
Continue reading Plus ça change at Café Lou Lou →