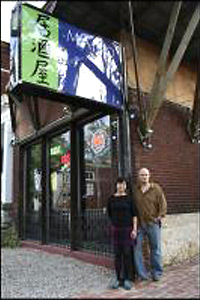 Maido Essential Japanese is Louisville's only example of "izakaya" dining, a combination of pub, sake bar and eatery. Pictured are owners Jim and Toki Masubuchi Huie. LEO Photo by Nicole Pullen.
LEO's Eat 'n' Blog with Louisville HotBytes
(Maido Essential Japanese)
Here's a dining critic's dilemma: I live in Crescent Hill, so I drive past Maido Essential Japanese often. Every time I do, I look over and feel a warm, loving feeling pass over me as I think, "I love that place." Yet, because duty calls me to dine somewhere different every week, I rarely get to come back to Maido and other favorites … and that's just wrong.
So it was to my great delight that I turned over a calendar page the other day and saw that enough time had passed since Maido's 2004 opening to justify a return trip. Hai!
Maido, it should be noted, is Japanese, but it is not just another sushi bar. In fact, it's not a sushi bar at all, although sushi is made in the kitchen. It's something much more interesting: Louisville's only example (and one of the few between the coasts) of "izakaya" dining, a combination of pub, sake bar and eatery that's beloved by "sararimen" ("salary-men" or business workers) in Japan's second city, Osaka, and the Kansai region around it.
Continue reading Maido: Not just another sushi bar →