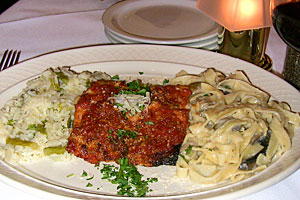 Lentini's tris di pasta sampler: risotto con asparagi, thin and dense lasagna and wide tagliatelle in a light cream sauce with Portobello mushroom slices. Photo by Robin Garr.
LEO's Eat 'n' Blog with Louisville HotBytes
The red neon sign out front of this Highlands landmark isn't retro, it's real. It takes us right back to the '60s, still luring us in to Lentini's "Little Italy" just as it did when it opened 45 years ago when JFK was president, Elvis was King and girls wore beehive hairdos and poodle skirts.
When the last Lentini ("Sonny") retired in 2001, a partnership with a Vietnamese entrepreneur followed and we got banh mi and pho alongside lasagna and pizza. This strange experiment didn't last long. Lentini's closed, reopened under new management in 2003, then closed again. New owners tried again and promptly went bankrupt. Now it's ba-aa-ack for a third try, or is it a fourth?
This time, though, the signs look good. Continue reading Lentini's is back, again, and it's better than ever →