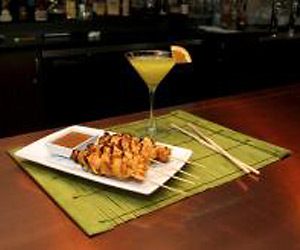 Whether you go for the Malaysian dishes or prowl the East on August Moon's eclectic menu, this 20-year-old eatery remains a favorite. The chicken satay recipe comes from Chef Peng Looi's hometown of Ipoh, Malaysia. LEO Photo by Nicole Pullen.
LEO's Eat 'n' Blog with Louisville HotBytes
(August Moon, Festa Italiana)
When the weather forecast for the first weekend of autumn calls for high temperatures in the middle 90s, something just plain isn't right.
What can we do about it? I'll leave the big picture details to Al Gore, but as for me, I've got a plan: We'll go with the climate flow, but gradually switch over to dining on tropical cuisines. I figure folks who live within shouting distance of the equator probably know something about eating to beat the heat.
Happily, it's not hard to find tropical cuisines in Louisville, where warm-climate dining options range among such favorites as Vietnam Kitchen, Mayan Café, Thai Taste, Queen of Sheba, Taste of Jamaica, the recently relocated Chez Seneba and many more.
The other day, though, sitting around with the air-conditioning cranked up and nursing an appetite, I found myself craving authentic Malaysian satay. Continue reading We go Malaysian in the autumn heat →