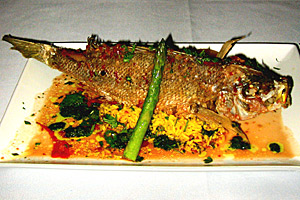 Seviche's crispy fish was a deep-fried red snapper about a foot long, served head and tail on, set in swimming position atop a bed of subtly flavored macadamia-nut rice. Photo by Robin Garr.
(Seviche – A Latin Bistro, Voice-Tribune, Nov. 29, 2007)
When Anthony Lamas's son, Ethan Diego, turned 4, Lamas and his wife, Samantha, made the same decision as a lot of young parents before them: They moved from the Highlands to the East End, seeking a quiet, suburban setting with good schools for the youngsters.
It wasn't long before Lamas made another important decision: With the strong encouragement of his wife and his father-in-law, Dr. Bruce Gaddie – longtime Oldham County residents – he brought his workplace out to the suburbs, too.
Lamas, chef and owner of Louisville's immensely popular Seviche – A Latin Restaurant – now presides over two restaurants, having opened Seviche – A Latin Bistro last month in the quarters vacated by the short-lived Cutting Board on Goose Creek Road.
With the exception of locally owned and operated Limestone on North Hurstbourne, Lamas said he was startled to discover how much the East End's fine-dining scene has been dominated by corporate chain eateries.
The arrival of the new Seviche, though, coupled with Equus chef-owner Dean Corbett's planned opening of Corbett's An American Place in Brownsboro Crossing on Dec. 15 and Napa River Grill's planned move from Dupont Circle to Westport Village early next year, may signal a coming tide.
Continue reading Seviche comes to the East End →