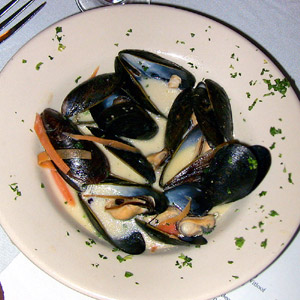 Bistro New Albany and New Albanian Brewing Co. teamed up for an "Extreme Belgian" dinner that paired Belgian beers with various dishes, such as this succulent mussel soup. Photos by Robin Garr.
LEO's Eat 'n' Blog with Louisville HotBytes
(Extreme Belgian at Bistro New Albany; CarlyRae's)
If you don't think there's any class distinction between wine and beer, you might consider whether you've even seen a drunk slouch into a bar and yell, "Wine me!" Beer, let's face it, owns a downscale, blue-collar image that contrasts with wine's perceived position as the drink the beautiful people sip.
But need this be so? In an age when artisanal brewpubs and microbreweries abound and the term "quality American beer" is no longer an oxymoron, it's arguable that beer – fine, crafted beer made in a wide variety of styles – deserves as much connoisseurish attention as wine enthusiasts are accustomed to lavishing on their grape juice.
Continue reading Critic yells 'beer me' as suds go upscale →