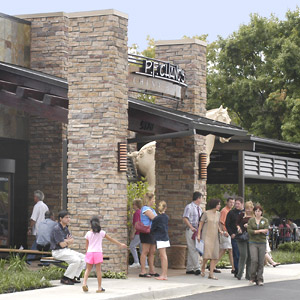 Long waits were common when P.F. Chang's opened in Louisville last year. Photo by Robin Garr
LEO's Eat 'n' Blog with Louisville HotBytes
(P.F. Chang's, Cheesecake Factory)
"Unite," Karl Marx urged the workers of the world. "You have nothing to lose but your chains." And speaking of chains, my experiences with dining at the franchised variety too often remind me of another Marx – Groucho – who famously said, "I've had a perfectly wonderful evening. But this wasn't it."
Please note that I'm not simply bashing all chains, sight unseen. I've had splendid meals at quite a few, and published glowing reviews. But whether you're looking at a restaurant chain like Cheddar's or a newspaper chain like Gannett, simple logic argues that when corporate bean counters rule spending, corner-cutting and diminished quality are likely to follow. Chains simply operate under different constraints than an independent local business run by an owner-chef whose passion drives him or her to excel regardless of costs.
This seems to work, most of the time. Consider the popularity of the Louisville Originals restaurants and similar locally owned eateries: You'll find few chains knocking the locals out of any critic's list of Top 10 places to dine.
And yet … some chains clearly do something right, because hungry crowds fairly knock down their doors. Take the suburban culinary meccas P.F. Chang's and Cheesecake Factory. The three-hour waits of the early days may have diminished a little since they opened last autumn, but eager diners still line up hungrily at dinner time.
What is their secret? Continue reading Chains – Was Mr. Marx right? →