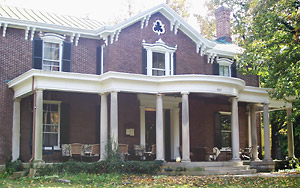 Holly Hill Inn in Midway, Ky., is located in a beautiful brick structure that dates back more than 150 years. The building is listed on the National Register of Historic Places. Photo by Kim Massey.
LEO's Eat 'n' Blog with Louisville HotBytes
(Holly Hill Inn, Gourmet to Go's rye bread, Oceanside Seafood)
Call me an unreconstructed urbanite, but I tend to assume that if you desire sophisticated fare in an upscale environment, you'll want to stay close to the city.
Sure, there are exceptions, with jewels like Limestone and Ferd Grisanti in the chain-rich suburbs, and worthy dining destinations even in the outer ring of suburbs, from RockWall above New Albany to Norma Jean's Trackside and Westport General Store out in Oldham County, just to name a few.
But who'd have thought that one of Kentucky's most sophisticated eateries – so good that it attracts national media attention – resides in tiny Midway, a good hour's drive east of downtown Louisville, so far out into the Bluegrass that you've got to drive past Waddy and Peytona to get there?
It's true. Featured in such publications as Bon Appetit, Food & Wine and Southern Living and invited to show their stuff at James Beard House in New York City in June 2004, the husband-and-wife team of owner-restaurateurs Chris and Ouita Michel have put Midway not only on Kentucky's culinary map but the nation's with their Holly Hill Inn. Continue reading Big-city dining at bucolic Holly Hill →