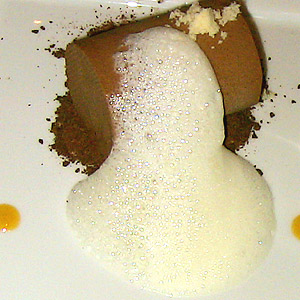 "Culinary foam": A mound of glistening orange white chocolate froth drooling off your Oakroom dessert is airy and succulent, but it's not so easy to look at on the plate. Photos by Robin Garr.
LEO's Eat 'n' Blog with Louisville HotBytes
"Culinary foam" – trendy for decades in the upper reaches of dining-as-theater – is one of the more striking "molecular gastronomy" inventions of Spanish Chef Ferran Adrià of El Bulli near Barcelona. The flavored foams – aerosol squirted onto food – add subtle tastes, and they signal that the chef is "with it."
Adrià has been foaming since 1995, and now foams have made it to Louisville, where Chefs Todd Richards and Duane Nutter and Pastry Chef Ethan Ray are making their mark with foams, smears and sauces, dispensed from martini shakers or spread in thin, colorful layers across your plate.
The Oakroom crew does molecular gastronomy very well: The white-chocolate-orange foam on a succulent chocolate trio dessert plate the other night was intensely flavored yet light as air. But much like a raw oyster (and I choose the analogy advisedly), a mound of glistening froth drooling off your food isn't easy to look at on the plate.
Continue reading Oakroom foams over the top →