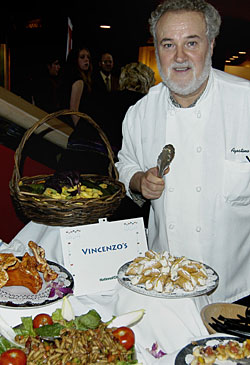 Chef Agostino Gabriele presides over Vincenzo's table at last summer's WorldFeast. Photo by Robin Garr.
Service gaffes mar dinner for our anonymous critic
One of the toughest challenges that faces the long-term food critic is that, eventually, most of the players in the local restaurant business figure out who you are. Even when you keep a very low profile, it doesn't take the sharper cookies long to figure out who's covering the eats beat.
There are plenty of ways for a savvy critic to minimize the damage, but sooner or later you'll know the game is up, usually when you sneak into a white-tablecloth eatery and find the proprietor greeting you on bended knee, offering to shine your shoes to a high polish. Let's be frank: You may still be able to carry off a competent review if you're recognized, but there's no way a proud restaurateur isn't going to ramp things up for your delectation. A little extra service, a single server assigned exclusively to your table; extra attention to preparation, a bit more care in selecting the best cut or adding a little extra "bam!" to the presentation … all just for you.
For this reason, while I've enjoyed many a meal at Vincenzo's since this posh Italian spot opened downtown in 1986, I have never been able to enjoy an anonymous meal there. On my first visit, a server recognized me and outed me to the man himself, Vincenzo Gabriele. Now whenever I dine at Vincenzo's, I know I'm going to have a four-star experience. No extra charge for the shine.
But how about an anonymous civilian? Would Vincenzo's deliver the same level of suave, sophisticated service and top-tier Italian fare to a truly anonymous customer as it does for a recognized dining critic? Just to make the test more interesting, how about a pair of young, unaccompanied women?
Continue reading Has Vincenzo's lost a step? →