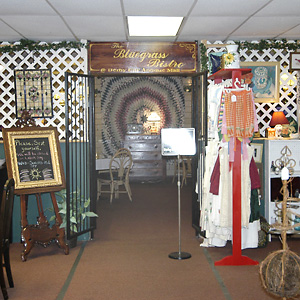 The Bluegrass Bistro recently opened inside the Derby City Antique Mall in Buechel. Photos by Robin Garr
LEO's Eat 'n' Blog with Louisville HotBytes
(Bluegrass Bistro, Hippo Wings, WingZone)
If you want to find a really good lunch in Louisville for a really good price, go shopping for antiques.
Here's my theory: People who enjoy the hunt for serious antiques and who know how to distinguish the good stuff from junque are also likely to have a well-honed skill at scouting out lunch.
Evidence abounds. One of the best lunch spots in town is The Cafe at the Louisville Antique Mall on Goss Avenue. Shelbyville's august Wakefield-Scearce Galleries boast the memorable Science Hill dining room. Middletown's old Main Street, a major destination for antique-hunters, is well served by the estimable Alley Cat Cafe, and the new A Little Peace Cafe is earning good reviews at the Mellwood Arts Center. East Market and Main streets and Frankfort Avenue and Bardstown Road are all famous for both their antiques and their eateries.
Now add Bluegrass Bistro to the mix. Continue reading Dining among the antiques →