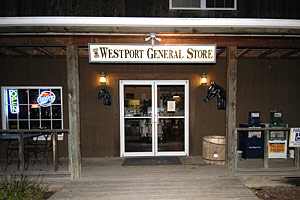 Westport General Store: about 30 minutes from Louisville, is down-home, innovative and urbane. Photos by Robin Garr.
LEO's Eat 'n' Blog with Louisville HotBytes
A rustic country store in a tiny rural village, it boasts a breezy veranda, an oversize wheel of fine cheddar cheese, and a down-home bill of fare that includes such goodies as stone-ground grits and country-fried pork chops and even, occasionally, fried bologna.
Why, it sounds just like Cracker Barrel.
Not!
Continue reading Westport General Store cuts the cheese, but it's no Cracker Barrel →