LEO's Eats with LouisvilleHotBytes.com
By Guest Critic Kevin Gibson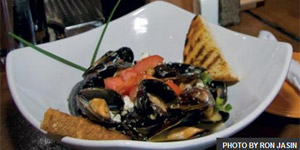 Browning's is back. The brewpub in Slugger Field, with its upscale sister restaurant Park Place on Main, had abruptly closed back in October. Although Browning's continued brewing craft beer for outside sales, Louisville Bats fans were left high and dry.
Now Chef Anoosh Shariat, backed by investors, has put up nearly a half-million dollars to revamp the restaurant and revise its menu. Browning's reopened May 12. The Park Place space is available for private parties.