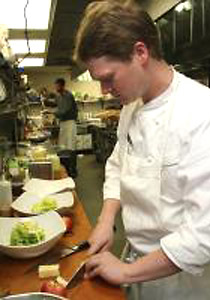 Park Place chef Jay Denham is taking over for Anoosh Shariat, and he has implemented a new "ball park menu" that may be a preview of changes to come. LEO photo by Nicole Pullen
LEO's Eat 'n' Blog with Louisville HotBytes
We went to the Bats game the other night and enjoyed the best ballpark repast I've ever had: A succulent hot dog, a classy fish taco and an order of sizzling fries with a little special something.
This may seem high praise, considering my frequent rants about the mostly lackluster, overpriced fare served up at Slugger Field.
But that may be because this ballpark dinner didn't come from the ballpark's concession stands. We dined before the game at Park Place on Main, which with its sibling Browning's occupies the renovated 19th century industrial building that houses the city's lovable Slugger Field.
Browning's, with its brewpub ambience, affordable menu and casual style, has always been a good place to grab a beer and a burger (or even something a little more fancy) before or after the game, although it boggles credulity that its excellent beers aren't sold inside the stadium.
Park Place, on the other hand, is upscale and elegant, a place that I associate more with an indulgent dinner that extends over a leisurely evening than a quick pre-game bite.
Continue reading Getcher red hots … with truffle aioli and fennel kraut? →