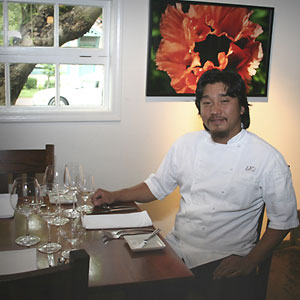 Chef Edward Lee at 610 Magnolia. LEO photo by Nicole Pullen
LEO's Eat 'n' Blog with Louisville HotBytes
What happens when one becomes so jaded that even the regular dinner at a culinary shrine seems routine? "Ho, hum, dinner at 610 Magnolia again!" Here's my advice: Kick it up with a special dinner at 610.
Frankly, I don't think I could ever attain such a level of ennui about the restaurant that's arguably the region's best. Chef Edward Lee's regular menu is a never-ending series of surprises, with exciting new dishes every weekend. But every now and then, Lee pulls off something special. And these events – best tracked by signing up for the e-mail list on the restaurant Web site at www.610magnolia.com – are memorable indeed.
Take last week's Palindrome dinner.
Say what?
Continue reading A man, a plan, a great meal at 610 Magnolia →