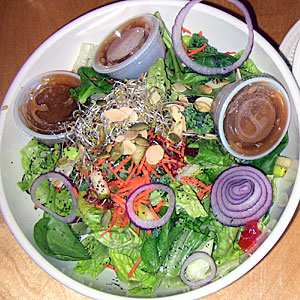 Big Salad: City Café's Jim Henry used to make this big salad for himself, but his customers at the Mid-City Mall location convinced him to add it to the menu. It's a vegetarian meal in itself. Photos by Robin Garr.
LEO's Eat 'n' Blog with Louisville HotBytes
(City Café, Zen Garden, Shiraz)
I'm a carnivore, an obligate carnivore. I like meat and find it hard to imagine life without beefsteaks, pork chops, poultry or fish on my plate.
And yet … and yet … when I wax philosophical, I can see some strong arguments for vegetarianism.
I can see it when I think about eating for health and nutrition; and I can see it when I remember reading "Diet for a Small Planet" back in the day, and learning just how many resources are spent on getting a steak to my table.
Continue reading Zen and the art of vegetarian dining →