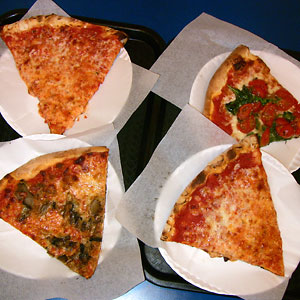 Ready to fold and eat: Four sizzling NYC-style slices at Luigi's. Photo by Robin Garr.
LEO's Eat 'n' Blog with Louisville HotBytes
(Primo, Tony Boombozz, Luigi)
Pizza, as I've pointed out before, traces its roots to Italy, specifically to the seaport city of Naples in the shadow of Mount Vesuvius. In the American melting pot, though, pizza has become as all-American a dish as, well, chow mein or sauerkraut.
From the American Northeast, where immigrant families still turn out a respectable variation on the Neapolitan original, pizza evolved as it moved across the nation in the postwar years. It gained a little here, lost a little there, and has gifted us with offshoots that range from the thick, casserole-like Chicago deep-dish pie to Wolfgang Puck's California inventions with their wacky toppings of smoked salmon, sour cream and caviar.
Continue reading Pizza: The all-American snack? →