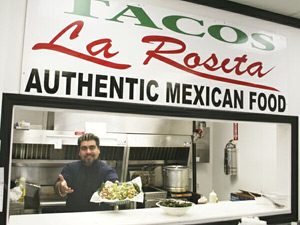 La Rosita owner Israel Landin opened a second New Albany location a few months ago. Along with the familiar fare, La Rosita is vegetarian-friendly. LEO photo by Nicole Pullen.
LEO's Eats with Louisville HotBytes
I love Mexican food, and I mean real Mexican food, the kind that challenges gringos to enjoy true ethnic flavors and preparations, even if you have to muddle through with awkward Spanglish and pointing at the picture of the dish you want. To my mind, one of the happiest trends of recent years in Louisville dining has been the arrival of dozens of tiny taquerias that take us a long step past Americanized "Tex-Mex."
La Rosita in New Albany, run by the affable and thoroughly bilingual husband-wife team of Israel and Lidia Landin, has been a favorite since they first landed in a space the size of a walk-in closet nearly hidden inside a produce market on Charlestown Road a few years ago.