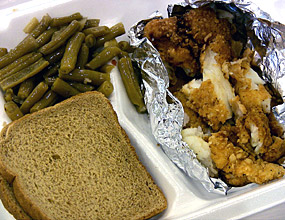 St. Augustine's Catholic Church is well known for its Friday fish fries during Lent. The fish is good – you can choose baked cod, fried cod (above), whiting or buffalo – and some of the sides are excellent. Try the cheese grits, which sub pimento cheese for cheddar. Photos by Robin Garr.
LEO's Eat 'n' Blog with Louisville HotBytes
(St. Augustine's fish fry, Stan's Fish Sandwich, KFC Fish Snacker)
It's Lent again, the liturgical season when many people undertake modest symbolic sacrifices such as eating fish on Fridays. Crunchy, golden-brown, delicious, sizzling fried fish: You call that penance?
In Louisville, we don't reserve fish for Lent. Most of us are crazy for seafood at any time of year, and that's been so for generations, way back to the postwar era – post-Civil War, that is – when L&N express trains would rush fresh oysters on ice up from the Gulf to oyster bars like the still-extant Mazzoni's.
Continue reading Yummy fried fish is no penance →