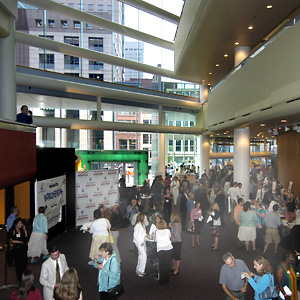 Hungry festival-goers congregated in the Kentucky Center lobby last Thursday for WorldFeast. Photos by Robin Garr
LEO's Eat 'n' Blog with Louisville HotBytes
(Walking-around bites from 30 Louisville Originals)
It's not every weekend that you can enjoy the fine fare of a few dozen of the city's most interesting eateries and wash it all down with an enticing selection of beverages from around the world, for not much more than the price of dinner at a random Bardstown Road bistro.
But this past week, thanks to the one-two combination of WorldFeast in the Kentucky Center Thursday evening and WorldFest on the Belvedere on Friday and Saturday, it was possible to do just that thing, with a world of ethnic music and dancing as a bonus attraction.
WorldFeast, a new venture this year, filled the Main Street performing-arts center's lofty lobby with tables occupied by more than two dozen restaurant members of the Louisville Originals group, an association of independent, locally owned restaurants, along with a dozen drink companies ranging from microbreweries to coffee companies to importers of fine wines and liquors. Proceeds of the $50 admission tickets went to benefit Louisville Originals, the Kentucky Center's international programs and the metro Office for International Affairs, which organizes the two-day WorldFest outdoor carnival that followed.
I assume it goes without saying that with this much good food from local restaurants, Eat'N'Blog was THERE. Continue reading We chow down (and pig out) at WorldFeast →