LEO's Eat 'n' Blog with Louisville HotBytes
(Nios, Mayan Gypsy, Jeff Ruby's preview)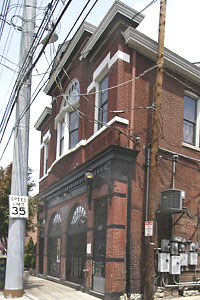 Photo by Robin Garr: Nio's at 917.
If these old walls could talk, what stories they might tell. This stunning, century-old red-brick building, with its big semicircular fanlights over glass-paned front doors, was originally the Gem theater, where actors trod the boards in a small but imposing barrel-vaulted room that now houses a dining room and the open kitchen at Nios at 917.
Did they play Shakespeare? Or vaudeville, or burley-cue? It's hard to say. Before the 1950s, it was Shibboleth Hall, a Masonic lodge, and in recent years it has housed a succession of eateries and bars. The still-lamented Jupiter Grill was here, followed by a short-lived incarnation as a fish-taco spot, then @mosphere, a trendy establishment that ran into licensing problems that turned on the thorny issue of whether it was an eatery or a saloon.
Nios should have no difficulty with this regulatory question. Although it boasts a splendid bar with a lofty wine rack so tall that it needs library-style rolling ladders to reach the top shelves, it's a restaurant indeed, and one that's already showing potential to compete with the city's top tables.
Continue reading Nios at 917: small plates, big taste →