Older Archived Reviews
This is an older archived review. The Search Feature on this page may not work. To search this site, please return to our Home Page and try your search from there.
---
<!REVIEW GOES HERE!>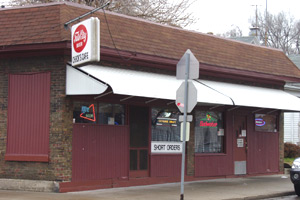 70

Check's Cafe
1101 E. Burnett Ave.
(502) 637-9515

The late Louisville Mayor Bill Stansbury used to hang out at this quintessential Germantown saloon, and that pretty much tells the tale. You can scent a whiff of Louisville history coming off the old walls, along with years of frying grease. The bar food here is about as good as bar food gets, and that's not bad.
Realizing the other day that we hadn't been back to Check's for a long time, we headed to Germantown for a return visit and found that it hasn't changed a bit. It retains the atmosphere of a friendly urban saloon, the kind of place that's dark even on a sunny day, with black-and-white checked cafe curtains across the windows to block most of the sun and the view. The flickering lights of a large television high on one wall and a smaller set behind the bar replace natural sunlight, although it should be noted that - a bit unexpectedly - one of the sets was tuned to CNN at lunch the other day, while the other (I am not kidding about this) carried The History Channel.
The small, L-shaped bar often holds as many diners as drinkers, and a substantial number of close-spaced, undraped red and white tables fill the rest of the main room. Simple wood paneling hung with beer signs and old black-and-white photos complete the decor of this basic Germantown neighborhood hangout. A small vestibule at the entry is apparently intended to keep out wintry winds, but the inner doors were left standing open the other day, directing arctic drafts over tables near the door on a chilly afternoon, and if you want non-smoking, you had might as well lunch somewhere else.
The menu is posted on a movable-letter sign that hangs high over the bar and that offers such bar food basics as fried fish ($4.50, available on Monday, Wednesday and Friday), fried chicken ($3.60 for a breast, $3 for a leg, available Tuesday, Thursday and weekends). A rolled oyster is $2.40 and pan-fried oysters $6.50. A hot dog is $1, a hamburger $1.40, a cheeseburger or braunschweiger sandwich $1.80, and a garlic frank or fried baloney is $2. There's plenty more, but this gives you the gist of it.
Check it out, then order from the bartenders, who'll dish out your soup and hand you a cup for self-serve non-alcoholic drinks. Take a seat and before long a friendly server will hustle out with the rest of your meal.
Bean soup ($1.65), a Check's tradition, was really very good, a sizeable bowl of white beans long cooked in a creamy, salty, flavorful soup that makes a stick-to-your-ribs dish for a winter day. It was served warm but not steaming hot.
The chili ($2.45) was fine, too, in that old-fashioned Louisville-Midwestern style, nothing Mexican or even Tex-Mex about it, but hearty and filling, flavorful (and not greasy) ground beef in a pleasantly spicy thick tomato sauce served over a dollop of spaghetti (or as they usually call it at Check's, "noodles").
The fried fish lunch ($4.50) was OK, a fair but not oversize portion of mild white fish without a great deal of flavor, but crisply breaded and fried grease-free, making the fish a vehicle for tasty crunch.
Two rolled oysters ($2.40 each) were a bit more disappointing. A dish born in Louisville of Italian roots, this fried oyster sandwich in the shape of a ball was invented at Mazzoni's, which still does it best. Check's version was heavy and more doughball than oyster, soft and somewhat "fishy," suggesting oysters that might have been away from the sea for more than 24 hours. They certainly weren't unpalatable: I finished them both. But they weren't the best I've ever had.
Lunch for two, with iced tea and a soft drink, came to $16.01, plus $2 for the tip jar. $
(December 2002)

<!REVIEW ENDS HERE!>