Older Archived Reviews
This is an older archived review. The Search Feature on this page may not work. To search this site, please return to our Home Page and try your search from there.
---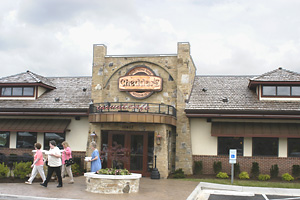 69

Cheddar's Casual Cafe
10403 Westport Road
(502) 339-5400

<!REVIEW GOES HERE!> I don't usually review franchise-chain restaurants for a simple reason: I know pretty much what to expect, and so, I think, do you. Nevertheless, if I hear that a new arrival stands out from the pack, I'll inspect it with an open mind and hearty appetite, and file a positive report if such seems justified, as I've done in the past with Carrabba's, Buca di Beppo, Bonefish Grill and many more.
UPDATE:
Service improved, food ... about the same
As I generally try to do when a restaurant experience is disappointing, I waited a few months, then returned to Cheddar's with an empty tummy and an open mind, in the interest of offering another chance.

The folks at the front desk seemed a bit brusque, for some reason, but table service was friendly enough. The server breezily introduced himself and checked on our happiness state a little more often than really necessary. There were no slips this time, all our dishes arriving as ordered and in appropriate sequence.

But the dishes, I regret to report, still fell short of expectations. As with our earlier visit, they weren't actively bad - everything we've tried here has been competently prepared - but they consistently fall somewhere between lackluster and mediocre on our excitement scale.

Even though the restaurant has been open less than a year, there's already been a fairly major redesign of the interior: The bar has been moved from the center to one side of the building, separated from the rest of the restaurant by a wall (including the see-through aquarium). I'm guessing that this quick renovation was aimed at ensuring a physical separation between smoking and non-smoking areas.

A house salad (included with a meal) featured fresh, crisp romaine topped with attractively prepped diced cucumber and finely diced (but pale and flavorless) out-of-season tomato, with a few shreds of carrot and a more than ample portion of creamy, chunky blue-cheese dressing served on the side. A small croissant tucked on the side could have been a welcome addition, but it had been drizzled with a sticky glaze of something that might have been honey butter, or maybe honey margarine or honey "spread." Note to management: Please put that stuff on the side so guests can enjoy it if they want to.

A chicken pot pie ($5.99) was cooked and served in a shallow ceramic dish with a skillet-like handle. A thin, tough and rather oily crust covered cubes of flavorless chicken breast meat, overcooked peas and carrot dice, a couple of button mushrooms and diced green pepper, all swimming in a soupy pale-yellow sauce. The primary flavor was bland.

I couldn't resist partaking of a 1950's icon, a Monte Cristo sandwich ($5.99). Three slices of egg-yellow bread were pressed around good-size portions of very thin-sliced deli ham and turkey meat and mild white and yellow cheeses, then the whole thing heavily batter-coated and deep-fried golden brown. It was quartered for service, dusted with a little powdered sugar and served with a small crock of raspberry preserves. It made a filling dish, but all the ingredients were so mild that the overall effect was muted, sort of like listening to music turned very low. It also appeared that the deep-fry oil wasn't as hot as it should should have been, as the meats remained cold while the exterior was oily enough to grease my hands. A small bowl of slaw, coarsely sliced and crisp, looked good but had a slightly funky taste that suggested it might have been sitting around for a little too long.

Bottom line: Add a point or two for more practiced service, but mediocre food still can't lift it above a "D" grade on my rating scale.

(March 2004)
So when I detected a distinct buzz surrounding Cheddar's, which opened this summer in the sprawling Springhurst shopping center, I wasted little time before heading for the East End to check it out.
Louisville's first outpost of a Dallas-based chain with 40-plus properties, Cheddar's appears to be stamped from the same cookie-cutter mold as other chain operations in the "casual to upscale American" niche - O'Charley's, Max & Erma's and J. Alexander's, to name a few competitors in the genre.
I don't know what exactly is drawing the crowds, but something certainly is: At high noon on a week day, there was standing room only, and a 15-minute wait for a lunch table. Unfortunately, I went in with an open mind and came out wearing a puzzled frown: There's nothing actively unpleasant about it, but uninspired food and careless-to-wacky service reminded me why it is that I don't usually review "casual to upscale American" franchise joints.
Somewhat hidden from nearby Westport Road by a grassy berm, Cheddar's exterior looks vaguely like an Aztec temple faced with Bedford Stone. Inside, it's designed with an artsy earth-toned look, pillars of brick and arches of stone, with lots of raw wood, hard edges and oversize live plants in terra-cotta pots, prompting one to wonder how they keep them alive in such a saloon-dark environment.
Cheddar's is family-friendly, but this assumes that the family in question doesn't object to their children being around alcohol; a large central bar dominates the dining space, with a long, twirling set of paddle-shaped fan blades twisting overhead to create an impression of the famous old Raffles Hotel bar in Singapore, or maybe a plastic model of it. An oversize aquarium loaded with colorful tropical fish makes a see-through wall between the bar and a dining area.
Most seating is in surprisingly comfortable upholstered booths, and selected decor items (a framed Kentucky flag and night view of the Louisville skyline) signal that we're in Louisville, not Atlanta or Denver. Good-size tables are shiny, polyurethaned wood, set with good quality flatware rolled in soft, absorbent napkins that look like pricey paper towels. Reinforcing the let's-have-a-drink theme, each table is furnished with a colorful foldout book that features a wide selection of margaritas, martinis, beers and liquors and a limited wine list with a half-dozen mass-market bottles.
The menu is typically extensive, with an eclectic variety of American and international-style fare, including such inventions as the ripe-for-parody signature dish spasagna ($6.99), a lasagna-like casserole of spaghetti, cheese and a combination of Alfredo and marinara sauce. There's a variety of bar-bite appetizers from $2.99 (for chips and queso) to $6.50 (for a "Triple Threat Sampler" of nachos, chicken tenders and potato skins). Filling out the bill of fare are soups, salads and sandwiches and about 30 main courses, ranging from $3.99 (for the "Original" hamburger) to $13.99 (for a steak and ribs combo). Except for the steak and steak-and-shrimp combo dishes, most dinner items are well under $10.
Our server was young, blonde, friendly, chirpy, a little giggly, but trying her best in the face of what proved to be almost insurmountable odds.
Our problems started with the iced tea: I always take care to ask specifically for unsweetened. So when I take a huge swig and get a mouth full of syrupy-sweet stuff, it puts me in a bad, bad mood. Fortunately, another server saw the steam coming out of my ears, quickly whisked away the offending beverage and replaced it with a very good rendition - strong and dark fresh-brewed black tea with plenty of ice and plenty of lemon - and I got over it in a hurry. (Meanwhile, my wife's Diet Pepsi seemed oddly diluted and came with only a couple of fragments of ice floating in a tepid brew.)
Chicken tortilla soup ($1.99 for a cup) was passable but not particularly interesting, bland and tasting vaguely of spice-rack chile powder, underscoring the rule that it's usually best to order Mexican dishes in Mexican restaurants.
Then they proceeded to make my wife just about as mad about her burger as I had been about the sweet tea. In place of the requested Pepper/Ranch burger ($4.59) they delivered a burger slathered with gloppy red sauce, something that yanks her chain just about as much as sugary tea does mine.
A complaint yielded consternation, an apology, and a brief wait for a replacement, this time accompanied with a complimentary pile of french fries. (We assumed this was a silent apology for the mistake, although nobody said anything about it). The burger wasn't bad, a thick, juicy patty dressed with lots of lettuce, a thick slice of pink tomato, a garnish of fried onion "straws" and a blob of ranch dressing that gives this burger half of its name, "Pepper/Ranch." The other half of the name was AWOL despite the menu's promise that this burger is "crusted with black peppercorns." Still, it was pretty good, and to her relief, not over-cooked or dried out despite the menu's warning that burgers are cooked medium-well. The fries were large and rough-cut, but limp and lukewarm; they looked better than they tasted.
I chose a half-rack of hickory-smoked baby back ribs ($9.99), which were nicely charred and quite lean but, well, scanty: Six bones yielded maybe 2 ounces of meat, making for a rather puny lunch. They didn't show much evidence of hickory smoke, either, and a sticky-sweet quality in the sauce made me wonder if the kitchen might have swapped my hickory-smoked order for a ration of the honey-barbecue ribs. My side dishes included more of the limp fries and a bowl of passable but bland country-style green beans flavored with salt, mostly.
We had to ask for water three times before it came, but only had to request extra napkins (a necessity with ribs) twice.
What's the draw at Cheddar's? The portions are big and the drinks the same; the restrooms are clean and the servers friendly. A lot of people, I guess, don't ask for anything more. The food is passable but, when you sum it up, bland and boring. Couple that with a lot of noise and a lot of mistakes - albeit quickly and smilingly corrected - and it's hard to see adding Cheddar's to my list of regular destinations.
Lunch for two came to $20.93, plus a $4.07 tip; no point in stiffing the server for issues that appeared to go beyond her level of management. $$
(July 2003)
<!REVIEW ENDS HERE!>