!REVIEW GOES HERE!> A food-lover's dream: "Chef for a Day" at the Seelbach
Chefs at work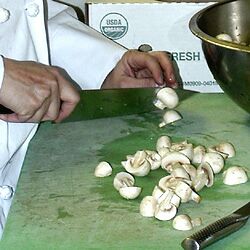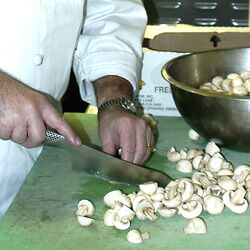 Seelbach Chefs for a Day Barb Freda (at top) and Robin Garr - photos cropped to minimize damage to their restaurant-critics' anonymity - show their knifework skills as they prep a bowl of mushrooms for the Oakroom's soup du jour.

The offer arrived by E-mail, and it was one that no "foodie" in good standing could possibly refuse. It amounted to this: "Bring a friend and come to the Seelbach Hotel's kitchen. We'll give you the run of the kitchen as 'Chefs for a Day,' show you around behind the scenes, let you help our chefs prepare the evening dinner, and then you can sit down and enjoy the fruits of your labors in a luxurious five-course dinner in the Oakroom." Or words to that effect.

It amounted to a test run for a program that Oakroom Chef Walter Leffler created at his former post at a Hilton resort in New Jersey and that he has now instituted in Louisville. For a $175 fee, anyone - accomplished cook or novice - can join Leffler and Oakroom Chef de Cuisine Todd Richards and their staff for a Wednesday afternoon "Chef for a Day" visit in the Seelbach's kitchen. Participants receive a thorough tour of the facilities with Leffler, followed by a chance to get hands on - with supervision and training, of course - in preparing dishes for the evening meal. Participants wear official Seelbach white chef's jackets, which are theirs to keep at the end of the day.

About the program

The $175 program fee includes the Oakroom's five-course prix fixe dinner with wines; additional guests may join you at the dinner table for the regular $75 charge. The Chef for a Day package makes an outstanding gift for a "foodie" friend ... or, of course, for yourself. Reservations are required, as only four guest chefs at most can be accommodated on a single day. To confirm availability and make reservations, call The Seelbach Hilton at (502) 807-DINE or (800) 333-3399, or visit www.seelbachhilton.com.

Of course I couldn't resist the opportunity to check it out; my anonymity at the Seelbach already being "blown" from previous visits, I gleefully accepted, and invited my friend Barbara Freda, a fellow food writer who's done years of service in professional restaurant kitchens, to join me. We reported for duty promptly at 2 p.m. on a Wednesday before Thanksgiving, were fitted for our white jackets and the dark-blue baseball caps that Seelbach kitchen staff wear in lieu of tall white toques, and found that we were to be the inaugural couple. Call it beta testing, if you will, but happily there were no program crashes, and things went surprisingly smoothly, even if we sometimes had the sense that our hosts were making up the agenda on the fly.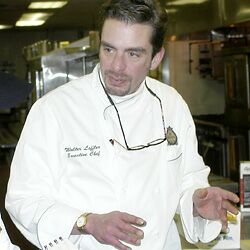 Seelbach Executive Chef Walter Leffler

Leffler was friendly and hospitable in spite of being unexpectedly busy - the Seelbach's private inspection firm, which it hires to backstop state and local sanitation inspectors to ensure ongoing neat-as-a-pin status, had arrived that morning on an unannounced inspection, and his time would be divided between the inspectors and us. The coincidental visit also prompted an extra layer of caution by the staff, as Todd Richards gently but firmly reminded us when he whispered, "Do not take off those hats."

We spent the first hour of our visit getting a chef's-eye view of the century-old hotel's entire kitchen complex, an interconnected maze of large, tile-floored rooms that includes catering, convention and room-service operations and a large pastry kitchen - even a separate, chilled kitchen for garde mange preparations like the lovely food-as-art designs that decorate the Oakroom's dessert plates - as well as Richards' domain, the relatively compact section devoted to the Oakroom.

"We serve food 24 hours a day, seven days a week, 365 days a year," Leffler said, charging briskly through the kitchens, pointing out items of interest and tossing out facts of interest like tiny, delicious amuses bouches. A battery of convection ovens bake food 17 percent faster than conventional ovens, we learned: "From a production standpoint, that's important." Indeed, efficiency is key in Leffler's kitchens, we were told: "If you're cutting 1,500 filets of beef and every one is 1 ounce off, that adds up to a big difference."

The tour went on, and so did that parade of facts: Leffler makes a conscious effort to purchase "indigenous" products from local and regional suppliers, but quality is paramount. They'll make it a point to use Capriole and Mattingly cheeses from artisanal producers in Indiana and Kentucky, but they also go to Virginia for lamb, shipping in meat three times a week because, he says, "It's the best." Leffler sends Kentucky Bourbon to a New Jersey processor to make Bourbon-smoked salmon to his order; but he turns to Louisville's own Shuckman's Smoked Fish for its unique Kentucky paddlefish caviar.

The Seelbach's drinking water is pure Kentucky limestone water, specially bottled for the hotel by a firm in Ashkamp, Ky.; curiously, though, its cooking wine is decidedly downscale, Livingston brand California "Burgundy" in gallon jugs. "Don't cook with anything you wouldn't drink," Leffler said. I nodded, keeping my own counsel.

"I think of food from an Asian perspective," Leffler went on. "Contrast of flavors, contrast of textures, contrast of colors. There's nothing worse than going into a restaurant, ordering a hamburger, and getting a pickle that goes like this," he said, doing a remarkably good job of mimicking a limp pickle with a hand gesture. "If the little things are wrong, how can you expect the big things to be right?"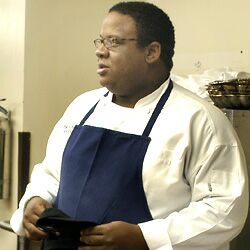 Oakroom Chef de Cuisine Todd Richards

Around 3, Leffler turned us over to Richards, who showed us through the Oakroom's surprisingly compact and efficiently organized kitchen, where Richards and his seven sous chefs work and which takes up only a smallish part of the sprawling hotel kitchen facility. Each staffer is responsible for a separate "station," covering among them every element of the meal from hot appetizers through the pantry and salad station to grilled items and fish.

Much of the rest of our day was spent shadowing two particularly personable young chefs, Eric Black at the pantry/salad station, and Adam Tenhundfeld at the grill station, watching and learning as they made dishes that ranged from parsnip puree (for an appetizer) to an impressive venison-shank ossobuco destined to be an Oakroom lunch special later in the week.
Eric Black works on mushroom soup (left), while Adam Tenhundfeld stirs venison-shank ossobuco in an oversize rondeau pan.
They also favored us with tastes, lots of tastes, a little-known but delicious perk of kitchen service. Black, who keeps a large bowl of plastic spoons at his station for sanitary tasting (each spoon is discarded immediately after a single use) gave us samples of everything he was making. Then someone walked past with a sizzling pan of chunks of silken, Midas-rich pan-seared foie gras and invited us to grab a bite. No further arm-twisting was needed.
We were having a blast, but somewhere around 4 p.m., both Barb and I started feeling the "Tom Sawyer effect" strongly. Enough of this watching. When were we going to get to do something? Finally Barb spoke up, seconds before I got to it: "Is there something we can do to help?"
That seemed to broke the ice, and Eric gave us a chore involving a large bowl of fresh white mushrooms and two chef's knives. Trim them, halve them, quarter the bigger ones. I noticed that he watched pretty carefully at first, but he seemed to relax after discovering that we both knew how to hold the knife and could tell the sharp side from the dull side. We got through the batch quickly, even tidied up after ourselves, and came back looking for more work. At this point the relationship seemed to shift ever so slightly as they realized that we were actually able to handle some grunt-work chores, and best of all, enjoy it.
Accordingly - and this might be helpful information to any of you who sign on for the program in the future - the more work we asked for, the more we got. We trimmed and split a big bag of pretty little red brussels sprouts, and then, in a somewhat more advanced challenge, were invited to cut red bell peppers into neat brunoise, neat, tiny squares that should be of as nearly even size as possible.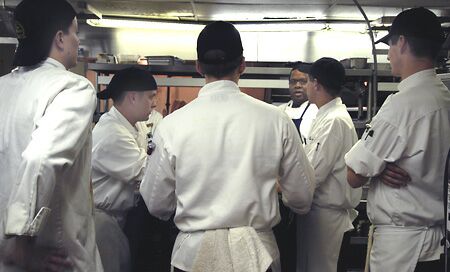 The Oakroom kitchen staff assembles for an afternoon planning session.
As the end of the afternoon and dinner time approached, the pace picked up. People were moving faster and things got a little more noisy. Todd called together his staff for a meeting, and things started to seem a bit more businesslike. It was about time for the "Chef" session to wrap up, but neither of us wanted it to, and I think Todd saw it in our disappointed expressions. Nice guy that he is, he suggested we drop in the pastry kitchen, where the staff wouldn't be under time pressure until later. He didn't have to ask twice.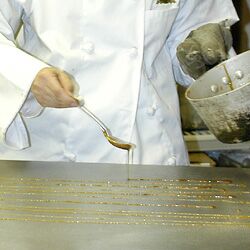 Chef Barb demonstrates her prowess at pouring straight and even caramel straws.

Having learned our lesson, we presented ourselves as volunteer helpers right away and were put straight to work, forming "buckles" (an Early American dessert featuring yellow cake and cranberry confit), fashioning tiny chocolate-caramel and pecan dessert bites, and trying our hand at the extremely finicky process of making caramel "straws" by gently, evenly drizzling sizzling-hot caramel from a large spoon in straight lines on a cold metal counter top. Barb was very good at it. I was not. I believe this has something to do with the Y chromosome.

The dinner menu

Blue Dog olive bread with choice of pumpkin oil, white bean truffle puree, piccoline olive and roasted pepper puree and butter.
Amuse bouche: A bite of grilled smoked duck breast on rutabaga puree.
Seared diver scallop with chicken dumplings on chicken jus.
(Wine: Mason 2002 Napa Valley Sauvignon Blanc)
Pan-seared Hudson Valley foie gras and sweetbreads with a maple-huckleberry sauce.
(Wine: Dr. Loosen 2003 Riesling Mosel-Saar-Ruwer)
Rack of lamb with cranberry wild rice, turnip and rutabaga.
(Wine: Penfolds 2001 South Australia "Kalimna" Shiraz)
Dessert: Cranberry "buckle."
(Wine: Royal Tokaji 1996 Tokaji)

Suddenly, too soon, it was time to wrap up the experience and meet our guests for dinner. A quick change ("Chef" participants are urged to wear casual clothes and sturdy shoes), and we segued from working chefs to pampered dinners, sharing an Oakroom table for four and enjoying a fine dinner amid the hotel's trademark service.

As it turned out, dinner was the Seelbach's regular five-course prix fixe tasting dinner, and few of the dishes that we had helped prepare were actually on the menu, except for the dessert "buckle" and a little taste of the venison that Leffler sent out for us to try. But it didn't matter. The experience was a memorable one, at least for serious food enthusiasts, and both Leffler and Richards came out during the evening to chat about the day. It was quite an adventure, and a real change of pace for a critic who usually dines as anonymously as possible or at least with a very low profile.

If you have any would-be chefs or serious food hobbyists on your holiday list, the gift of a "Chef for a Day" experience would be a perfect treat. Highly recommended.

(Nov. 17, 2004)


<!REVIEW ENDS HERE!>
---