Older Archived Reviews
This is an older archived review. The Search Feature on this page may not work. To search this site, please return to our Home Page and try your search from there.
---
<!REVIEW GOES HERE!>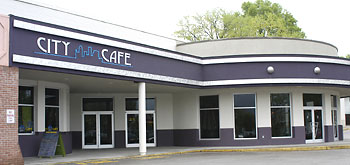 88

City Cafe
1250 Bardstown Road
(502) 459-5600

Website:
http://www.citycafelunch.com
Chef Jim Henry, a long-time star in the city's culinary firmament, now brings his cooking skills and insistence on fresh, quality ingredients to his growing (four-shop) local chain of quick, casual but excellent spots for lunch.
The latest City Cafe, a simple but stylish room located in Mid-City Mall adjacent to Baxter Avenue theatres, is also open for dinner, and it's the only one of the group currently licensed to serve beer and wine - a short selection featured in a "wine list" of bottles lined up along the serving counter.
Because it shares renovated mall space with the movie theater, the newest City Cafe boasts an unusually lofty two-story venue that enhances the mood. The walls are, variously, painted pumpkin, avocado and mustard colors, with dark eggplant-color columns and tall windows accented by long, royal-blue curtain swags that swoop down from the sky-blue ceiling. Extra seating is available in a triangular loft above part of the room. Colorful, abstract modern art-for-sale adds highlights to the scene.
Everything we've tried on several visits tastes homemade, well made, from quality ingredients by chefs who know what they're doing, and the prices are not just affordable but downright cheap, adding credibility to City Cafe's slogan, "Louisville's affordable lunchtime alternative."
Each day's special is just $4.95 (including soup or salad and bread), and ranges around the world in an eclectic display of international cuisines, with at least one vegetarian special and one with meat featured each day. (After 5 p.m. at Mid-City Mall, the specials increase to a still-modest $6.50.)
Regular menu items include eight sandwiches, none more than $4.95 (for a club sandwich or basil-roasted chicken breast with Gouda) and dropping as low as $4.25 (for a "barden burger"). A half-dozen meal-size salads range from $3.95 (for a Caesar) to $6.50 (for a chef salad with smoked turkey and Italian capicola ham). The soup of the day is $2.25, and a house salad is $2.50.
Sandwiches are served on wooden dishes lined with wax paper, accompanied by store-bought tortilla chips and a dill-pickle spear.
A turkey sandwich ($4.25) was appealing, featuring good quality sliced sourdough bread, a generous portion of tender roast-turkey white meat layered with thick slices of crunchy cucumber for texture and slathered with an herbed cream cheese and mayo.
A roast beef sandwich ($4.50) was built with fine, thin-sliced (but not too rare) roast beef dressed with crisp red onion slices, blue cheese and mayo. My wife thought a bit of lettuce would have dressed it nicely, but it came au naturel and wasn't bad like that.
Soup is served in earthenware bowls and comes with a slice of good white crusty foccacia-type bread. One day's special, cheddar-cauliflower soup ($2.50) was full of flavor and just the right thickness, not a gloppy Alfredo-style soup but a warming bowl of savory broth with a pleasant accent of sharp cheddar and lots of tender but not overcooked bits of cauliflower swimming in it.
A "smoothered" pork chop special ($4.95) was served on an attractive blue-and-white stoneware plate. A thin but tender boneless chop was "smoothered" in cornstarch-thickened brown sauce loaded with chopped red bell pepper and long-cooked bits of onion, garnished with fresh chopped scallions and infused with the haunting scent of dried sage. An accompanying piece of cornbread, a triangle about 3/4-inch thick, was light and cakey, laced with bits of jalapeño and mild red pepper. It was pleasantly spicy but not fiery, and not too sweet, just right for my taste buds.
Dessert poses a difficult issue at City Cafe. The desserts look appetizing, and a server said they are imported from Italy (which seemed like an awfully long way to go for dessert), but whatever its origin, a silken, rich and seductive wedge of dark, bittersweet chocolate mousse cake was amazingly good. Ice cream, on the other hand, does not come from Ehrmann's Bakery just down the mall corridor, which happens to be the best ice cream in town (and just about the cheapest). Stay at City Cafe for those amazing desserts? Or walk down the hall for a scoop of incredible ice cream for less than a buck? Perhaps it's best to do both.
A couple of excellent lunches for two here have never gone over $15. Good, affordable and conveniently located, it has become one of our regular go-to spots for lunch. $
(May 2003)
Other locations: 1907 S. 4th St., (502) 635-0222; 505 W. Broadway, (502) 589-1797; 500 S. Preston St., (502) 852-5739.
<!REVIEW ENDS HERE!>