!REVIEW GOES HERE!>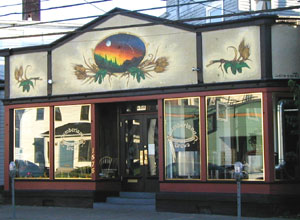 *** Cumberland Brews
1576 Bardstown Road
(502) 458-8727
Giving new meaning to the term "microbrewery," Cumberland Brews may be one of the smallest eateries in town, with a half-dozen "four-top" tables and a short bar with nine stools making tight quarters of what used to be the White Mountain Creamery. (Techically, it's not a microbrewery but a brewpub - a restaurant that makes its own beer on the premises - but I'm not one to quibble in the face of a good pun.)
It's usually packed, too, earning its crowds the old-fashioned way by providing very good food, friendly service, and the sine qua non for a brewpub: extremely high-quality hand-crafted artisan beers.
Cumberland traces its ancestry to Louisville's fine Bluegrass Brewing Co. in St. Matthews, and the family relationship remains friendly; Cumberland sets its tables with BBC beer coasters and keeps a BBC beer on tap as one of its "guest brews."
Brewmaster Matt Gould's beers bear his own stamp, though, made in four shiny stainless-steel fermenters that fill most of the space in the tiny, glassed-in brewing area that's visible from the bar. We tried all four - Pale Ale, Brown Ale, Amber and Nitro Porter - and found them all fine, in varying hues but all dark in color and rich in flavor; you'll find nothing "lite" about these brews.
A total remake has transformed the old ice-cream shop into a cozy pub, with sturdy, attractive tables topped with ceramic tiles, comfortable blond-wood chairs and bar stools, and an impressive wall mural that looks a bit like a plan for a brewery as seen by Leonardo da Vinci.
Happily (or should I say "hoppily"?) the food seems to get as much attention as the beer; it's not just an afterthought. The menu is fairly short, a sensible approach for a smallish establishment, but there's ample variety, with a half-dozen items tagged with a beer much "icon" to indicate that they're prepared with beer as an ingredient.
Appetizers are hearty and likely to inspire thirst, fanging from $4.25 for a fiery habañero lime salsa or Cumberland kettle chips to $5.95 for jerk chicken wings or "Spankin' Cheddar Queso." We started with the latter and were rewarded with a pot of zippy melted Cheddar thickened with cooked spinach and given authority with smoky-hot chipotle peppers, served with a generous ration of crisp white, red and blue corn chips.
We accompanied this course with pints ($3.25) of the Pale Ale (full-bodied and fruity with assertive hops bitterness) and Brown Ale (malty sweet and mellow).
A short list of entrees is relatively pricey, with four items that range from $10.95 (for roasted acorn squash, a vegetarian dish featuring a baked squash on a bed of red-pepper couscous) to $14.95 (for a ribeye steak marinated in pale ale). Lighter fare includes a trio of salads (from $2.75 for the pub salad with lettuce, cucumbers, tomatoes, carrots, bean sprouts and croutons to $6.95 for grilled-chicken or portabello mushroom salads); and a quartet of sandwiches ($6.50 for beer-battered fried fish to $6.95 for a buffalo (yes, really) burger or smoked-pork barbecue sandwich or an intriguing "veggie burger" fashioned from falafels and a grilled portabello mushroom.
The spinach and grilled portabello salad ($6.95) was a delight, tender fresh spinach leaves tossed with thick-sliced onions and meaty grilled portabello mushroom slices and dressed with a tangy, not-too-sweet warm bacon dressing. A baked sweet-potato side dish ($1.95) was simmering hot and long-cooked to tenderness; extremely sweet, it almost seemed to have had brown sugar or syrup added, and came with still more sweetener in the form of a dish of brown-sugar butter. My wife would just as soon have had it au naturel but to its credit, it was well-made, just sweeeeeeeeet.
My choice, the chipotle chicken entree ($12.95) would have done credit to a fancier eatery. A large, crisply sauteed (purportedly "blackened") boneless chicken breast was glazed with a warm but not fiery chipotle-citrus glaze, topped with a simple "corn chowder" and surrounded with hearty black beans and a sweet, almost pudding-like jasmine-scented rice, with dabs of sour cream and smooth guacamole and two warmed wheat tortillas.
We ordered two more pints with this course: Nitro Porter, a black brew with a tan, creamy head that looks a lot like a Guinness Stout but with an earthy roast-malt flavor; and an amber, a hazy, reddish-brown beer somewhat like the pale ale but a bit lighter and not so bitter.
A short list of desserts features homemade ice cream ($2.95), a Black Cow ($3.25) or homemade rootbeer float ($4.25). Tempting, but stuffed to the gills, we passed. Dinner for two was $40.47, with a $6.53 tip for helpful and friendly service. $$ <!REVIEW ENDS HERE!>
---