Older Archived Reviews
This is an older archived review. The Search Feature on this page may not work. To search this site, please return to our Home Page and try your search from there.
---
<!REVIEW GOES HERE!>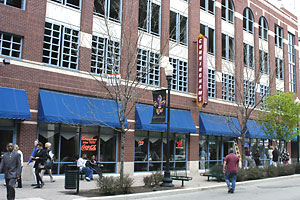 85

Cunningham's
630 S. Fourth St.
(502) 587-0526

Can a historic Louisville eatery that drew much of its appeal from more than a century of history make the move to modern quarters without losing its soul?

Cunningham's, whose 131-year-old brick building at Fifth and Breckenridge streets was destroyed by fire in July 2001, has come bursting back to life downtown, and happy standing-room-only lunch-hour crowds appear to be voting with their pocketbooks.

Lured by a $50,000 city economic development grant into a newly built space in what had been the first floor of a modern parking garage (which in its turn replaced what memory recalls as a row of cheap wig shops), the new Cunningham's may be the best thing that's happened to this once-vibrant downtown block since they turned the old Fourth Street cruising strip into a pedestrian mall in the '70s.

The old Cunningham's, which was allegedly once a bordello, saloon and unofficial offtrack betting hall, was known as much for its dark, nostalgic atmosphere as for its friendly waiters and hearty fare. They've done a surprisingly good job of re-creating the feeling of the old place in the new location, the main difference being that it's all new and clean. Not that the old was dirty, exactly, but an accretion of more than a century of nostalgia and frying grease has to count for something.

Even the waiters are the same, or similar anyway, including the familiar Mr. Poole, who's surely been serving at Cunningham's since Aristides won the first Kentucky Derby in 1875. You know you're in Cunningham's when the server calls you "sweetie," takes an extended order without writing anything down ... and gets it all right!

They saved many of the restaurant's historic photos of Louisville scenes and Churchill Downs after the fire, and the framed black-and-white photos go a long way to restore the old mood on the new building's cafe-au-lait and green walls.

To everyone's delight, they've even replicated Cunningham's old private rooms: A half-dozen stalls guarded by swinging doors line the south side of the big room, ready and waiting for larger groups. There's a welcoming bar at the entry, a small dining area to the right, and a larger dining room on the other side. A bar and a couple of rows of black-upholstered booths break up the large room into sections that evoke the jumbled collection of small rooms and booths that made up the old place, and Heinz ketchup and plastic tartar sauce bottles still grace every table. You've got to look closely to realize that the simple industrial carpeting beneath your feet and the industrial suspended ceiling overhead are new; squint a bit and you could almost be back in the old Cunningham's.

Full bar service includes a short wine list (not as strange as it seems, when you consider that the dinner menu features steaks and chops), with a reasonable selection of accessible wines that top out at $30 (for Toasted Head Cabernet Sauvignon from California).

The menu retains just about all of Cunningham's old favorites, without much increase in prices. About 20 sandwiches range from $2.75 (for a hamburger or grilled cheese) to $6 (for a baked fish or rib eye steak sandwich). About 20 entrees (listed variously as "specialties," "Dinners" and "Seafood") are $7.25 (for a hot turkey or hot roast beef sandwich or pan-fried oysters) to $14.95 (for an 8-ounce filet mignon or 14-ounce New York strip steak). A Hot Brown or corned beef and cabbage are $7.50, a chopped sirloin or fried chicken dinner is $7.95 and a fish dinner is $10.95.

Bean soup ($2.25 for a generous cup) was steaming hot and delicious - a thick puree with tender navy beans swimming in a thick, salty and warming soup with bits of cooked carrot and potato to give it texture.

Rolled oysters ($1.75) are OK if not quite up to the standard set by Mazzoni's - smallish and relatively bready, they're deep-fried but a bit short of crunchy or golden-brown; but the oysters within are sweet and impeccably fresh, and that makes up for a lot.

A fish sandwich ($5) is one of the two true Cunningham's traditions (the other being turtle soup). It's a good fish sandwich if not a great one, two fair-size fillets of mild white fish, thickly breaded and crisply fried, served as ordered on rye from a seedless grocery loaf. The a la carte order comes with ripple potato chips and a dill pickle spear.

The Cunningham burger ($4.50 plus $2.25 for a "platter" with fries and slaw) comes dressed, but the crisp iceberg lettuce, pale winter tomato and thick slice of raw white onion is served on the side for assembly at the table. Two hefty patties comprise a full half-pound of beef, cooked through but still juicy and tender, with a good, beefy flavor; a slice of mild yellow cheese melts down into the crannies on each, and the simple white burger bun stays out of the way. This is a serious burger, just about as good as you'll find in this town.

French fries were hand-cut, thick and long, with bits of skin showing on the ends, fried golden brown. They looked spectacular, but weren't
quite
as good as they looked: They were a bit soggy, actually, and not light on the grease. Even so, they stood well above the median in the can't-quit-eating them department.

Coleslaw was first-rate, fine-chopped fresh cabbage and shreds of carrot, sauced but not drowned in a creamy, tangy, not-too-sweet dressing.

With a light but rich slice of walnut cake with an airy cream icing ($2.25) for dessert, an excellent lunch came to $24.12 plus $5 tip. The whack of Louisville nostalgia from an unexpected quarter came at no extra charge.
$$
(March 2002)
$$
(March 2003)
<!REVIEW ENDS HERE!>