Older Archived Reviews
This is an older archived review. The Search Feature on this page may not work. To search this site, please return to our Home Page and try your search from there.
---
<!REVIEW GOES HERE!>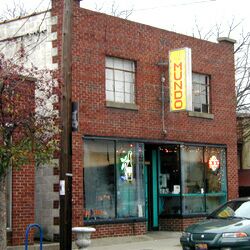 90

El Mundo
2345 Frankfort Ave.
(502) 899-9930

Website:
http://www.502elmundo.com/
Some might call this crowded, noisy little Crescent Hill storefront "characterful" and some might declare it, well, "funky." But just about everyone who stays to try its creative renditions of Mexican regional specialties ends up yelling a happy "Olé!"
While the setting may lack the trendy flair of Rick Bayless's noteworthy Frontera Grill in Chicago, the fare mines a similar vein and does so nearly as well.
Quality ingredients, stylish presentation and a competent hand in the kitchen that reflects a unique personality: These are the qualities that make El Mundo special and earn it a fourth star; add reasonable prices with just about everything on the menu under $10 as happy lagniappe.
El Mundo's down-home Mexican decor features hand-painted walls, yellow on one side, pastel Mexican-style mural scenes painted on another, with a few idiosyncratic Mexican tchotchkes hanging around - here a Day of the Dead skeleton, there a reproduction of pre-Columbian art.
There's room for only a half-dozen small tables crammed into the small space in front of a serving counter and open kitchen. The tables are Mexican country-style metal furniture with thick, shiny chunks of tile and glass set into a heavy grout, out of the ordinary if a bit impractical; the uneven tiles make a shaky base for plates and glasses, and I idly wonder how they manage to clean spilled food out of the nooks and crannies. It gets very noisy in here, too, when the place is filled with happy diners, and the noise rises to can't-hear-yourself-think level when someone cranks up the background music.
Order from the counter, dip your own ice out of a plastic cooler box and serve your own iced tea or water from big urns, and pick up your own flatware and paper napkins while you wait for the cooks to fashion your dinner. It's decidedly informal ... and all part of the funky El Mundo scene.
The menu is simple and fairly short, featuring appetizers from $2.95 (for a cup of the soup of the day) to $5.25 (for "dippity-do," a platter of bean dip, salsa fresca, tomatillo salsa, guacamole and chips). A bown of baked con queso cheese with roasted garlic is $4.50, a house salad $3.95, and traditional chips and salsa $1.50. The quesadilla of the day varies depending on what's in it, at the chef's whim.
About 10 lunch and dinner entrees - most of which may be made with your choice of filling from a list of chicken, beef, pork, vegetable or black beans - range from $4.25 for a small order of nachos to $7.95 for tamales. A burrito, quesadilla, huevos rancheros or a pair of tacos are $6.25, and chiles rellenos are $7.25.
Evening hours add a half-dozen dinner entrees to the bill of fare, from $7.95 (for grilled chicken-breast burrito or a trio of spicy bean crispy tacos) to $9.25 (for a combination plate featuring samples of any three entrees). Fish tacos ($8.50) look mighty tempting with grilled Atlantic cod wrapped in warm tortillas.
There's no liquor or wine, but a good selection of beers (mostly Mexican) is available, along with strong, fresh-brewed iced tea and a variety of specialty-brand soft drinks. A few desserts ($3.25) include a classic Mexican flan, a decadent chocolate terrine and an ice-cream sandwich made with homemade vanilla ice cream and macadamia-nut cookies.
We began a hearty lunch with a bowl of black bean and chipotle dip ($3.95). It's a thick and "meaty" vegetarian dish, black beans perfectly cooked, firm but tender, turned into a creamy dip with a blend of chipotle peppers (smoked dried jalapeños), a dash of Dos Equis beer and onions and garlic. A good-size portion is served with plenty of thick, crisp tortilla chips for dipping.
My lunch plate, enchiladas ($6.25) demonstrated the way that preparation and display make El Mundo's dishes special: Not your usual gloppy red-sauced plate, this is a beautiful presentation that tastes as good as it looks, with two fat enchiladas made by wrapping tender corn tortillas around savory boneless chicken meat and molten Jack cheese, then saucing them with an earthy, piquant but not fiery homemade red-chile sauce; it's painted with an artful zigzag of sour cream and flanked with mounds of delicate Mexican-style rice and creamy, spicy black beans.
My wife's choice, the "Q-plate" ($5.50) came on a huge white oval plate, almost big enough to cover the top of our tiny round table for two, with all the ingredients set out so you can build your own soft vegetarian tacos: Beautiful salsa fresca, a professionaly fashioned tomato concasse with all the skin and seeds carefully removed; delicious guacamole, creamy but coarse-textured with chunks of tender avocado; mixed mesclun salad greens, red-leaf and gently bitter curly lettuce, three large flour tortillas; and mounds of Mexican-style rice and spicy black beans.
With a $1 glass of ice tea, a large and filling lunch came to a reasonable $17.44, and we stuffed the change from a $20 into the tip jar. $$
(November 2001)
<!REVIEW ENDS HERE!>