Older Archived Reviews
This is an older archived review. The Search Feature on this page may not work. To search this site, please return to our Home Page and try your search from there.
---
<!REVIEW GOES HERE!>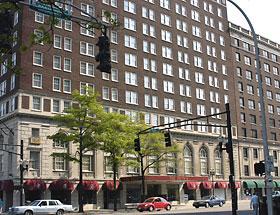 The 15-story Brown Hotel has stood at the corner of Fourth Street and Broadway since 1923.

89

The English Grill
Brown Hotel
Fourth and Broadway
(502) 583-1234

Website:
http://www.thebrownhotel.com/dining.php3
Walk into the English Grill, and take a trip backward in time: This is the same landmark dining room that our parents and grandparents enjoyed, and it doesn't seem like it's changed much over all these years.
The English Grill's dark-oak paneling with carved columns, lofty white ceiling, antique brass lighting fixtures, tall, narrow recessed diamond-paned windows and simple, 19th century portraits of stylized posed Thoroughbreds all make for an elegant yet comfortable setting; and Chef Joe Castro continues to win raves for creative, inventive (and expensive) fare that makes the Brown a major player in the downtown-hotel dining sweepstakes.
It't not hard to see how this dining room, like the nearby Loew's theater (now The Palace) with its exuberant "Moorish" decor, would have been the talk of our town during the Roaring '20s when the hotel was new.
The large, heavy tables are double-draped in luxurious damask, with napkins to match; comfortable arm chairs are upholstered in brocade. Tables are set with simple, old-fashioned off-white china with a discreet design, heavy sterling flatware and attractive glassware. A silver candle lamp with a raw-silk shade graces each table, but there were no flowers on the tables the night of our visit, a slightly disappointing omission for a high-end establishment.
The menu is presented in a folder with a Renoir-style restaurant scene on the cover, a painting that depicts a crowd of 19th century Parisians having a blast at a bistro that might be just a bit more downscale than the English Grill. The bill of fare changes periodically (but is generally not promptly updated on the hotel Website, which also discreetly omits prices), but it usually maintains a consistent pattern: at least one game dish (changed from quail to venison in the most recent update) and one vegetarian dish (from a grilled portabella to a tofu-stuffed roasted pepper this go-round), along with a short list of red meat, poultry and seafood dishes.
As of this writing, you'll find six appetizers, from $9 (for a grilled eggplant and zucchini Napoleon or salmon gravlax) to $16 (for pan-seared Hudson Valley foie gras). Soups are $6, and salads are $8 (for a "traditional" Caesar or arugula salad) to $9.50 (for my choice, a baby spinach salad with duck-confit spring rolls).
Just nine entrees are featured, a rather short selection that ranges in price from $19 (for a vegetarian item, roasted pepper stuffed with jasmine rice and shiitake mushrooms, tofu and bean sprouts with a chive oil and sweet soy reduction) to $28 (for grilled filet of angus beef with an "exotic mushroom ragout," Italian parsley and horseradish veal jus. Other interesting choices included pan-seared Atlantic salmon with "melted" spinach and rock shrimp ($24), grilled lamb loin with Peruvian potatoes ($26) and macadamia-nut-crusted grouper with leeks and Dungeness crab ($26.50). The chef's daily five-course prix fixe dinner is $55, or $85 with selected wines served by the glass.
Speaking of wines, I was expecting more from the English Grill's wine list, which offers about 100 selections but is a far cry from the 1,200-item "wine book" at the rival Seelbach Hotel's Oakroom. A few top-end items go well past the century mark, topping out at $295 for 1985 Opus One. Mondavi 1999 Reserve Cabernet Sauvignon is $180 (about double the retail price, triple wholesale), and the overrated Far Niente bottlings are $150 (Cabernet) and $105 (Chardonnay).
If you want a relatively modest wine, you're pretty much stuck with mass-market labels; if you want a wine of interest, you're pushed into the $50-to-$70 range. My recommendation for the frugal wine enthusiast who wants something decent that won't cost more than both entrees is Chappellet 1998 Napa Sangiovese, which is $40 on the Brown's list, a wine that you can purchase at retail for $15 or so.
Don't look for relief on the by-the-glass list, which is limited to about 20 mass-market labels that range in price from $6.50 (for Jekel Riesling) to $11 (for Sonoma-Cutrer 2000 "Les Pierres" Sonoma Chardonnay, a pretty decent white), both from Brown-Forman.
Glassware is attractive, not cheap by any means, but the wine glasses appear to be water goblets: Tall and a bit narrow in proportion to their height, they're not well suited for fine wines, particularly since the servers often pour your glass nearly full, leaving little room to swirl and sniff.
Our meal began with a tiny amuse-gueule (French for "palate teaser"), a bite-size slice of rare duck breast perched on a few tender kernels of hominy gently dusted with a touch of saffron and minced parsley, plated with a sweet balsamic reduction. This custom of a little pre-appetizer surprise from the kitchen, more commonplace in Europe than in the states, adds a civilized touch and signals a memorable meal to come.
Bread service was fine, too, a silver platter lined with a cloth napkin that bore four healthy chunks of a seasonal specialty, challah, rich Jewish-style egg bread for the Passover/Easter season, with a tender, golden-brown crust, accompanied by chilled creamery butter formed into artful rippled triangles. (Another ration of challah came with dinner, along with decent white French-type rolls.)
A shared appetizer, grilled eggplant and zucchini Napoleon ($9) got dinner off to a rousing start. This attractively plated dish featured thin-sliced grilled marinated eggplant and zucchini, piled vertically in alternating layers, topped with finely shredded Parmesan. The plate was decorated with tiny haystack piles of chopped spinach pesto on a decorative saffron gastrique," a relatively obscure French cookery preparation, a sweet-tangy vinegar reduction usually flavored with honey or fruit. Not over-large, it was a good palate-whetter for one, but small enough to leave the two of us wishing we had a little more. Hint: If you're hungry, don't split appetizers here.
Curiously, salt and pepper are not routinely provided on the English Grill's tables, although they're offered without protest if you ask.
Arugula salad ($8) consisted of impeccably fresh arugula leaves in a garlicky dressing, garnished with walnut bits and topped with a couple of pieces of pear crisp - a paper-thin slice of fresh pear cut vertically and oven-dried, more chewy than crisp - and thin shavings of Pecorino Romano cheese, similar to Parmigiano but with a more assertively tangy-dairy flavor.
An Asian-accented baby spinach salad ($9.50) featured bright, crisp raw-spinach leaves, perfect and fresh, topped with long julienne curls of purple beet, white daikon (japanese radish) and orange carrot, a veggie garnish that added both color and flavor interest. A sweet-soy vinaigrette was on the discreet side, thankfully. Three short, diagonally cut pieces of duck-confit egg roll elevated the dish to salad heaven: Served at room temperature, they were soft, not crunchy, filled with rich, earthy dark duck meat with a sweet-fruity note of hoisin sauce and an elusive hint of peppery spice.
A quick "intermezzo" followed; not the traditional sorbet but a pleasant palate cleanser, a short shot of sparkling water served in a Champagne flute with a twist of lemon.
The
New York strip steak
($30, a dinner special) was served exactly medium-rare as ordered, carved in the kitchen into about a dozen thin crosswise slices that were arranged like a turban atop a small mound of rather dry buttermilk mashed potatoes and garnished with a few barely cooked cauliflower and broccoli florets. It was surrounded with a reddish-brown veal reduction thickened with smoked Gouda, accompanied with a roasted cherry tomato, a strip of red bell pepper, a couple of tiny zucchini rounds and a few raw baby carrots.
Similar garnishes accompanied a tender and delicate roast venison ($26), served medium-rare and sliced thin, arranged on a bed of creamy mashed parsnips and served with a bit of crisp shredded red cabbage and a small ration of earthy, pleasantly spicy trumpet-mushroom ragout. It was a delicious game-and-root-veggie combination that spoke more of autumn than spring but went well at any time of year. In a small but significant departure from perfection, the parsnip puree included inedible stringy bits that I had to pull out and discard. As FoodTV's Alton Brown is fond of saying, that's not good eats.
My wine choice, the Chappellet 1998 Napa Sangiovese mentioned above, was a hit with both main dishes. Dark garnet in color, it showed the good tart-cherry aromas of this Tuscan grape with a distinct note of spice from well integrated oak. It was a big, hearty wine, an American take on Chianti, sort of like the football-player grandson of Italian immigrants.
We passed on the pricey, tableside-finished dessert soufflé ($9), which must be ordered at the beginning of the meal, and reluctantly decided against a tempting butterscotch pudding ($8.50). But it being almost Derby time, a mint julep chocolate-chip ice cream special ($6) turned our heads. It was a good choice: Three golf-ball size scoops, garnished with a fresh mint leaf dusted with powdered sugar, were smooth and creamy, rich but not heavy, laced with fine-grated bittersweet chocolate bits and a delicate blend of light mint and Bourbon accents that enhanced the creamy milk-chocolate flavor without taking over the parade.
Cappuccino ($4.50), on the other hand, was disappointing. It was watery and thin, almost like regular coffee diluted with skim milk, with an odd, frothy head more reminiscent of meringue than foamed milk. Service in tall, footed clear-glass mugs that showed off the coffee drink's pale, watery color didn't improve things.
But our mood improved when, just as the meal had begun with an amuse-gueule, it ended with another surprise from the kitchen: two cubes of Bourbon pecan fudge on a small plate, dusted with powdered sugar. Dense and chewy, they were more like brownies than fudge but delicious either way.
A very fine dinner overall, it came to a pricey $145.75; and competent and professional service earned a $30 tip. $$$$

(April 2003)
<!REVIEW ENDS HERE!>