Older Archived Reviews
This is an older archived review. The Search Feature on this page may not work. To search this site, please return to our Home Page and try your search from there.
---
<!REVIEW GOES HERE!>
The Kentucky State Fair runs for a week and a half every year in the second half of August. For full information on its annual schedule and events, check the State Fair Website.

2004 Update
What's new at the Fair in 2004, the 100th anniversary of Kentucky's annual harvest event? Signs of the times, spotted around the Fairgrounds: Cappuccino and espresso drinks in the South Wing, and "Atkins-friendly ... no carbs" signs just about everywhere.



We've updated this report from the 2000 Fair with current offerings and prices ... but the basics remain unchanged: You can pig out on just about anything you want at the Fair, as long as you like it fried ... and the Great Kentucky Cookout tent remains my pick of the place for quality fare from the state's beef, pork, lamb, poultry, fish, corn and dairy producers. Highly recommended!



(August 2004)


72

Kentucky State Fair
937 Phillips Lane
(502) 367-5000
(502) 367-5002 recorded hotline

Web:
http://www.kystatefair.org/
<!REVIEW GOES HERE!> No one ever starved to death at the Kentucky State Fair, as long as he brought money: You can get just about any imaginable kind of fast food here, as long as it's greasy, salty or sweet.
The 2000 Fair opened on a muggy, hot late-summer day with a threat of storms in the air. We showed up early and found an almost-deserted scene, Jefferson County's school children being back in classes this week. I selected a prime parking spot and, no sooner had I opened the door of the family jalopy than I smelled the delicious scent of wood smoke and grilling pork chops wafting over the acres of asphalt.
As noted, there's food just about everywhere at the Fair. It falls into three main categories: Snack foods from booths, carts and wagons ... ad hoc outposts of local eateries ... and, last but arguably best, the Great Kentucky Cookout. More about that below, but first, let's take a quick survey of, um, the fair's fare.
RESTAURANTS: A couple of popular local eateries offer condensed versions of their standard fare, either under big tents (Mike Linnig's, for example), smaller outdoor booths (Pizza Hut, Wendy's) and indoor booths (Golden Buddha in the East Wing, Hickory House BBQ in the South Wing, and many more).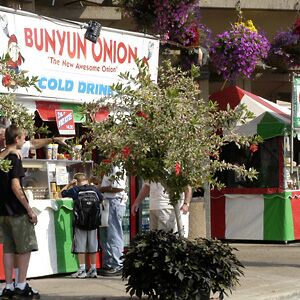 What's a Bunyun Onion? A whole onion, cut to open up like a flower when it's breaded and ... of course ... deep-fried.
FAST FOOD BOOTHS:
You'll find these everywhere. In fact, it would be impossible to miss them. They line both sides of the broad avenues across the front of the massive fairgrounds halls and around the circle in front of Freedom Hall, and they pop up in all the exhibition areas. You can take your pick from among a huge variety of fatty, tempting goodies: Polish or
Italian sausage
($5.50 with green peppers and onions); or
hot dogs
($4 for a footlong or "State Fair Big Dog," or, for the gourmet, $5 for a quarter-pound bratwurst). If you want to think you're eating healthy, fried vegetables abound: fried green tomatoes, fried cauliflower, fried pickles and fried onion rings are all $4; jalapeño poppers are $4.50, and a big order of French fries is $3.
If you want to be downright unhealthy, take your pick from confections reported to be available at Midway fair booths ... deep-fried Snickers bars, deep-fried Oreos and deep-fried Twinkies, Bacchus save us. (We didn't check out the Midway booths this year; note that the Midway does not open on week days until afternoon when school's out.)
For tradition's sake, I always start my day at the Fair with a corn dog ($2.50 at some booths, $3 at others; one spot offers a "Jumbo" corn dog for $5), the North American version of a tamale - one basic dog on a stick, dipped in thick cornmeal batter and deep-fried until golden brown, then slathered with your choice of mustard or ketchup. I'll take mustard, thanks ... and find the combination of flavors and textures strangely addictive, although not so much so that I'll eat another before next year's Fair.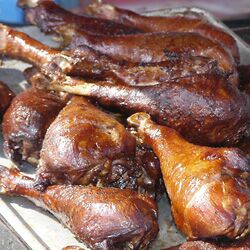 Grilled turkey legs, brown and crispy, await hungry Fairgoers.
One secret to finding better quality food at the Fair is to watch the booths carefully and spot the few where hard-working entrepreneurs are actually doing serious cooking, as opposed to merely opening institutional-food packages. One friendly spot in front of the West Hall looked promising, with
pork chops
and
chicken breasts
(both $5.50) roasting to a golden turn on a black iron barrel cooker. One spot vends oversize turkey wings, plus a variety of meats on a stick.
Several roast corn ($2.75) booths also featured cooked-on-premises delights, shucks still attached for use as a handle. The cobs were oversize, bright yellow and almost startlingly sweet; a little investigation revealed that they're a variety known as "California cotton candy." Just right for the Fair, I guess, although the flavor almost made it seem like a dessert choice.

Fruit smoothies ($3 small, $6 huge) are very sweet, too, with sugar added to sweetened fruit concentrates before whipping into a thick, forthy confection. And if your sweet tooth still needs satisfying, you'll find a range of delicacies like soft ice cream, frozen custard, pineapple whip, German peanuts, fudge and another old favorite, funnel cakes and their near cousin, elephant ears ($5), a fancified fried doughnut, sweet pastry batter piped into hot frying oil to make a crunchy, plate-size cake that's heavily dusted with powdered sugar. Yum. Add a dollar to top it with fruit.
Philly cheesesteaks ($6) and other commercial fast foods are available, as are such just-for-the-fair specialties as Bunyun Onions ($6) and Grater Taters ($4).
This big tent houses The Great Kentucky Cookout, home of the best food at the Fair.

THE GREAT KENTUCKY COOKOUT:
All of this is just appetizer fare and walking-around food, though. For a truly satisfying meal that gives a sense of what the Fair is really all about - a harvest celebration of our Commonwealth's agricultural bounty - you'll want to plan a mealtime stop at the big red-and-white striped tent just west of the West Wing and south of Broadbent Arena. This is where all of the state's major agricultural trade associations strut their stuff during the 10-day Fair, in a friendly but serious competition that sees each making an effort to prove that its farm product is best. (Most of these organizations have other booths around the Fairgrounds and in the air-conditioned South and East Wings, but we like the big tent best for its old-style country-fair atmosphere.)
I always make a beeline for the Kentucky Sheep and Wool Producers booth, where I face a delicious dilemma in the form of an expanded menu: In addition to the traditional lamb barbecue sandwich ($4.50), they've added a leg-of-lamb sandwich ($4.75) and a one-third pound lamb burger ($3). I wavered but stuck with my favorite, leg of lamb, and I'm glad I did. A generous portion of flavorful, tender lamb, infused with sweet hickory smoke from the grill, filled a white bun with meat so good that it required no sauce. (But if you want it, good Western Kentucky-style barbecue sauce - thin, with a vinegary bite and a kick of black pepper - is available in a squeeze bottle.
The Kentucky Pork Producers have one of the most popular booths in the cookout tent. Justly so, as their boneless pork chop sandwich is one of the best food bargains anywhere: $5 for an inch-thick, half-pound chop so large and fine that it proves pigmeat doesn't get any better than it does in the Bluegrass State. (Other choices here include pork barbecue for $4.75, a pork burger for $3.25, or a hot dog for $2.)
I wish we had room to try them all, and we'll likely go back for another stab at it: Country ham sandwiches ($4.50, your choice of grilled or baked); trout or catfish sandwiches ($5, or $8 on a fish-dinner plate) from the Kentucky Aquaculture Association; The Kentucky Poultry Federation's chickens, $7 for a half or $6 for a quarter; $3 or $2.50 for large or small orders of chicken nuggets. Roasted ears of corn ($2.50), corn dogs ($2) or popcorn ($1) are on sale at the Kentucky Corn Shack; rib eye steaks ($5.75), beef barbecue ($5.25), beef brisket ($4.75), a cheeseburger ($3.75) or an all-beef hot dog are available at the Kentucky Cattlemen's Association; and, if you're still hungry, the American Dairy Association of Kentucky will serve you an egg and cheese breakfast ($2.50, $3 with ham) a grilled cheese sandwich ($2.50, $3 with ham), and, to wash it down, a cold glass of milk ($1.75 for 12 ounces, $2 for a 16-ounce gulp). Got milk?
A day at the Fair is fun but not cheap: A couple can easily burn through $30 or more walking around and snacking during a half-day visit, plus admission and parking (see below for current details). Bring the kids, spend the day, and hit the Midway (now hyped as the Thrillway) when it opens after school hours and on weekends, and pretty soon you're talking about real money.
But hey, the Fair opens only once a year! $$
IF YOU GO
The 2004 Kentucky State Fair - the 100th! - runs from Aug. 19-29, 2004 at the Kentucky Fair & Exposition Center, located at the intersection of I-65 and I-265 (The Watterson Expressway) south of downtown Louisville.
Gates open at 7 a.m. daily, and exhibit buildings (and most food booths) are open from 9 a.m.-10 p.m. daily. The Midway ("Thrillway") is not open during school hours. For more details about opening hours visit the State Fair Website, http://www.kystatefair.org/.
Admission at the gate is $7 for adults, $3 for children (12 and under) and seniors (55 and older). Concessions and "Thrillway" ride tickets are additional. Parking is $5 per vehicle. Discount admission and Thrillway ride tickets are available only before the Fair opens ($5 for adults, $2 for children and seniors) with a Kroger Plus card, available at Kroger locations throughout Kentucky and Southern Indiana.
<!REVIEW ENDS HERE!>