Older Archived Reviews
This is an older archived review. The Search Feature on this page may not work. To search this site, please return to our Home Page and try your search from there.
---
<!REVIEW GOES HERE!>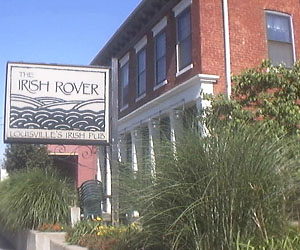 74

The Irish Rover
2319 Frankfort Ave.
(502) 899-3544

When we came back to Louisville from New York City and moved into the Crescent Hill area at the end of 1993, friends told us excitedly about a new Irish pub in the neighborhood, and we've been fairly regular visitors at the Irish Rover ever since.
A warm and welcoming pub with an authentic Irish accent, it's a delightful place for a tall glass of Guinness, a snack and a bit of Irish music, living up to its Gaelic motto, "Òl, Ceol, Bia agus Craic," which I'm told translates as "Drink, Music, Food and Fun."
I have enjoyed so many pints there, and used them to wash down enough orders of more-than-passable fish and chips, that it has been all too easy to overlook one simple but inescapable reality: By and large, the Rover's food fails to match its estimable drink, music and fun.
There's no dispute about the Rover's positive points. The 150-year-old red-brick building began life as a neighborhood watering hole, and its Irish owners have retained that historic spirit in a most attractive way. The long, dark and rather smoky bar room could possibly be mistaken for a genuine Irish pub; the two brighter dining rooms bear a closer resemblance to an Irish family's dining room, with a homey feeling not diminished by bright peach-color walls trimmed in snow-white enamel and decorated with oversize Irish ancestral photos; shiny oak floors and tall, old-fashioned front windows draped with simple white curtains. A few big wooden booths line one side of the back (non-smoking) room. Tables are draped in green oilcloth (some showing threadbare signs of wear), set with heavy flatware and furnished with sturdy, old-fashioned oak office-type chairs.
In the nits and picks department, the rooms aren't dim, but overhead lighting isn't directed at the tables, so the small-print menu can be mighty hard to read after the sun goes down. Tables are rather closely spaced, a few of them thoughlessly so; our "two-top" by a window was backed so close to a neigboring booth that it was almost like joining another family for dinner. (The food-spattered window by our seats could have used a quick wipe, too, by the way, but maybe that's a pub thing.)
Menu offers a broad selection of dishes, largely Irish although a few items seem to have migrated across the Irish sea from Britain. About 20 "bar food" starters, soups and salads range from $2.75 (for bubble and squeak, a fried potato-cake dish that I associate more with London than Dublin) to $7.95 (for a plate of Irish smoked salmon or a prawn and cashew salad). A Scotch egg, ringing in from yet another Celtic nation, offers a diet-busting delight, a hard-boiled egg rolled in sausage and deep-fried, $2.95.
About a dozen light meals (styled as "pub grub") are $5.50 (for a "Ploughman's Plate" of cheeses, fruit and brown bread) to $9.25 (for my choice, the Dublin Smokies, a cheese-topped casserole of smoked haddock and smoked salmon with shrimp). Fish and chips, a favorite that the Rover generally does well, is $6.95, and an all-veggie Farmer's Plate is $5.95.
Ten sandwiches are all in the $5.50 to $6.95 range, and a half-dozen more substantial "Pub Plate" dinners are $8.95 (for juniper-marinated Limerick ham grilled with a honey-brown-sugar glaze) to $12.95 (for chicken breast stuffed with Cashel blue cheese and mushrooms or a grilled 8-ounce strip sirloin with a whiskey-mushroom cream).
The Rover offers a short but fairly well-chosen list of about a dozen wines, all (except the sparkling wines) available by the glass from $3.95 for Lindemans Australian Chardonnay to $6.50 for Toasted Head Chardonnay or Bonterra Cabernet Sauvignon, an excellent all-organic red. The Rover deserves praise for a low markup on the bottle list, which tops out at just $20.95 for the Toasted Head or the Bonterra, which is only about $4 over its current retail price.
We're here for the beer, though, and a pint of Guinness was estimable as always, the Irish brew with an international reputation, allegedly so admired in Samoa that it is used in lieu of holy water for baptisms; dark as night and rich as cream, with that characteristic thick pale-tan head that you can float a shilling on, if for any strange reason you should want to do that. My wife's half-pint of Harp lager, a lighter brew, suited her fine.
A wicker basketload of complimentary bread held four large slices of white bread, sliced as thick as "Texas toast," and a half-round of traditional Irish soda bread, coarse and crumbly with a pleasant sweet-wheat flavor. Pats of real butter come wrapped in foil.
The Cashel salad ($4.95) featured fresh leaf lettuce composed in a rough circular pattern, topped with plenty of chopped walnuts, a scattering of shredded carrots and a generous ration of earthy blue Irish Cashel cheese. A thick, sweet-tart balsamic vinaigrette was served in a little metal tub on the side. It was a good, serviceable salad, no complaints there.
Service throughout our meal was not quite up to par: friendly enough, but somewhat careless, and hurried to the point that he came across a bit brusque. You don't really want to complain about speedy service, but this was almost too fast, with entrees hurried out before we had finished our salad, no refills offered, and a check delivered before asking about desserts, almost as if they were hoping to "turn" the table for another waiting couple.
We deliberately passed on the usual fish and chips this time to give the more traditional Irish dishes a try, and judged them stereotypical Irish-English cookery, hearty but pale in color and unadventurous in flavor.
The Dublin smokies ($9.95) came in a presentation that looked classy but proved malfunctional: An oval baking dish, too hot to touch, was balanced awkwardly on a round plate too small to fit, so the hot dish rocked irritatingly as you ate. Smoked haddock and salmon bits and a single dramatically overcooked, rubbery shrimp were drowned under a heavy coating of melted mild white cheese and topped with a few fresh but wintry-pink tomato dice. About a dozen sauteed button mushrooms were piled on the side.
Another "pub grub" entree, smoked salmon and potato gratin ($6.95) was fairly similar to my plate: Smoked salmon and cubed potatoes were baked for a very long time in a casserole with a thick sauce of cheeses so mild that they could almost have passed for a white flour sauce. It was accompanied by a healthy but bland portion of steamed broccoli florets, thin carrot rounds and sliced cabbage, perfectly prepared, crisp yet tender, but devoid of any detectable seasoning - no butter, no pepper, no salt.
Hoping dessert would kick things up a notch, we tried two, with mixed results. Bread and butter pudding ($4.95) came in a generously large portion. It seemed to be made from the same kind of white bread that was served with the meal, studded with raisins, dusted with a homeopathic dose of cinnamon and soaked with a caramel-flavored brown sauce, and a bit of heavy cream that appeared to have been poured on top and run down to the bottom of the plate. The bread had an oddly chewy texture that suggested the pudding might have been reheated in the microwave.
Gingerbread ($3.95) was bizarre - an oddly twisted, horseshoe-shaped portion was dark-brown and pleasantly spicy, decorated with a quick "Bam!" of powdered sugar from a shaker. It was served ice-cold, and when we got into it, a wet and grainy center gave evidence that it had been pulled from the oven before it was cooked, then stuck into the refrigerator to solidify rather than back in the oven to finish. It was not an appetizing way to finish a rather stolid dinner, and Barry Irish tea ($1.25) served with a teabag in a cup of warm water, didn't help much.
But the beer was great, and we had no complaints about the music (recorded, and barely audible in the background) or the fun. Dinner for two totaled $39.60 plus a $7.32 tip, a midrange price level at which the diner really has a right to expect more. $$

(December 2002) <!REVIEW ENDS HERE!>