Older Archived Reviews
This is an older archived review. The Search Feature on this page may not work. To search this site, please return to our Home Page and try your search from there.
---
<!REVIEW GOES HERE!>
CLOSED. Reported out of business in February 2002. Despite quality food and crowds on weekends, management told customers that there wasn't sufficient traffic to stay open. However, the same management continues to operate Joe's Place ("Older Than Dirt"), 8131 New LaGrange Road in Lyndon, (502) 426-2074.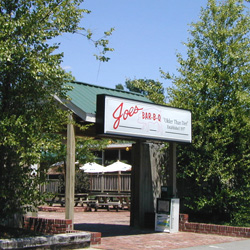 **** Joe's Bar-B-Q
6231 Preston Highway
(502) 961-0502
Barbecue is barbecue, and it's not that hard to find very good barbecue in this favored region where the South meets the Midwest. Barbecue fanciers in Louisville and environs can argue amiably for hours over who's currently doing it best.
But pork ribs are something special. The greatest challenge to the barbecue master's art, ribs can turn out tough and stringy, hopelessly greasy, or in the most capable hands, delicious little bites of the world's most succulent pork, each borne on a natural "handle" of bone, a smoky morsel that's so tender you hardly have to chew it.
The recent closing of the Champion's barbecue restaurants in St. Matthews and LaGrange deprived the area of what may have been its finest ribs. But now comes Joe's, a family restaurant claiming a local history that goes back 64 years ("Older than dirt, established 1937," its motto goes). This summer Joe's on Preston changed its name to Joe's Bar-B-Q, and it's turning out ribs as good as I ever ate.
Come to think of it, the gently smoked pork and tender beef brisket (the same trademarked "Certified Angus Beef" as the steaks at Dillon's, by the way) are mighty good, too.
There's nothing fancy about this place, a big hunting-lodge-style building with an outdoor beer garden, picnic tables and patios; but who needs such upscale frippery when the 'cue is good? Without a flaw in food or service, Joe's earns four-star eatery status the old-fashioned way.
The decor at Joe's is something like Dillon's, too. With unfinished pine walls and rafters and heavy plank floors, there's wood all around. It's sort of like eating inside a giant cigar box, one with a cathedral ceiling and gently twirling fans way overhead. The walls are crammed with lots of game trophies - a stuffed fox, a small bear, horned heads from multi-point elks to a water buffalo - and there's a big stone fireplace at one end of the room. Six big-screen televisions were tuned to three different sport shows - we had a choice of tennis, golf and stock-pickup racking on a Saturday afternoon - plus country classics playing in the background at a reasonable volume, loud enough to enjoy but not to drown out conversation.
Large tables are draped in clean black-and-white-checked oilcloth and set with attractive windsor-style chairs. In a word, it's comfortable, and the food makes it even more so.
The big menu offers quite a range of barbecue and other family-restaurant fare, and it's all affordable, with meals - including corn on the cob and choice of two sides - from $6.99 (for a pound of rib tips) to $11.29 (for a two-meat combo of any two dinners on the menu). Hickory-smoked chicken, smoked "pulled" pork or brisket are $7.99; ditto for a whitefish platter. Chicken tenders are $8.99 and catfish fingers $9.99.
Looking for something lighter? Appetizers are $3.99 (for a half-order of cheese fries) to $8.59 (for Joe's Sampler, featuring wings, chicken tenders, jalapeño poppers and catfish fingers. Chili or burgoo is $2.79 a cup, $3.79 bowl. A garden salad is $2.59, and a cup of soup and a salad is $4.99. A dinner salad topped with grilled or crispy chicken is $7.59. Sandwiches, with choice of one side order, are $5.29 (for a half-pound beefburger) to $6.79 (for "Joe's Favorite" burger or chicken topped with cheddar, bacon and "sweet'n'sassy" barbecue sauce. Barbecue sandwiches are $4.29 for pork or beef brisket with chips and pickles, $5.29 with corn and two sides.
And then you have the modestly titled "soon to be award-winning ribs." They're $6.29 for a third of a slab (four bones) a la carte, or $8.79 for a platter with corn and sides. A half-slab (six bones) is $8.29 and $10.99, respectively; and a massive full slab - which might just be my target next time - is $15.29 or $17.59.
Joe's is not really a wine kind of place, although you can get popular labels from the full bar, along with a beer list that includes a few imports. It's mostly mass-market stuff, but there's no problem getting a cold one here if that's your pleasure. The iced tea was fine, in big, bottomless glasses, not too strong but fresh and cold.
We started with a bowl of complimentary cornbread. It was yellow, sweet and dense, crumbly and flavorful and addictive. It showed a pleasant fresh-corn sweetness but it's honest bread, you wouldn't confuse it with dessert - and that's a plus.
We wanted to try all the barbecue, so took advantage of the rib sampler appetizer ($5.99). With five bones, it's a generous portion, actually larger than the one-third rack entree, and they were as good as we ever ate, The pork was tender and surprisingly lean, deeply flavored, with a waft of hickory smoke on first taste quickly filled out with good roast pork flavor. We're thoroughly impressed and wouldn't have minded going back for more; but other good things beckon, so we pressed onward.
We saved a buck or two by ordering one sandwich and only one "platter" - the corn and two sides that came with the platter were plenty for two to share.
Barbecue sandwiches come on white hamburger buns. The beef brisket sandwich ($4.29 a la carte, was thin-sliced brisket, long-simmered and tender, so luscious that it almost tasted sweet, with a full, intense beef flavor. It came with ripple chips and pickle slices.
The smoked pulled pork sandich ($5.29 for a "combo" order with corn on the cob and baked beans and green beans chosen from the long list of sides) featured tender pork shreds gently "pulled" from the loin, not sliced, with a good mix of tender interior meat and crunchy surface bits mingling tender smoked meat and caramelized crust flavors and textures. This was seriously good barbecue, so tasty that it doesn't really need any sauce ... but it's tempting to use it anyway, as the two thick, brownish tomato-based sauces (one slightly sweet, the other "tangy" with a hint of sharpness) were both flavorful additions.
The green beans were outstanding, well cooked but still an attractive green, well short of the brownish hue that even the greenest beans take on after hours in the pot. I loved the tender and flavorful baked beans, which came swimming in a rich, sweet-tangy meaty sauce. The corn on the cob was serviceable if less memorable; yellow corn had good flavor but was cooked well past that point of sweet tender crispness that makes fresh corn something special.
Desserrts include bread pudding, pecan pie, lemon chess pie, Joe's chocolate brownie and a root-beer float, all $1.99; add ice cream for 50 cents. Great concept. Forget it. We were too full.
A thoroughly filling lunch for two came to just $19.25, with a $3 tip for friendly, competent service. $$
(July 2001)
<!REVIEW ENDS HERE!>