Older Archived Reviews
This is an older archived review. The Search Feature on this page may not work. To search this site, please return to our Home Page and try your search from there.
---
<!REVIEW GOES HERE!>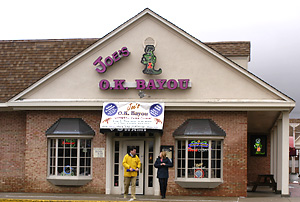 88

Joe's OK Bayou
9874 Linn Station Road
(502) 426-1320

Website:
http://www.joesokbayou.com
Mardi Gras may be upon us as I write this report, but it's Fat Tuesday all year around at Joe's OK Bayou, a fetching shopping-center eatery where the Louisiana-style fare is as good as it gets in Louisville.
I used to have a hard time making it to Joe's, not their fault but mine: A short-lived Indo-Pakistani grocery and two-table cafe next door used to lure me in for such ethnic exotics as masala dosa and iddlies before I could get any farther. But the Indian eatery didn't last long (alas), and to tell you the truth, Joe's boasts a wider menu, better atmosphere, and authentic Cajun and Creole chow cooked by a New Orleans-born chef.
In recent years, Joe's expanded into the space that the Indian grocery vacated, nearly doubling its size with two rooms, one a friendly mini-sports bar with a Cajun fishing-shack atmosphere, the other an informal, cozy dining room.
The front room gets the Cajun look from walls painted with fool-the-eye cypress planks and night scenes of a watery bayou with cypress knees and craggy trunks under a star-studded sky. During Mardi Gras season, bright crepe-paper streamers, balloons and beads burst out in the traditional seasonal colors of lavender, green and gold. A giant-screen television in one corner and a large-screen tube in another are usually turned to sports, with the call of the game sometimes competing with not-too-loud Cajun music coming from speakers near the bar.
Depending on your ravenous state, you can eat light or eat heavy at Joe's, and it's hard to imagine any Acadian specialty that's not on the menu here. Appetizers, fresh oysters on the half-shell, salads and sandwiches (including traditional N'awlins Po'boys) offer more than two dozen lighter options from $1.50 (for an order of Cajun-spiced fries) to $8.95 (for a shrimp, softshell crab or alligator (!) Po'boy). Oysters, flown in from the Gulf Coast, are $8.50 for a dozen, $4.95 for six.
Another couple of dozen heartier entrees are divided into Specialty Dinners (which appear to be mostly Creole, the classic urban New Orleans fare), Cajun Entrees (country cookin' from Acadiana, the watery arc from below New Orleans through the bayou country to Lafayette), and a raft of boiled crawfish platters. Prices range from $5.50 (for a regular order of Cajun chili with beef and smoked sausage) to $23.95 (for a five-pound order of boiled crawfish, no sides). Most of the Cajun dishes are under $7 for a regular-size order, around $10 for large. The Specialty Dinners are a little more, from $11.95 for catfish to $16.95 for the little-bit-of-everything Big Mamou platter, with most available in half-orders from $7.50 to $9.50.
We dropped in for lunch and took advantage of combination platters to sample most of the Cajun side of the menu. The Bayou Combo offers tastes of any three dishes for $6.95 ($10.75 for large), and the Cajun Combo provides a ration of any two choices for $6.75 ($10.50 for large).
By going this route we were able to try chicken sauce piquante ($6.50 as a regular order), crawfish etouffée ($6.95), gumbo ($6.25), red beans and rice ($6.25) and jambalaya ($6.25).
All were quite good and took our palates back in nostalgic memory to past visits to New Orleans and Cajun country, but we liked the gumbo and jambalaya best. The gumbo was a rich, dark and thick stew based on a properly dark roux, full of tender chicken bits and flavorful if rather mild thin slices of smoked sausage, served in a bowl over a scoop of white rice. (A slice or two of spicy andouille might have made it even better.) The jambalaya was first-rate too, a Louisiana variation on rice pilaf with chicken and smoked sausage, redolent of appetizing herbs and spices that seemed more aromatic than fiery.
The etoufée was studded with small, tender crawfish bites in a thick sauce poured over rice. It was flavorful and comforting but the rather pale and slightly floury roux could have stood a little more time in the black-iron skillet. The chicken sauce piquante was loaded with tender, long-simmered chicken falling into shreds and boasted a light, tangy-hot sauce. Red beans and rice were OK but seemed just a trifle bland, at least in contrast with all the other goodies on the plate.
A special dessert, bread pudding ($3.50), was such a delight that I couldn't stop eating it until it was gone even after such a filling meal. Good French-style bread studded with tender raisins made a proper base for the delicious caramel and smoky flavors of a Bourbon-laced sauce. This is a real New Orleans treat, I gar-on-tee.
With good strong iced tea to drink (Joe's OK Bayou has full bar service, but it was early in the day for a beer), an exceptionally fine and filling lunch maxed out at $29.31, with a $6 tip for friendly and efficient service. $$
(February 2003)
<!REVIEW ENDS HERE!>