Older Archived Reviews
This is an older archived review. The Search Feature on this page may not work. To search this site, please return to our Home Page and try your search from there.
---
<!REVIEW GOES HERE!>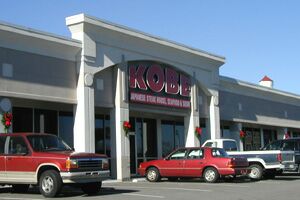 78

Kobe
301 S. Indiana Ave.
Jeffersonville, Ind.
(812) 280-8500

Southern Indiana's first serious Japanese restaurant is drawing crowds these days, a clientele so diverse that on one recent visit we were sandwiched at Kobe's sushi bar between one gentleman who neglected to take off his baseball cap and another who wouldn't hang up his cell phone.
The sushi bar is a good one, too, with skilled and friendly chefs with excellent English, who can be relied on to offer good advice about the day's best sushi choices and to fashion fresh and tasty bites that are just about certain to please.
We've had somewhat more mixed experiences with the dinner fare, though, with odd service lapses and middle-of-the-road but relatively unexciting dishes. My advice? If you go to Kobe, here's my advice: Take your place at the attractive, 14-seat white-wood sushi bar and open wide.
The restaurant - which finally opened early this year after extensive delays having to do with regulatory issues about available parking space - fills two big rooms in a new shopping strip just north of Jeffersonville's busy riverfront.
The rooms are quite spartan in decor, relentlessly beige, with high ceilings and shiny polyurethaned knotty-pine trim. Undraped light-wood-look laminate tables and simple chairs continue the minimalist theme, with decorations limited to red and black Japanese paper lanterns, an impressionistic metal shark sculpture and an intriguing modernistic brushed aluminum bridge over a small pool at the front door.
One room offers dining tables, separated from the sushi bar by a waist-high room divider; the other holds eight teppanyaki (Japanese grill) tables where slice-and-dice chefs hold forth in the standard food-as-performance-art display that Benihana made famous.
It's interesting to note that, despite a broad clientele of sometimes-wary diners, places at the tables were set with chopsticks only; if you wanted a knife and fork, you had to ask.
We've visited three times, once for dinner and twice for sushi lunches, and would rank the sushi bar experience well above the median for the Louisville area, if not quite at the peak.
Among highlights, miso soup ($1) is milky and white, hot and flavorful and very salty, with the usual tofu dice and bits of scallion and seaweed. It seemed especially inviting on a cold winter day, Japanese comfort food in a cup.
Nigiri-zushi, raw fish (and other things) formed and perched on balls of rice, were consistently fine. Tai (red snapper, $3.50) showed a delicate blush of pink and was snapping fresh and tender, almost melting in your mouth. White tuna albacore ($4, a sometimes available special) was amazing, remarkably tender and delicate fish, almost like eating fresh cream, artfully topped with tiny scallion bits. Saba (mackerel, $3.40) is one of my sushi favorites, rarely done better than here. A pretty piece of dark fish with a shiny silver strip of skin as edible decoration was dusted with a sprinkle sesame seeds. Perfectly fresh, its flavor was robust but not strong.
On the more exotic side, unagi (eel, $4.50) is savory dark and flaky fish belted to its riceball with black nori seaweed, then drizzled with a dark-sweet soy-based sauce.
Turning to maki-suzhi (fish bits rolled in the center of a circle of rice wrapped with black nori seaweed, we were just as pleased. "Yum Yum roll" ($5.80) is similar to California roll, an "inside-out" roll with rice outside seaweed instead of the other way around, with surimi "crab shapes" at the center and a zippy dash of hot sauce. Yellowtail roll ($4.50) and salmon roll ($4.50) were fine, too, fresh and delicate, although sushi eventually gets to the point where distinguishing among varieties is like trying to sort out shades of white. Tekkamaki (cucumber roll, $3.40) makes a palate-cleansing fish-free variation, crisp cucumber at the center of a maki roll.
This first visit was impressive if not inexpensive: Lunch for two came to $37.64 plus separate tips for service and the chef. Sushi is not cheap, especially if you fill up on it.
We came back for dinner another day and ordered from the menu, which, curiously, has a wider range of appetizers than main dishes, with nearly 30 starters from $4.20 (for potsticker-style gyoza) to $8.25 (for a battered and deep-fried softshell crab). Fried oysters, scallops or shrimp are $4.75, a shrimp cocktail is $5.95, seafood zoufui, a rice porridge with seafood and vegetables (perhaps akin to the comforting Chinese congee) is $7.
The entree list includes just eight dinners plus combos, specials and "hot pot" dinners, which come with miso soup, salad and steamed rice. Entrees range in price from $9.50 (for tonkatsu, a breaded-and-fried boneless pork cutlet) to $18 per person for sukiyaki and $23 each for shabu-shabu, both prepared at tableside for parties of two or more.
Miso was just as good as at lunch, and the house salad that comes with dinner is up to par, a chilly bowl of crisp lettuce garnished with shredded carrot and red cabbage, with plenty of that creamy, tangy Japanese-restaurant dressing made with mild miso, orange and ginger.
Tempura, a battered-and-fried treat that the Japanese learned from the Portugeuse more than 300 years ago, should be light and airy, but Kobe's vegetable tempura ($4.95) fell down. Two slices of sweet potato and one of white potato, two green peppers, a mushroom, one floret each of cauliflower and broccoli and a thick onion slice, were all cloaked in a doughy breading that came dripping fat from the fryer. We were presented a basket-full to share, but no individual serving plates, a small service that wouldn't have been amiss. It came with a standard soy-based tempura dipping sauce, thin and salty-sweet.
Entrees are served on large white plates, attractively garnished with orange slices and acconpanied with stir-fried vegetables - pea pods, button mushrooms, overcooked broccoli and cauliflower and carrot strips - all drizzled with a sweet molasses-style sauce. A bit Westernized, it seemed a bit more suited for a Southern Indiana truck stop than sushi bar.
The aforementioned tonkatsu was a good imitation of chicken-fried pork, served atop a slaw-like mix of red and green cabbage and shredded carrots without any dressing. A thick, very sweet dark sauce ws served on the side, happily; its odd flavor was odd blend of molasses and Coca-Cola.
I love saba (mackerel) served raw as sushi, but it was less impressive as a cooked dinner entree ($10.95). Two boneless fillets, skin on, had been cooked until mushy.
While we enjoyed our entrees, I couldn't help wondering where our appetizers were. We had ordered two sushi items and green-scallop appetizer, but things got a little weird. With no explanation, the sushi didn't arrive until we were finishing our dinners, and then we got only one of the two we were expecting: Scallop sushi ($3.50) turned out to be a pair of sushi rolls topped with tiny dice of sweet scallops mixed with mayonnaise and garnished with a sprinkle of orange salmon roe. What about the other sushi? "Oh, we're out of that." Funny they didn't tell me until I asked.
We waited a little longer still, wondering if we would get our check or the, er, appetizer first. At last the broiled green mussels ($5) arrived, long after we had finished everything else, with apologies but no real explanation for the delay.
I don't know where this dish had been or why it had been there, but it gave every appearance of having been prepared earlier and reheated by a run under the broiler, a procedure that unfortunately cooked the lemon slice and wilted the parsley that had been put on as garnish. Five mussels, also showing signs of reheating, had been removed from their shells, cut into chopstick-size pieces, and returned to the shells under a blanket of a thick, congealed substance that looked and tasted vaguely like mashed potatoes. Frankly, I wish we hadn't waited.
Dinner, when all was said and done, proved less expensive than a hearty sushi lunch, $30.35 plus a $6 tip. But I have to say I was much happier after the sushi.
After that experience, I didn't know quite what to write, so I set these notes aside for a while. Great sushi. Jovial, competent sushi chefs. But a dinner that was forgettable at best, orchestrated by weird special effects. What to do? Let's go back again!
So we gave it a few weeks and made the trek back across the bridge for lunch. This time I decide to try a different approach: Let the sushi chef show his stuff by ordering only from the day's sushi specials.
It was a very good plan. Some of the choices turned out to be a bit "mid-Pacific" (halfway between Japan and the U.S.), but they were uniformly well-prepared and enjoyable.
Salmon skin salad ($7.50) was a real production number, served on a large, pretty blue-and-white earthenware plate. A mound of crisp lettuce was topped with lots of crunchy bits of crisp-fried salmon skin, topped with shredded carrot and salmon roe, garnished with a few bits of shredded red cabbage and pea shoots, dressed with a light, warm vinegar sauce (the Japanese equivalent of German wilted salad?) and decorated with strips of carrot.
Kobe roll ($9.95) was an artful treat, and it was a pleasure to watch the artist at work as the chef wielded a large knife on a small cucumber. He gently carved off a long, thin sheet of cuke as big and almost as thin as a sheet of bond paper. He used this pale-green sheet in place of of the usual nori seaweed as the outer wrapper for a light, healthy sushi-style roll built around surimi "crab," cooked shrimp and avocado, topped with tiny flying-fish roe and radish sprouts. He used some of the leftover cucumber to fashion veggie carvings, one with a tiny faux flower growing out of it, all plated on a light sweet soy sauce and a sprinkle of sesame seeds. It looked great and tasted good, too, although the rolls are so delicate and frail that it was a bit difficult to keep them from falling apart between plate and mouth.
Finally, jalapeno sushi with crab tempura ($4.95), the Japanese equivalent of jalapeño "poppers." This odd but appealing dish featured bite-size spheres of soft, thick tempura-style batter filled with crunchy rice noodles, strips of fiery roasted green chile pepper and a sweet dark soy sauce, making an oh-so-spicy Japanese bar snack.
They also had something called an "Antwaan roll." I don't even want to know.
My wife gave the kitchen another chance with a lunch order of Japanese noodle soup, miku udon ($5.95). An oversize ceramic bowl carried a good ration of thick, tender white wheat noodles and thin-sliced long-simmered beef, julienned carrots and onions, all swimming in a salty broth. It was a simple soup but well made and warming, no complaints.
This time our lunch tab reached $31.69, plus $5 for service and $3 for the sushi chef's tip jar. $$$ <!REVIEW ENDS HERE!>