Older Archived Reviews
This is an older archived review. The Search Feature on this page may not work. To search this site, please return to our Home Page and try your search from there.
---
<!REVIEW GOES HERE!>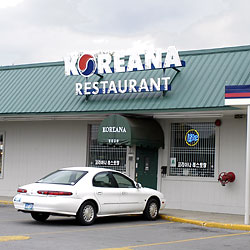 84

Koreana II
5009 Preston Highway
(502) 968-9686

In the happy glow of a community with a sturdy and growing population of Thai, Vietnamese, Indian and regional Chinese eateries, it seems a little cheeky to complain about the few remaining gaps in the region's selection of Asian cuisine.
But doggone it, we really could use a few more good Korean spots.
This is not to diminish the goodness of such old standards as Arirang, Lee's or Kim's Asian, all of which include Korean dishes as part of their culinary repertoire. But with the sad closing of the old Asiana on Frankfort Avenue (now Osaka Sushi), Koreana II appears to be the city's only restaurant devoted entirely to authentic Korean fare.
This hearty Northern Asian food is filling, often spicy; it takes on some accents from neighboring North China and Japan, but it stands on its own as a regional cuisine worth getting to know. Luckily, Koreana II does it well. (I've been unable to get a clear explanation of the "II," by the way, but I gather that it refers to a previous incarnation at a different Preston Highway location.)
Although the restaurant looks small and rather unimposing from the outside, it's more impressive within. Four large, comfortable looking green armchairs sit arm to arm in a small lobby. Pass through, and you enter a surprisingly big room with a high ceiling. The decor is simple, bright and tasteful, with gallery of small framed photos of Korean farm and rural scenes on the off-white walls. (A hanging curtain hides a row of powerful overhead fans that come into use when tables reserved for grill-to-your-order dinners are in use.)
Undraped pink tables are widely spaced and furnished with comfortably padded black metal chairs. There's a big free-standing aquarium at the back, and an alcove (still faintly labled "Ginza Sushi Bar" from a previous occupant) that has been converted into what appears to be the family's semi-private dining room. Background music is haunting and vaguely ethnic, not loud enough to be a distraction; some of the tunes sound like they might be Western pop music played by a Korean ensemble.
The menu is Korean, with a few Chinese items added; but the dividing line between the national dishes is fuzzy, apparently, as the distinctly Korean chop chae ($8.95) is listed as Chinese.
There's a choice of some three dozen Korean main dishes, subdivided into 18 choices listed as "Korean cuisine" (from $8.95 to $19.95) and 18 more billed as "Korean special cuisine" (from $8.85 to $24.95). All are described in English, including such relatively familiar Korean items as bi bim bop ("vegetables, beef and fried egg, mild or spicy, on steamed rice.") A few dishes seem, well, challenging to uninitiated Western palates. "Cow hocks and bones boiled more than 10 hours with hot spices"? I'll have to think about that. Ditto for the Happy Family combination ($19.95), which the menu says is made with "viscera and kidneys." I swear I am not making this up. Moreover, some translations leave a lot to the imagination, like man-doo-guk, which is described as "big bowl of soup with lots of dumplings."
Frankly, it would be fun to come back here with a bilingual Korean friend to provide translation. This fare is authentic and ethnic, but much of it isn't clearly spelled out in English, and the proprietors are friendly and welcoming but not always able to convey details about the food. You can point to the menu and get what you want, but don't count on detailed descriptions of ingredients or procedure.
"This good," the server said, pointing to an appetizer called Man-doo ($3.95 for six). "What is it?" I asked. "This good. You like it." But what IS it? "Like egg roll."
It turned out to be more like Chinese fried pot-stickers or Japanese gyoza than egg roll, but she got the important part right: We like it. We like it a lot. Six fat half-moons of won-ton pastry were fried crisp, sizzling and grease-free, packed with a good ration of finely minced beef, shredded Chinese cabbage, a bit of carrot and a few vermicelli "bean threads," served with a dish of sweet-salty soy sauce for dipping.
Hot tea was delicious if a bit offbeat - it was actually Korean barley tea, warming and strong with an almost "meaty" flavor. The iced tea ($1.50) was good, too, black, fresh and strong.
Cups of miso soup, salty and warm, seemed a little more sweet than the Japanese version, brathing a faint whiff of molasses or, more likely, thick, dark soy sauce.
Dinners are served in traditional Korean style, with rice bowls and a bewildering array of condiments served from small shared dishes: Kim chee, Chinese cabbage marinated in hot-and-spicy red sauce; hot pickled turnip; oversize bean sprouts with fat green soybeans still attached; zucchini chunks in a fiery red sauce; black, chewy soybeans; pickled greens; shredded daikon radish and carrot in long, thin strips, and a cool dish of marinated spinach.
One main course, mackerel gui ($10.95) consisted of a whole fresh mackerel, head and all, divided into a pair of fillets, crusted in salt and char-broiled until blackened on the surface, white and flaky within, and so crunchy that we could eat the bones and all. It was excellent, assuming you're all right with head-on fish with the bones still attached.
A Korean beef standard, bul-go-gi ($13.95) hit the spot, too, thin-sliced tender beef cut in thin squares, marinated and char-grilled, served on a bed of just-cooked white onions, topped with a garnish of sesame seeds and chopped green onions. Beef rarely gets better than this: In an international convergence, it was oddly similar to, though subtly different in flavor from, Texas-style short ribs right off the smoker.
Perfect medium-grain white rice is served steaming hot in small metal bowls; the drill, if you care to follow it, is to use this as your eating dish, taking tidbits from the main courses and condiments and transferring them to the rice bowl, which you hold in front of you with one hand while dining from it with chopsticks. When you finish the meal, what's left of the rice will be deliciously seasoned with all the flavors that have dripped into it from your dinner.
In place of the usual fortune cookie, we were offered two tasteful little yellow-wrapped sticks of Lotte Gum, a banana-flavored chewing gum from Korea. We appreciated the sentiment and kept them as souvenirs.
A filling Korean dinner for two came to a bargain $27.98, and attentive, helpful service earned a $6.02 tip. $$
(May 2003)
<!REVIEW ENDS HERE!>