Older Archived Reviews
This is an older archived review. The Search Feature on this page may not work. To search this site, please return to our Home Page and try your search from there.
---
<!REVIEW GOES HERE!>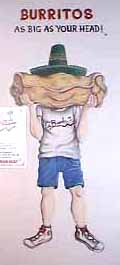 79

La Bamba
1237 Bardstown Road
(502) 451-1418

"I'm about to EXPLODE," my wife whined, putting down the larger half of her burrito and declaring her meal at an end. And that was just the "regular" burrito, not the "Super Burrito" that La Bamba promotes as "burritos as big as your head!"
La Bamba may be Louisville's most startling case of an eatery that's more than it appears, and that goes for both quality and quantity. A Generation X hangout, a franchised chain that caters mostly to college towns (there's reportedly an outlet in every Big 10 city), in a recycled red-and-green building that looks a lot like a Taco Bell, it is distinctly not the kind of place where you'd expect to find genuine Mexican fare with Latino flair.
But step inside, past the bizarre logos featuring a silks-clad jockey with a burrito for a head, making him look strangely like a hammerhead shark on a Thoroughbred, and you'll find a surprisingly authentic tacqueria experience. Mexican chefs (some of whom are a little short on English, frankly, but eager to communicate) and Mexican music create an unexpected South of the Border atmosphere, and the limited menu is first-rate.
Burritos (from $2.99 for a "junior" model to $5.66 for the Super Burrito with your choice of meat filling) may not be quite cranial in dimension, but the bigger ones come surprisingly close, more than enough to feed two good appetites or three average ones.
Tortas, my favorite, are Mexican sandwiches served on toasted, football-shaped Mexican buns topped with your choice of any two from pork, chicken, beef or chorizo sausage ($4.34), avocado and beans, or rice and beans ($3.65). Tell them "todo" (with everything) and they'll add lettuce and tomatoes, cheese and sour cream. Drizzle on a couple of tubs of La Bamba's tangy green-chile sauce, and you've got a Latin feast that requires both hands to eat and that will drip down your arms to your elbows.
Wash it all down with a soft drink or, if you're feeling adventurous, a big glass of horchata (90 cents regular, $1.16 large), a quenching Latino drink - popular in both Mexico and Spain - that's made from sweetened rice.
La Bamba is open from 11 a.m. daily until "after the bars close," which may be as late as 5 a.m. $
<!REVIEW ENDS HERE!>