Older Archived Reviews
This is an older archived review. The Search Feature on this page may not work. To search this site, please return to our Home Page and try your search from there.
---
<!REVIEW GOES HERE!>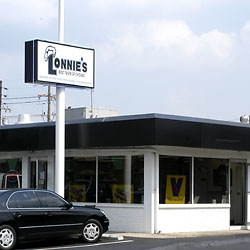 81

Lonnie's Best Taste of Chicago
121 St. Matthews Ave.
(502) 895-2380

The friendly family that brought a taste of Chicago - literally - to Louisville's eastern suburbs a couple of years ago have now transplanted their appetizing operation a little closer to town, having moved this summer to new quarters just off Shelbyville Road in St. Matthews.
Genuine Chicago hot dogs and a taste of Chicago atmosphere for a price that won't hurt your wallet make Lonnie's the place to go when you've got a hankering for Windy City fare.
Lonnie's new quarters are a bit bigger than the old, with room for maybe 30 diners, when there's a full house, at nine closely spaced tables covered with black oilcloth plus a half-dozen high stools at the bar. The decor is shiny white and stainless steel, creating an effect that looks a bit like the inside of a giant refrigerator but isn't nearly as cold. Chicago sports posters (plus one honoring nearby Trinity High School) and photos of Windy City architecture further advance the Windy City theme.
Lonnie's serves Vienna brand hot dogs, one of Chicago's major brands (their competitors at Binky's downtown - friendly competitors, I'm informed - offer the Best's Kosher Premium brand).
The bill of fare at Lonnie's is extensive and affordable, offering some 30 dishes - most of them named for Chicago streets or neighborhoods - that include hot dogs, sausages, burgers and beef sandwiches, chicken, fish and specialty items such as gyros and tacos, even a fried-shrimp basket.
Prices range from $2.25 (for Prairie pizza puffs) to $6.95 (for an artery-clogging Chicago specialty, an Italian sausage link smothered in thin-sliced Italian beef on a french roll with peppers and onions). Hot dogs are $2.59 (for a State Street dog with sauerkraut) to $3.49 (for the jumbo Clark Street Dog, the classic Chicago dog with everything). The Italian beef sandwich, another Chicago specialty, is $3.69 for a small sandwich, $$5.69 for large. A special soul food lunch is offered on Wednesdays for $6.99; the same fare will get you a catfish fry on Fridays.
The dogs are delicious. The Vienna brand meat appears closer to bright pink than the beef-red color of the Best's-brand dog at Binky's, but I can't really call a winner in the taste sweepstakes - The Viennas are very good, if smallish, with the requisite crisp-tender "bite" to the skin.
The Clark Street dog ($2.89) contains all the Chicago ingredients: Dog on warm steamed poppyseed bun, dressed with chopped onions, yellow ballpark mustard, tomatoes and cucumbers and a couple of tiny, crisp, vinegary-hot "sport" peppers on the side. Don't be alarmed by the piccalilli relish, a startling bright green substance the exact color of lime gumdrops but much better tasting. One minor frustration about this dog's construction: the tomato and cucumber slices are placed on top, where they make an attractive decoration but fall off when you pick up the bun. Might as well just tuck them into the sandwich in the first place, it seems to me.
The State Street dog ($2.59) comes on the steamed poppy bun topped with a ration of decent sauerkraut and onions and a dab of mustard.
It's hard to beat Lonnie's for value. With two dogs, soft drinks ($1.29) and sizzling, crisp french fries, lunch for two remained well within the single-digits at $8.08. $
(October 2003)
ACCESSIBILITY: Not accessible to wheelchair users: There's a step at the entrance, and the restroom doors are too narrow for wheelchairs or even, perhaps, large people.
<!REVIEW ENDS HERE!>