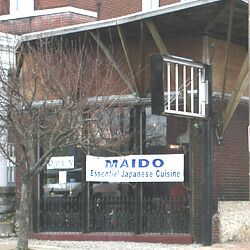 88

Maido Essential Japanese
1758 Frankfort Ave.
(502) 894-8775

<!REVIEW GOES HERE!> I'm delighted to report that repeated visits to Maido - the latest restaurant in the little house near the inner end of Frankfort Avenue that's seen a number of short-lived eateries - have strongly reaffirmed my early impression that this new spot is a welcome addition to the city's restaurant scene. Its arrival kicks the already audible buzz of trendy-eatery activity in the Clifton neighborhood up another notch.
Maido is not just another sushi bar. In fact, it's not a sushi bar at all, although sushi is made in the kitchen. Rather, it presents a new, previously unfamiliar aspect of Japanese regional cuisine: It's an "izayaka"-style restaurant in the style of Kansai, the region surrounding Japan's second city, Osaka.
A combination of pub, sake bar and eatery beloved of Osaka "sararimen" ("salary-men" or business workers), the izayaka specializes in small dishes, affordably priced, with the idea that a couple or a group can select a variety of contrasting bites to accompany with sake or beer or whatever you're having. They're sort of like Spanish tapas, to make an international analogy.
The word "Maido," literally "every time," translates more informally as Osaka slang for "'sup?" or "I look forward to doing business with you," depending on formality.
The smallish room that most recently housed the Louisville Bar & Grill, and before that Picasso, has been redecorated with spare, zenlike decor - bright avocado and dark eggplant-color walls bear no decorations except a large mirror on the back wall. Black marble-look tables are stark, undraped, simply set with paper napkins and wooden ohashi chopsticks. Only the attractive antique wooden bar up front remains from previous incarnations. I couldn't place the background music the other day but liked it very much, edgy, noir jazz vocals that reminded me a bit of Kurt Weill and old black-and-white movies of pre-war night clubs in Berlin.
It's literally a mom'n'pop operation, with an American-born husband, server and host out front and his Osaka-born wife in the kitchen. She brings a following to Maido as former sushi genius at Seafood Connection, and sushi chef at the second Shogun on Chamberlain Lane).
The extensive menu, as noted, features small bites at affordable prices, with the idea that you can top your table with an intriguing selection of choices without breaking the bank. I counted close to 30 small dishes in the range of $2.50 (for spinach with sesame sauce or edamame soybeans in the pod, eat 'em like shelling peanuts) to $6.75 (for fried oysters breaded with crispy Japanese panko). Shrimp tempura is $4.50, and thin-sliced pork marinated in ginger sauce is $4.75. Many of these small dishes are vegetarian, meatless selections topping out at $3.50 for vegetable chips, vegetable tempura or kiya-yakko, cold tofu with soy sauce, ginger and scallions.
A selection of Kushikatsu dishes, popular Osaka bar fare that's panko breaded, skewered and deep-fried with delightfully "fusion" tonkatsu aioli for dipping, ranges from $1.95 for two skewers of green beans to $3.25 for two skewers of shrimp or salmon. Beef or pork kushikatsu is $2.95, chicken $2.75 and eggplant or kibocha squash $2.50.
Nabe dishes cooked at your table include tofu in kelp stock ($5.95), or the intriguing sounding chanko, described as "sumo wrestlers' food, put everything in a pot and cook it, warm your body up in the cold winter season, chicken breast, salmon, shrimp, tofu, shiitake, napa cabbage, carrots and green onions cooked in udon and served with chile daikon radish ... all that for $7.50, or choose oyster dotanabe, tofu and fresh oysters in white miso stock with the oysters served on the side so you can simmer them to your taste, $7.75.
If you're in search of more substantial dishes to sop up your sake, the dinner menu offers rice and noodle dishes such as una don noodles with boiled eel or tempura udon (thick wheat noodles) or soba thin buckwheat noodles, all $12.
Bento combos served in attractive lacquered boxes with miso soup, salad, Japanese pickle and rice are $15.95 for a vegetable bento, $16.95 for chicken. Kaiseki multiple-course dinners for two are $25, $30 or $35.
The proprietors say they are gradually building a sake list, with the idea of becoming the city's first serious sake bar. Initially only one distributor was represented, although several styles of sake were available from the respected Ozeki brand, with breweries in both Japan and the U.S.; more sake is on the way.
The beer list is interesting, too. We couldn't resist sharing a big 650 ml bottle of Morimoto Soba Rogue Signature Ale from Oregon ($10.75), a specialty beer made from roasted soba (Japanese buckwheat, usually seen in the form of brown noodles) by the very fine Rogue microbrewery of Ashland, Oregon.
Yes, that Morimoto, the Iron Chef Japanese, whose signature beers and other good things are online at chefmorimoto.com. It was a fine ale, fruity and full-bodied with a thick, creamy head, crisp and bittersweet with a distinct presence of hops. No mass-market industrial lager, this is a quality microbrew, excellent with Japanese food, but probably not for those who prefer their beer "Lite."
On our first visit, we started with a couple of rounds of sushi rolls, picking two kind of offbeat models, something called Osaka Blue rolls that featured cooked marinated tuna, dark and meaty, and a set of kim-chee rolls, rice and seaweed rolled around the classic Korean cabbage pickle, chile-pepper red and pleasantly spicy. The lunches also came with good-size bowls of miso soup, salty and rich with tofu, scallions and bits of seafood. The Japanese-style salad was fine, too, crisp, fresh cut romaine squares and a few carrot shreds in a tart and tangy, not at all sweet sesame dressing.
We also shared Yakimeshi (salmon fried rice, a pretty bowl-molded mound of toasty rice studded with smoky bits of grilled salmon meat) and an attractive black-lacquer bento box with rice, a variety of Japanese oshinko pickle, sesame spinach, several big pieces of tempura, and sweet-savory ginger-marinated, thin-sliced pork. With sencha-style green tea simmered with toasted rice, a filling lunch came to $25.65 plus a $5 tip.
On a return evening visit, we got stuck trying to choose among all the goodies on the menu, so ended up trying several of the evening's specials.
An appetizer sampler ($8.99) featured four tasty small dishes - all available individually on the regular menu - attractively arranged around a nice mix of field lettuces presented in an edible cup of iceberg lettuce with a tangy sesame-accented dressing:
Salmon kushikatsu is a salmon-on-a-stick goodie the size and shape of a hot dog, skewered and coated in panko crumbs, fried golden-crisp and not at all greasy.
Tuna tatsuta, two tender, beefy portions of yellowfin marinated in sake and soy sauce, lightly dredged in flour to make a paper-thin deep-fried crust.
Two perfectly fresh, oversize oysters were crisply breaded and fried just long enough to steam them through, then decorated with a stripe of dark brown, sweet soy-based katsu sauce and an eggy dab of mayo and served in their shells.
Satoimo is a preparation of mashed taro root formed into two tender balls the size of Milk Duds, soft and sweet, somewhat akin to a mashed sweet potato in flavor.
Of course we didn't stop there.
A seaweed salad ($4.25) was a small but intensely flavored dab of mixed seaweeds, almost fluorescent bright green in color, savory with sesame oil and sesame seeds and a haunting scent of the sea.
Agedashi mochi ($3.75) was a variation on a dish usually made with tofu: Japanese mochi rice, sweet rice pounded into a tender, slightly chewy paste, was formed into balls, coated in light tempura batter and deep-fried, served immersed in a small bowl of salty-sweet, soy-based tempura sauce.
A special sushi roll called Jade Dragon ($9.75) looked spectacular and tasted as good as it looked. Two "inside-out" tuna maki-zushi rolls were sliced, then reassembled on their sides and draped with a blanket of silken, dark-red raw tuna and topped with crescent moons of fresh sliced avocado to make brilliant red and green baby dragons on the plate.
Finally, an eel and cucumber salad ($4.25) featured a good-size portion of bite-size bits of grilled boneless eel in a sweet-soy marinade, perched on a mound of thin-sliced cucumbers in a light sweet-tart vinaigrette garnished with sesame seeds. Eel is an acquired taste - my wife has acquired it, I'm still troubled by passing thoughts about how much an eel looks like a snake. It's fish, though, and flavorful, so I shut up and ate my share.
The Morimoto beer, served in attractive, small but heavy ceramic tumblers, hit the spot with all the fare, and so did several refills of freshly brewed green tea from an attractive square ceramic teapot.
A memorable Japanese dinner, perhaps as authentic as any Japanese meal I've enjoyed outside Japan, came to a still affordable $43.97 - which included the oversize artisan beer - plus a $9.03 tip for friendly and very competent service. $$
(March and April 2004)
<!REVIEW ENDS HERE!>
---