Older Archived Reviews
This is an older archived review. The Search Feature on this page may not work. To search this site, please return to our Home Page and try your search from there.
---
<!REVIEW GOES HERE!>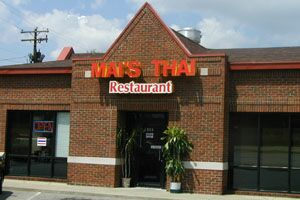 92

Mai's Thai
1411 E. 10th St.
Jeffersonville, Ind.
(812) 282-0198

For a few happy months in 2000, Mai's Thai was a sort of "cult" secret among a handful of Louisville food enthusiasts. Word of this tiny Thai eatery hidden in the back of a rather grimy Old Louisville neighborhood grocery spread quietly, by word of mouth; it was a place where the service was so peculiar that it became part of the joke, but the food was so good that the service and the setting didn't matter.
It was sad when the grocery closed, taking the restaurant with it. But now there's good news: Mai's is back, and it's better than ever. Moved from the funky urbanity of Old Louisville to a somewhat more bland environment in the northeastern corner of Jeffersonville, it now boasts its own space, a bright storefront in a modern red-brick strip center.
The front door bears a Thai flag and a welcome sign in both English and the sinuous Thai script. No hole-in-the-wall, this is a clean and attractive little place, much more modern and frankly upscale than Mai's former location.
Best of all, the food is better than ever. Pay no attention to the big color photos of dishes behind the counter that make the place look a bit like a fast-food Chinese eatery; it's anything but. With a broad range of well-prepared and authentic Thai dishes, Mai's has leapt into the lead in the all-too-small niche of Thai restaurants in Louisville. For both authenticity and quality, it's right up there with the top Thai places I've enjoyed in New York, San Francisco and Seattle.
As noted, the venue is attractive: Pale-pink pastel walls over light wood, shiny gray-and-white tile floors. Giant-size hand fans and large paintings provide standard Asian-restaurant decor; carved wooden elephants and figurines of maidens, hands together in the Buddhist welcome sign, add more distinctive Thai touches, as do framed photographs of Thai royalty high on one wall. Tables are simple woodgrain laminate; dark wood chairs with bright red padded seats are standard-issue Chinese-restaurant style. The background music is strictly American, though, Motown and classic rock, not loud enough to be a bother.
It's the Thai food that brings us here, though, and that food, as noted, is fine. The menu is fairly extensive, with 45 items (excluding drinks and desserts) with nothing over $10 and most items $6 and below. A dozen appetizers and salads are $2.50 (for Po Pia Toad spring rolls) to $6.50 (for Pia Goong shrimp salad or Yum Pla Muk squid salad). A half-dozen soups (which can be a main course in Thai cuisine as in Vietnam) are $3.50 (for several soups in small portions) to $9.90 (for Poh Taek, hot-and-sour seafood soup).
Main dishes are subdivided into numerous categories, including noodle dishes, rice dishes, stir-fry dishes, curries and vegetarian dishes.
In addition to Thai iced coffee and tea (made with sweetened condensed milk) and Thai fruit juices, there's a cooler for American soft drinks; and really delicious golden-orange tea is available either hot by the cup or in oversize glasses with ice. No alcoholic beverages are served.
We ordered a hearty lunch of four items and got two appetizers and one entree all at once, but we didn't mind. It was served on attractive stoneware plates, white with a simple pale-blue Asian motif.
"Oh my God," my wife said, taking a taste of Tom Yum Kai chicken soup ($3.50 for a small bowl). "Is it too hot, or too delicious?" I asked. "Both," she said, calling for a bowl of white rice to spread out the flavors and the heat. "It's incredible."
"Incredible" is an apt word. The soup was a clear, savory broth loaded with large chunks of fresh white mushroom, thin-sliced, tender white chicken meat and lots of fresh cilantro, lime leaves and lemon grass. It was deeply aromatic and flavorful, with fiery, almost searing heat, but as with the best Thai food, it's not one-dimensional, undifferentiated heat; it unveils itself in layers, an orchestra of aromatics, a food symphony, wonderful, complex and interesting.
Kanom Jeeb dumplings ($3) looked a bit like Chinese dim sum. Four won-ton-style pastry wrappers were formed into flower-like bites the size of half-dollars, filled with ground pork, shrimp and water chestnuts and sweet, mild spice, steamed and served with a thick sweet-hot soy dipping sauce, garnished with shredded carrot.
Laab ($3.50), a traditional Thai dinner salad, featured a generous portion of finely chopped chicken infused with an aromatic sauce, tossed with crisp sliced red onions and scallions over crisp lettuce. The flavors were beautiful, subtle and aromatic, warm but not fiery, with exotic flavors of fish sauce as grace notes.
Finally, Pad Thai ($5.99), the traditional Thai homestyle noodle dish, was as good a rendition as we ever ate. Aromatic but not fiery hot, it was made the traditional way, a blend of soft rice noodles and crisp bean sprouts tossed together, mixed with tender bits of chicken, fried and plain tofu, fine-chopped scrambled eggs, scallions and minced peanuts in a subtle dressing based on fish sauce. Again, it offered a chorus of complementary flavors that played together like a Dixieland band, kicking a theme around, one element playing a riff before giving way to another.
The lunch was so good that we can't wait to go back, adding Mai's Thai to the very small list of local places that this food critic goes for pleasure, even when he's not reviewing. The host is genial, friendly and very eager to please; the bussers and some servers speak no English at all. It doesn't matter. A smile and a plate full of wonderful food needs no translation.
A memorable meal was a true bargain at $18.36, and competent service received a $3.64 tip. (Note: You won't need much, but do be sure to bring cash. Mai's accepts no credit cards.) $$
(August 2001) <!REVIEW ENDS HERE!>